Deeside MP's disappointed at UK Government's decision over Jade's Law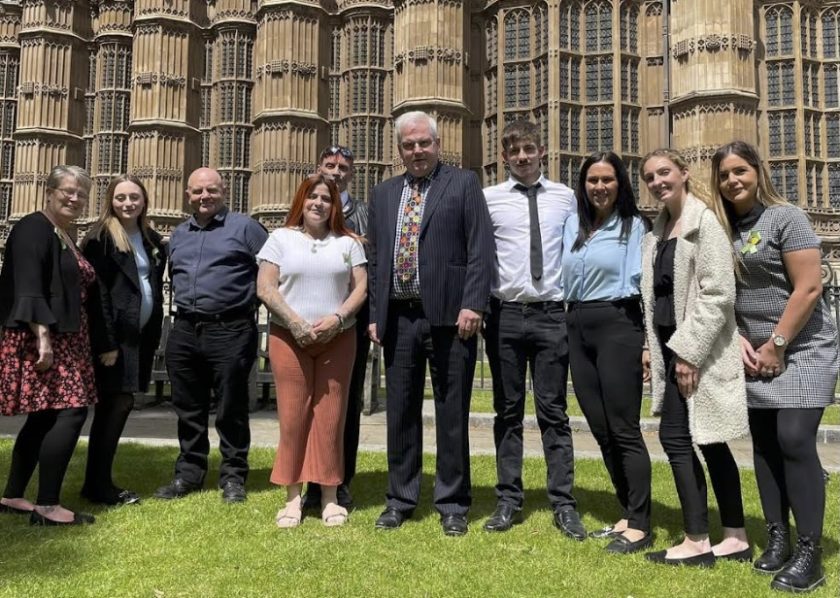 A Deeside MP has expressed frustration over the UK government's decision against a proposed law change, which seeks to suspend the parental rights of a parent convicted of killing their partner. ‌​‌‌‌​‌‌‍‌​‌‌‌​‌​‍‌​‌‌‌​‌​
The campaign for Jade's Law was initiated by the parents of Jade Ward, Karen and Paul, alongside Edwin Duggan and Alyn and Deeside MP Mark Tami. ‌​‌‌‌​‌‌‍‌​‌‌‌​‌​‍‌​‌‌‌​‌​
The law aims to suspend the parental rights of a parent convicted of killing their partner. ‌​‌‌‌​‌‌‍‌​‌‌‌​‌​‍‌​‌‌‌​‌​
The campaign was triggered by the murder of Jade Ward, a 27-year-old mother from Chevrons Road, Shotton, by her estranged husband and father of her four children, Russell Marsh. ‌​‌‌‌​‌‌‍‌​‌‌‌​‌​‍‌​‌‌‌​‌​
Since Marsh's conviction, Jade's family and friends have actively advocated for the automatic suspension of the parental responsibility of a parent convicted of such a heinous act. ‌​‌‌‌​‌‌‍‌​‌‌‌​‌​‍‌​‌‌‌​‌​
Mr Duggan's petition backing the campaign successfully gathered 130,179 signatures, and a parliamentary debate led by Mr Tami found support from MPs across party lines. ‌​‌‌‌​‌‌‍‌​‌‌‌​‌​‍‌​‌‌‌​‌​
The Deeside MP subsequently met with Lord Bellamy KC, Parliamentary Under Secretary of State in the Ministry of Justice, and Edward Argar MP, Minister of State for Victims and Sentencing. ‌​‌‌‌​‌‌‍‌​‌‌‌​‌​‍‌​‌‌‌​‌​
Mt Tami clarified that the family were not advocating for total removal of parental rights, but rather that the convicted individual should apply through the courts for their reinstatement. ‌​‌‌‌​‌‌‍‌​‌‌‌​‌​‍‌​‌‌‌​‌​
At present, the family or guardians of the children involved must apply to have such rights suspended or removed. ‌​‌‌‌​‌‌‍‌​‌‌‌​‌​‍‌​‌‌‌​‌​
Acknowledging the need for greater support to families wishing to challenge parental rights in court, Mr Tami sought more details on how this would be facilitated. ‌​‌‌‌​‌‌‍‌​‌‌‌​‌​‍‌​‌‌‌​‌​
In response, Lord Bellamy announced the provision of legal aid from May 1 for individuals like Jade's parents who wish to apply for a Special Guardianship Order in private proceedings. ‌​‌‌‌​‌‌‍‌​‌‌‌​‌​‍‌​‌‌‌​‌​
Lord Bellamy also mentioned the Family Procedure Rule Committee's ongoing work to simplify court procedures and reduce the burden on families seeking special guardianship orders. ‌​‌‌‌​‌‌‍‌​‌‌‌​‌​‍‌​‌‌‌​‌​
Responding to Lord Bellamy's letter, Mr Tami expressed his satisfaction that legal aid will be available to Jade's parents and that support will be provided to streamline the court process. ‌​‌‌‌​‌‌‍‌​‌‌‌​‌​‍‌​‌‌‌​‌​
However, he stressed that families in such situations should not be compelled to go to court and that parental responsibility should be automatically suspended for convicted murderers. ‌​‌‌‌​‌‌‍‌​‌‌‌​‌​‍‌​‌‌‌​‌​
Expressing his disappointment, Mark Tami said, "The Tory UK Government is evidently not prepared to make this change in the law." ‌​‌‌‌​‌‌‍‌​‌‌‌​‌​‍‌​‌‌‌​‌​
"I reiterate Labour's Shadow Justice team's commitment to make Jade's Law a reality when we get a Labour UK Government." ‌​‌‌‌​‌‌‍‌​‌‌‌​‌​‍‌​‌‌‌​‌​
He further mentioned that he is working with Shadow Justice Minister Ellie Reeves to include Jade's Law in their manifesto. ‌​‌‌‌​‌‌‍‌​‌‌‌​‌​‍‌​‌‌‌​‌​
Mr Tami praised the courage and tenacity shown by Jade's family and Edwin Duggan in their fight for justice. ‌​‌‌‌​‌‌‍‌​‌‌‌​‌​‍‌​‌‌‌​‌​
He reaffirmed his support for them, promising to aid their cause in any way possible. ‌​‌‌‌​‌‌‍‌​‌‌‌​‌​‍‌​‌‌‌​‌​
Spotted something? Got a story? Send a Facebook Message | A direct message on Twitter | Email: News@Deeside.com
---
Latest News
---