NOTE: This content is old - Published: Wednesday, Dec 19th, 2018.
North Wales Police targeted drivers in Deeside early this morning as the Christmas Anti-Drink & Drug Drive Campaign continues.
Over 50 drivers were stopped at a 'checkpoint' along Chester Road East.
Police say all those tested at the roadside gave negative readings.
So far between December 1st and 17th North Wales Police have made 40 drink drive arrests and 29 drug drive arrests across the region.
Inspector Dave Cust of the Roads Policing Unit said:
"Despite our repeated warnings it is disappointing that a minority continue to ignore our messages.

"Our #ChooseWisely campaign is heavily focussed on asking people to make the right choice, so we will continue to use social media to drive home the messages that drink and drug driving can have devastating consequences.

"We are fully committed to making the roads safer for all and we will continue to target those who endanger their own lives and the lives of others."
Throughout the campaign period the Force' Roads Policing Unit are using social media to drive home the message of the impact of drink and drug driving.
Officers are giving their own accounts of what it is like to deal with the aftermath of a collision involving a drink or drug driver using the hashtags #ChooseWisely and #Fatal5.
Free disposable 'indication only' breath test kits are also being made available to the public as part of the campaign to reduce the number of drink-drive related incidents this Christmas.
The kits have been distributed to staffed police station front counters for collection by members of the public to use at home prior to driving the morning after.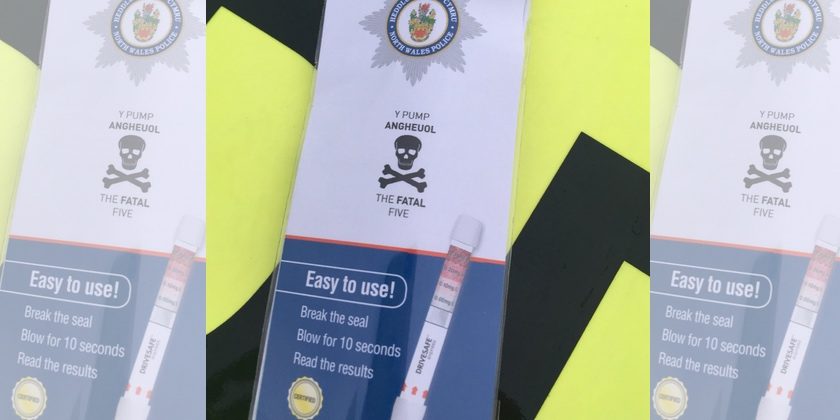 Police say the 'Drivesafe Express' disposable breath test kits are a useful 'indicator only' device for anybody who wants to check for alcohol levels the morning after a night of drinking.
They will give an indication of high alcohol levels, but won't necessarily mean that someone is ok to drive if they are showing to be under the stated level.
Any change of colour on the test indicates the presence of alcohol, meaning that a driver may still have sufficient levels of alcohol that could cause their arrest if stopped.
Inspector Dave Cust added:
"Research has shown that just one drink can impair someone's ability to drive and our message is very clear – if you are going to drive, don't drink any alcohol at all.

"We are not in any way encouraging people to drink and then test themselves immediately. These kits are for use the morning after and will give an indication if any alcohol is detected in their system.

"Due to the overwhelming positive response we received last year when we first purchased the kits we decided to offer them again this year.

Many told us it stopped them from driving the morning after having indicated that alcohol was still present.

"From our point of view if these kits prevent one person from taking a risk the morning after then they've done their job."
The free kits are available from Mold police station: Mondays to Saturdays 9am – 1pm and 3pm – 6pm
And Wrexham town police station Mondays to Saturdays 8:30am – 7pm and Sundays 9am – 6pm
If you suspect someone is driving while unfit to do so, please report it immediately to police on 101 (or 999 if they are posing imminent danger) or phone it through anonymously to Crimestoppers on 0800 555 111.