Wonders of Flintshire brought to digital life in world first project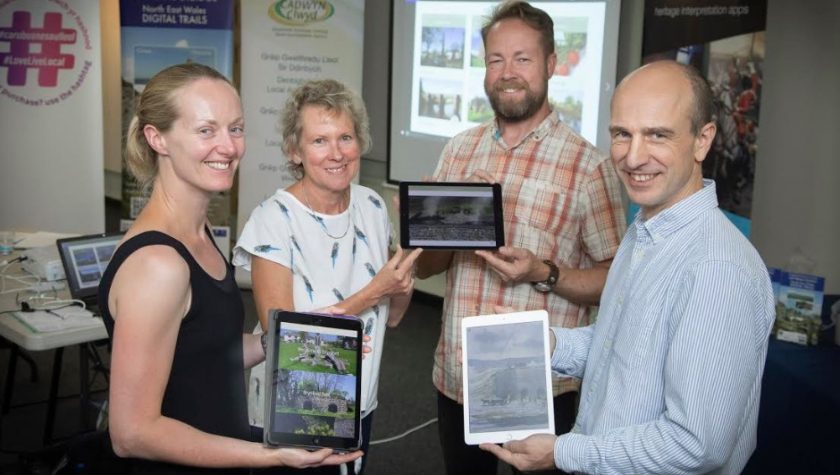 This article is old - Published: Saturday, Jul 28th, 2018

Wales's most famous healing shrine, the home of the Welsh Dickens and a coal mine under the Irish Sea are three of Flintshire's most iconic locations being brought to life in a world first project. ‌​‌‌‌​‌‌‍‌​‌‌‌​‌​‍‌​‌‌‌​‌​
A network of Digital Trails accessible to mobile phones and tablets has been set up across the rural areas of the three counties of Denbighshire, Flintshire and Wrexham and in Flintshire they link Point of Ayr, Holywell, Brynford and Mold. ‌​‌‌‌​‌‌‍‌​‌‌‌​‌​‍‌​‌‌‌​‌​
The project is the brainchild of rural regeneration agency Cadwyn Clwyd and at present there are 12 Digital Trails, all accessed through one mobile phone/tablet app which spring into life when the phone/tablet is within range, providing information, pictures, audio and even video. ‌​‌‌‌​‌‌‍‌​‌‌‌​‌​‍‌​‌‌‌​‌​
That number will quickly grow to 18, six in each county, with the capability for more in future as the scheme is expanded and more local organisations, businesses and communities get involved. ‌​‌‌‌​‌‌‍‌​‌‌‌​‌​‍‌​‌‌‌​‌​
The North East Wales Digital Trails app network have been set up at a cost of £45,000 through Corwen-based Cadwyn Clwyd, which has received funding through the Welsh Government Rural Communities – Rural Development Programme 2014-2020, which is funded by the European Agricultural Fund for Rural Development and the Welsh Government. ‌​‌‌‌​‌‌‍‌​‌‌‌​‌​‍‌​‌‌‌​‌​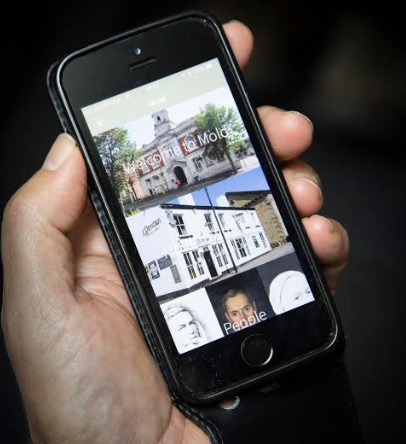 ‌​‌‌‌​‌‌‍‌​‌‌‌​‌​‍‌​‌‌‌​‌​
This app is now available to download for free through the Appstore and Googleplay. ‌​‌‌‌​‌‌‍‌​‌‌‌​‌​‍‌​‌‌‌​‌​
The cash is funded by the European Agricultural Fund for Rural Development (EAFRD) and the Welsh Government as part of a six-year plan to revitalise rural communities and their economies. ‌​‌‌‌​‌‌‍‌​‌‌‌​‌​‍‌​‌‌‌​‌​
In Flintshire the trails feature Holywell, where St Winefride's Well has attracted pilgrims for more than a thousand years, two mining areas, Point of Ayr where coal was extracted from under the sea, and Brynford, where lead has been dug out since Roman times, and the market town of Mold, home of 19th century Welsh novelist Daniel Owen. ‌​‌‌‌​‌‌‍‌​‌‌‌​‌​‍‌​‌‌‌​‌​
Wrexham's first four Digital Trails are at Cefn Mawr, Chirk, Holt and the Ceiriog Valley while Denbighshire's feature Corwen, St Asaph, Rhuddlan and Llangollen Railway. ‌​‌‌‌​‌‌‍‌​‌‌‌​‌​‍‌​‌‌‌​‌​
The mobile phone and tablet app have been developed by Bangor-based worldwide app specialists Locly whose Rhys Jones said: ‌​‌‌‌​‌‌‍‌​‌‌‌​‌​‍‌​‌‌‌​‌​
"This is a unique project because it brings together so many communities. ‌​‌‌‌​‌‌‍‌​‌‌‌​‌​‍‌​‌‌‌​‌​

There isn't anything like it anywhere in the world that has different communities all working on their local projects to create something that covers an area like this." ‌​‌‌‌​‌‌‍‌​‌‌‌​‌​‍‌​‌‌‌​‌​
Rhys, whose company is fresh from creating a Gold Trail in Perth, Western Australia, and who next goes to New York to start work on another project, said: ‌​‌‌‌​‌‌‍‌​‌‌‌​‌​‍‌​‌‌‌​‌​
"It's been very exciting to work on. I was brought up in Dyserth and have been learning things about the area I didn't know before." ‌​‌‌‌​‌‌‍‌​‌‌‌​‌​‍‌​‌‌‌​‌​
Jo Danson, from Nannerch, is one of three heritage experts on the project alongside Lorna Jenner and Bill Smuts, and she said: ‌​‌‌‌​‌‌‍‌​‌‌‌​‌​‍‌​‌‌‌​‌​
"This has been two years in the making and it's been very exciting. ‌​‌‌‌​‌‌‍‌​‌‌‌​‌​‍‌​‌‌‌​‌​

If someone had told me ten years ago that you could have access to so much information to your mobile phone I wouldn't have believed them. ‌​‌‌‌​‌‌‍‌​‌‌‌​‌​‍‌​‌‌‌​‌​

The 18 communities taking part deserve a big vote of thanks – so far we have 12 on the app but the rest will follow soon and there is scope to add many more and to expand and incorporate new information and technologies as the project grows. ‌​‌‌‌​‌‌‍‌​‌‌‌​‌​‍‌​‌‌‌​‌​

It is one of the most ambitious heritage trails in the UK and we believe it will encourage people to come and spend time exploring because it is a tremendous way of telling them what's so special about North East Wales." ‌​‌‌‌​‌‌‍‌​‌‌‌​‌​‍‌​‌‌‌​‌​
The scheme has been overseen by Cadwyn Clwyd Natural Resources Officer Sarah Jones who said: ‌​‌‌‌​‌‌‍‌​‌‌‌​‌​‍‌​‌‌‌​‌​
"North East Wales has such a fabulous story to tell and the way the communities have come forward to tell those stories has been brilliant. ‌​‌‌‌​‌‌‍‌​‌‌‌​‌​‍‌​‌‌‌​‌​

The great thing about the scheme is that it is so flexible because there is an endless scope for it to be expanded and developed over the years. ‌​‌‌‌​‌‌‍‌​‌‌‌​‌​‍‌​‌‌‌​‌​

It is also so user-friendly because even if you aren't able to get Wi-Fi you can still connect to the network though Bluetooth and access all the information. ‌​‌‌‌​‌‌‍‌​‌‌‌​‌​‍‌​‌‌‌​‌​

Information about the app and how to download it will also be available at local shops, pubs, B and Bs and hotels so visitors will easily be able to access it and we hope it will also be picked up by local people keen to learn more about the wonderful area they live in." ‌​‌‌‌​‌‌‍‌​‌‌‌​‌​‍‌​‌‌‌​‌​
Our Back Yard – Connah's Quay
From the autumn onwards Connah's Quay will start developing a digital ibeacon trail and 'Our Back Yard' – the Big Lottery Fund's Create your Space Programme in Connah's Quay is looking for people from all walks of life to get involved. ‌​‌‌‌​‌‌‍‌​‌‌‌​‌​‍‌​‌‌‌​‌​
Sallyanne Hall from Our Back Yard said: ‌​‌‌‌​‌‌‍‌​‌‌‌​‌​‍‌​‌‌‌​‌​
"If you have a story to tell about the town and it's history; you like illustrating, film or photography; you enjoy writing; you know a lot about the wildlife; or you're a dab hand with technology, there's a role for you in the Connah's Quay ibeacon community project. ‌​‌‌‌​‌‌‍‌​‌‌‌​‌​‍‌​‌‌‌​‌​

Each of the locations that already have ibeacons developed theirs as a community working together. Let us know if you'd like to be involved in ours.  ‌​‌‌‌​‌‌‍‌​‌‌‌​‌​‍‌​‌‌‌​‌​

In the meantime get exploring north east wales and learning how to use the ibeacon using your smart phone or tablet and spread the word about the trails and how you can get involved in Our Back Yard's ibeacon." ‌​‌‌‌​‌‌‍‌​‌‌‌​‌​‍‌​‌‌‌​‌​
Find out more click here: www.facebook.com/OurBackYardCQ or email: sallyanne.hall@groundworknorthwales.org.uk ‌​‌‌‌​‌‌‍‌​‌‌‌​‌​‍‌​‌‌‌​‌​
For more information about Cadwyn Clwyd contact them on 01490 340500, email: admin@cadwynclwyd.co.uk or go to http://cadwynclwyd.co.uk/ ‌​‌‌‌​‌‌‍‌​‌‌‌​‌​‍‌​‌‌‌​‌​
Spotted something? Got a story? Send a Facebook Message | A direct message on Twitter | Email: News@Deeside.com
---
Latest News
Deeside based Redrow signs pact with Welsh Government to address fire safety concerns in high-rise buildings
---