Wepre Park's renewable energy hopes evaporate as water turbine flops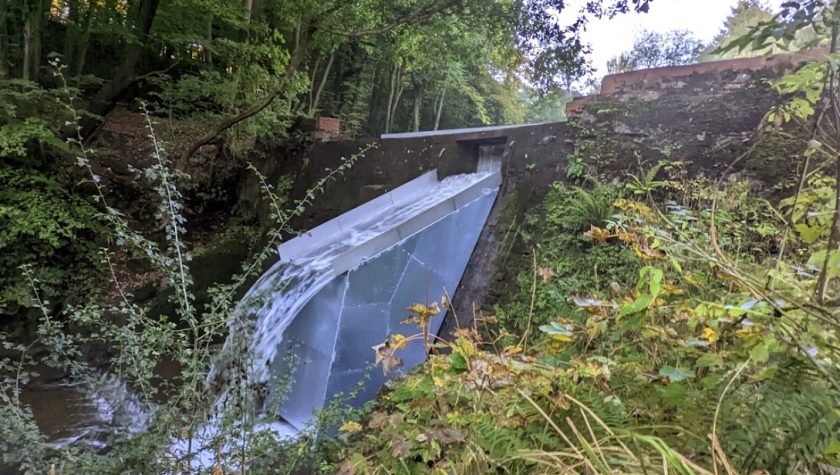 This article is old - Published: Wednesday, Mar 29th, 2023
Hopes a water turbine in Wepre Park could provide enough energy to power the visitor centre have been dashed after the conclusion of an experiment. ‌​‌‌‌​‌‌‍‌​‌‌‌​‌​‍‌​‌‌‌​‌​
The hydro power generator was placed at the Flintshire Council run park's waterfall in the autumn as part of a project with a university, looking at reducing demand on the electricity grid and providing more renewable energy. ‌​‌‌‌​‌‌‍‌​‌‌‌​‌​‍‌​‌‌‌​‌​
Giving an update to members of the council's climate change committee, planning officer Andy Roberts said its ultimate aim was unsuccessful. ‌​‌‌‌​‌‌‍‌​‌‌‌​‌​‍‌​‌‌‌​‌​
"Unfortunately it's concluded there isn't a sufficient head of water to generate a significant amount of energy there and certainly when you look at where that would go, and what you would use it for, what was envisaged was a wider connection to the visitor centre at Wepre", he said. ‌​‌‌‌​‌‌‍‌​‌‌‌​‌​‍‌​‌‌‌​‌​
"Its generated potential was way below the daily needs for the centre. ‌​‌‌‌​‌‌‍‌​‌‌‌​‌​‍‌​‌‌‌​‌​
"We did also ask them (the university) to have an initial look at the trail of reservoirs in Greenfield Valley and again came to a similar conclusion of an insufficient head of water which could generate from that. ‌​‌‌‌​‌‌‍‌​‌‌‌​‌​‍‌​‌‌‌​‌​
"There are a range of competing uses from the water bodies, and the Greenfield Trust through their management plan is also exploring different use options including bringing back fishing in one of the bigger pools. ‌​‌‌‌​‌‌‍‌​‌‌‌​‌​‍‌​‌‌‌​‌​
"Remedial work was also done a few years ago because of flood risk and a weir-step was put in to slow the flow-rate down, so that counts against using the kinetic energy from the water flow to create a head of water. ‌​‌‌‌​‌‌‍‌​‌‌‌​‌​‍‌​‌‌‌​‌​
"It doesn't mean we can't explore further but initial looks at both of those locations haven't produced promising results, but it doesn't mean with new and more efficient technology in the future we couldn't revisit them." ‌​‌‌‌​‌‌‍‌​‌‌‌​‌​‍‌​‌‌‌​‌​
Earlier in the meeting councillors had discussed whether hydro power could be generated within the Greenfield Valley. ‌​‌‌‌​‌‌‍‌​‌‌‌​‌​‍‌​‌‌‌​‌​
Cabinet member for climate change, Caergwrle Cllr Dave Healey (Lab), a historian, lamented the findings of the Wepre Park project but felt there was potential in Greenfield. ‌​‌‌‌​‌‌‍‌​‌‌‌​‌​‍‌​‌‌‌​‌​
He said: "I've not seen the report but I'm led to believe that financially the idea long-term would not be very beneficial. ‌​‌‌‌​‌‌‍‌​‌‌‌​‌​‍‌​‌‌‌​‌​
"Personally I'm quite surprised that with modern day technology that is the case. ‌​‌‌‌​‌‌‍‌​‌‌‌​‌​‍‌​‌‌‌​‌​
"I don't wish to be parochial but I know in 1909 in Caergwrle a man dug up a reservoir which still exists on the lower slopes of Hope Mountain, and from the electricity generated, that actually lit up parts of the village." ‌​‌‌‌​‌‌‍‌​‌‌‌​‌​‍‌​‌‌‌​‌​
He added: "With regards to Greenfield Valley I know Holywell Town Council has been very keen on pursuing that. ‌​‌‌‌​‌‌‍‌​‌‌‌​‌​‍‌​‌‌‌​‌​
"One of their previous councillors was an expert in this field and he wrote a report that he gave to us and they're still pretty keen on that idea, but it's with a view to providing towards an active travel route and that may be a limited use in comparison with the capital involved." ‌​‌‌‌​‌‌‍‌​‌‌‌​‌​‍‌​‌‌‌​‌​
Mold East Cllr Chris Bithell (Lab) also pointed to the history of power being generated in Greenfield Valley to supply industry. ‌​‌‌‌​‌‌‍‌​‌‌‌​‌​‍‌​‌‌‌​‌​
He said: "There are several pools there and several dams which were built on in the 18th / 19th centuries to power the industries which developed along the valley, and those particular industries were powered by water for 150 years or more – cotton mills and woollen mills. ‌​‌‌‌​‌‌‍‌​‌‌‌​‌​‍‌​‌‌‌​‌​
"The potential is still there and it could generate power to generate electricity now, I'm quite sure. ‌​‌‌‌​‌‌‍‌​‌‌‌​‌​‍‌​‌‌‌​‌​
"I had a conversation with Andrew Farrow (the council's chief planning officer), there was in recent years a substantial sum of money invested in the repair and maintenance to dams, to make sure they are safe and secure. ‌​‌‌‌​‌‌‍‌​‌‌‌​‌​‍‌​‌‌‌​‌​
"There is still some work to be done on the upper pool but again it's an area we could perhaps look at in terms of generating electricity because anyone who's visited there will have seen thousands of gallons of water simply going over the wall, down the Greenfield Valley into the estuary again. ‌​‌‌‌​‌‌‍‌​‌‌‌​‌​‍‌​‌‌‌​‌​
"If we could harness some of that energy it would be wonderful in terms of generating electricity."
By Rory Sheehan – Local Democracy Reporter (more here). ‌​‌‌‌​‌‌‍‌​‌‌‌​‌​‍‌​‌‌‌​‌​
Spotted something? Got a story? Send a Facebook Message | A direct message on Twitter | Email: News@Deeside.com
---
Latest News
---