Welsh Government says 'no plans' to use military for frontline ambulance services during strike action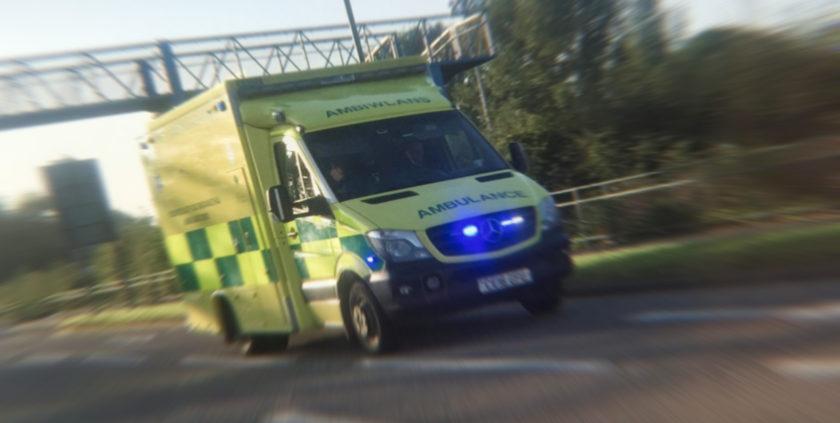 This article is old - Published: Sunday, Dec 18th, 2022

Military personnel are being sent to cover for ambulance staff as UK Government triggers contingency plans to deal with two days of strike action. ‌​‌‌‌​‌‌‍‌​‌‌‌​‌​‍‌​‌‌‌​‌​
Around 10,000 ambulance staff in England and Wales will walk out on 21 and 28 December in a protest over pay and conditions. ‌​‌‌‌​‌‌‍‌​‌‌‌​‌​‍‌​‌‌‌​‌​
The ambulance strikers say their action will affect non-life-threatening calls only. ‌​‌‌‌​‌‌‍‌​‌‌‌​‌​‍‌​‌‌‌​‌​
It's reported the military will supply 600 ambulance drivers with a further 150 personnel providing logistical support ‌​‌‌‌​‌‌‍‌​‌‌‌​‌​‍‌​‌‌‌​‌​
The Welsh Government has said that there are "no plans" to use the military for frontline ambulance services, reports the BBC. ‌​‌‌‌​‌‌‍‌​‌‌‌​‌​‍‌​‌‌‌​‌​
A spokesman said: "Assistance from the armed forces has been agreed for logistical support, helping ensure that available ambulance capacity is used to the best effect" ‌​‌‌‌​‌‌‍‌​‌‌‌​‌​‍‌​‌‌‌​‌​
The Welsh Ambulance Service has said: "During any strike action, emergency services will still be available, and we are working with our trade union partners, staff and the wider health system to make sure that we can continue to deliver essential services." ‌​‌‌‌​‌‌‍‌​‌‌‌​‌​‍‌​‌‌‌​‌​
"Inevitably, healthcare services will be disrupted, and we're asking everyone to use our services sensibly at this difficult time." ‌​‌‌‌​‌‌‍‌​‌‌‌​‌​‍‌​‌‌‌​‌​
"Please make sure you plan ahead and stock up on your prescription medicines, look after yourself, friends, neighbours and family, and only call 111 (or 999) when there is a genuine need to do so." ‌​‌‌‌​‌‌‍‌​‌‌‌​‌​‍‌​‌‌‌​‌​
Following the ballot for strike action, Rachel Harrison, GMB National Secretary, said: "Ambulance workers – like other NHS workers – are on their knees." ‌​‌‌‌​‌‌‍‌​‌‌‌​‌​‍‌​‌‌‌​‌​
"Demoralised and downtrodden, they've faced twelve years Conservative cuts to the service and their pay packets, fought on the frontline of a global pandemic and now face the worst cost of living crisis in a generation." ‌​‌‌‌​‌‌‍‌​‌‌‌​‌​‍‌​‌‌‌​‌​
"No one in the NHS takes strike action lightly." ‌​‌‌‌​‌‌‍‌​‌‌‌​‌​‍‌​‌‌‌​‌​
"This is as much about unsafe staffing levels and patient safety as it is about pay." ‌​‌‌‌​‌‌‍‌​‌‌‌​‌​‍‌​‌‌‌​‌​
"A third of GMB ambulance workers think delays they've been involved with have led to the death of a patient." ‌​‌‌‌​‌‌‍‌​‌‌‌​‌​‍‌​‌‌‌​‌​
"Something has to change or the service as we know it will collapse." ‌​‌‌‌​‌‌‍‌​‌‌‌​‌​‍‌​‌‌‌​‌​
"GMB calls on the Government to avoid a winter of NHS strikes by negotiating a pay award that these workers deserve." ‌​‌‌‌​‌‌‍‌​‌‌‌​‌​‍‌​‌‌‌​‌​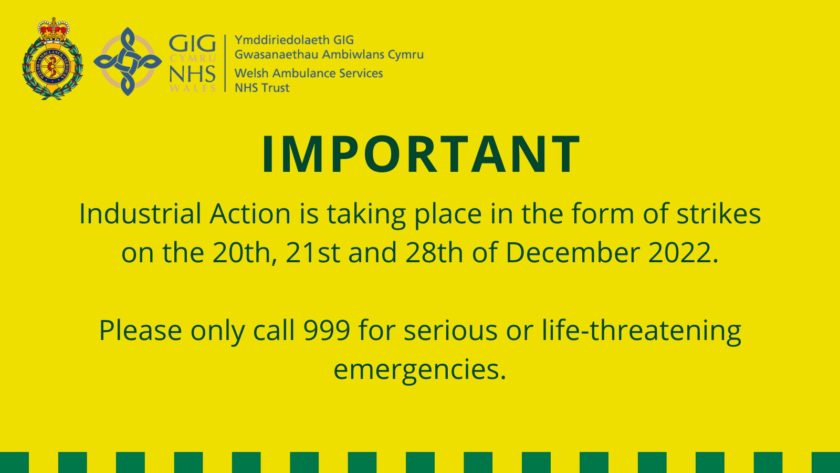 ‌​‌‌‌​‌‌‍‌​‌‌‌​‌​‍‌​‌‌‌​‌​
The Welsh Ambulance Service has published a "what you need to know" explainer about the strike action.   ‌​‌‌‌​‌‌‍‌​‌‌‌​‌​‍‌​‌‌‌​‌​
What is happening?  ‌​‌‌‌​‌‌‍‌​‌‌‌​‌​‍‌​‌‌‌​‌​
Trade unions representing NHS staff are in dispute with the Government over the 2022/23 pay award. A number of the unions have balloted their NHS members to take part in industrial action. ‌​‌‌‌​‌‌‍‌​‌‌‌​‌​‍‌​‌‌‌​‌​
As a result, members of the RCN are striking on the 15 and 20 December, and members of the GMB are striking on 21 December and 28 December. The outcome of the Unite ballot is not yet known, and whilst Unison did not secure a mandate for action in WAST, we anticipate re-balloting next year. ‌​‌‌‌​‌‌‍‌​‌‌‌​‌​‍‌​‌‌‌​‌​
We respect the decision of Trade Union members to strike and are working closely with colleagues to ensure that the impact on our patients is kept to a minimum and that we can continue to provide a safe service to the most acutely unwell patients across Wales. ‌​‌‌‌​‌‌‍‌​‌‌‌​‌​‍‌​‌‌‌​‌​
What does this mean for NHS services in my area? ‌​‌‌‌​‌‌‍‌​‌‌‌​‌​‍‌​‌‌‌​‌​
While not every service will be affected across Wales, there will be a level of disruption in most areas so it's important you check what the position is where you live. ‌​‌‌‌​‌‌‍‌​‌‌‌​‌​‍‌​‌‌‌​‌​
For more information about how services are affected in your area, head to the website of your local health board or check their social media feeds. ‌​‌‌‌​‌‌‍‌​‌‌‌​‌​‍‌​‌‌‌​‌​
At the Welsh Ambulance Service, we have, and will continue to work with RCN and GMB colleagues to agree "derogations". This refers to the services that will continue to be maintained, albeit at a reduced level, on strike days. However, this is a complex process and patients should assume that our services will be significantly affected. ‌​‌‌‌​‌‌‍‌​‌‌‌​‌​‍‌​‌‌‌​‌​
What if I need urgent or emergency care? ‌​‌‌‌​‌‌‍‌​‌‌‌​‌​‍‌​‌‌‌​‌​
If you need urgent care, you should contact your own GP during normal opening hours. If you're not sure what's wrong or are unsure what to do next, go to NHS 111 Wales online, which has lots of healthcare advice and a range of symptom checkers that can help you work out the best steps to take. ‌​‌‌‌​‌‌‍‌​‌‌‌​‌​‍‌​‌‌‌​‌​
During the industrial action, our 111 telephone service is also likely to be affected as many of our clinicians and call handlers may be members of striking unions. As a result, please only call 111 if it's absolutely necessary. ‌​‌‌‌​‌‌‍‌​‌‌‌​‌​‍‌​‌‌‌​‌​
When someone is seriously ill or injured and their life is at risk, you should seek emergency care in the normal way, by calling 999 or attending A&E. ‌​‌‌‌​‌‌‍‌​‌‌‌​‌​‍‌​‌‌‌​‌​
During any strike action, emergency care is still a priority and emergency services will still be available. However, it is likely that only life threatening illnesses or injuries will receive an emergency response. Other patients are likely to be asked to make their own way to hospital. ‌​‌‌‌​‌‌‍‌​‌‌‌​‌​‍‌​‌‌‌​‌​
What should I do if I need an ambulance? ‌​‌‌‌​‌‌‍‌​‌‌‌​‌​‍‌​‌‌‌​‌​
On days where there is strike action, patients should call 999 only for very serious or life-threatening emergencies where there is a risk to life and an ambulance is the only appropriate choice. ‌​‌‌‌​‌‌‍‌​‌‌‌​‌​‍‌​‌‌‌​‌​
By its nature, strike action means that fewer ambulance crews will be available. We will still respond to emergency calls, but this may only be where there is an immediate risk to life. ‌​‌‌‌​‌‌‍‌​‌‌‌​‌​‍‌​‌‌‌​‌​
What if I need to contact 111? ‌​‌‌‌​‌‌‍‌​‌‌‌​‌​‍‌​‌‌‌​‌​
On strike days, there may be fewer clinicians available to triage patients as many of our NHS 111 Wales clinicians may be members of unions who are taking industrial action. This means that you may wait longer to be assessed and to receive a call back. ‌​‌‌‌​‌‌‍‌​‌‌‌​‌​‍‌​‌‌‌​‌​
If your call is not urgent, please go to the NHS 111 Wales website for help and advice. ‌​‌‌‌​‌‌‍‌​‌‌‌​‌​‍‌​‌‌‌​‌​
There, you'll find symptom checkers and a host of health information, as well as information on the current advice on Strep A, including when to seek medical help. ‌​‌‌‌​‌‌‍‌​‌‌‌​‌​‍‌​‌‌‌​‌​
What about non-emergency patient transport? ‌​‌‌‌​‌‌‍‌​‌‌‌​‌​‍‌​‌‌‌​‌​
While our NEPTS service is also likely to be affected by the GMB action, at this stage we are still working through with our TU partners what will happen. ‌​‌‌‌​‌‌‍‌​‌‌‌​‌​‍‌​‌‌‌​‌​
Any patient whose transport is affected by strike action will be contacted as soon as possible to let them know and to offer some advice on alternatives. In addition, we may not accept new bookings on days of action and refer you to alter your appointment with the health board. ‌​‌‌‌​‌‌‍‌​‌‌‌​‌​‍‌​‌‌‌​‌​
We will also add information to our website and use social media to let you know about any changes to services. ‌​‌‌‌​‌‌‍‌​‌‌‌​‌​‍‌​‌‌‌​‌​
What can I do to help keep WAST services running? ‌​‌‌‌​‌‌‍‌​‌‌‌​‌​‍‌​‌‌‌​‌​
Please only call 999 in a serious or life-threatening emergency to keep our precious resources for those who need us most. ‌​‌‌‌​‌‌‍‌​‌‌‌​‌​‍‌​‌‌‌​‌​
If you're ill or injured, consider alternatives to 999 like your GP, pharmacist, NHS 111 Wales online or Minor Injuries Unit, and stock up on prescription medications and over the counter remedies to reduce the risk of you falling ill on strike days. Please also take extra care during the cold spell to avoid slips, trips and falls, and accidents on the road. ‌​‌‌‌​‌‌‍‌​‌‌‌​‌​‍‌​‌‌‌​‌​
We know this is a very disruptive time for everyone and we thank you all for your help and support as we work hard to maintain services for those most in need of our life-saving care. ‌​‌‌‌​‌‌‍‌​‌‌‌​‌​‍‌​‌‌‌​‌​
‌​‌‌‌​‌‌‍‌​‌‌‌​‌​‍‌​‌‌‌​‌​
Spotted something? Got a story? Send a Facebook Message | A direct message on Twitter | Email: News@Deeside.com
---
Latest News
---