Veteran Labour Councillor's fury at "independent's frivolous spending" after they voted through 7.4% precept hike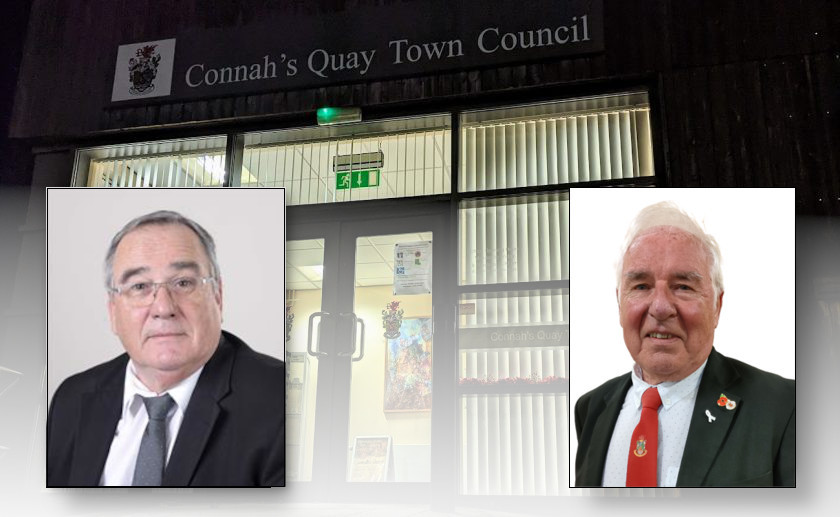 The ruling independent group on Connah's Quay Town Council has agreed to a 7.4% precept hike. ‌​‌‌‌​‌‌‍‌​‌‌‌​‌​‍‌​‌‌‌​‌​
The precept is a charge added to residents' council tax bills to fund services provided by the town council. ‌​‌‌‌​‌‌‍‌​‌‌‌​‌​‍‌​‌‌‌​‌​
Long-standing Welsh Labour Councillor Ian Dunbar said he was furious at the decision that was made amidst 'controversy' during a meeting held in late January. Labour Councillors abstained from the vote. ‌​‌‌‌​‌‌‍‌​‌‌‌​‌​‍‌​‌‌‌​‌​
Late last week Cllr Dunbar (pictured top right) sent Deeside.com a statement regarding the precept hike and other topics. We have published his account in full, and unedited. ‌​‌‌‌​‌‌‍‌​‌‌‌​‌​‍‌​‌‌‌​‌​
In the interest of balance, Deeside.com asked the independent group if they would like to respond. ‌​‌‌‌​‌‌‍‌​‌‌‌​‌​‍‌​‌‌‌​‌​
Independent Councillor Bill Crease (pictured top left) provided a statement which has again been published in full and unedited. ‌​‌‌‌​‌‌‍‌​‌‌‌​‌​‍‌​‌‌‌​‌​
Both councillors represent Connah's Quay South Ward. ‌​‌‌‌​‌‌‍‌​‌‌‌​‌​‍‌​‌‌‌​‌​
Cllr Dunbar says: "In my opinion, the Independent's frivolous spending since May 2022 has put Connah's Quay Town Council's reserves in a precarious position. For example, giving funds to residents of South Ward for the swings in the park and to other organisations. I believe this can and should be done better, especially giving that Parc Adfer have £250,000 per year available for those in the catchment area – of which the whole of Connah's Quay would benefit." ‌​‌‌‌​‌‌‍‌​‌‌‌​‌​‍‌​‌‌‌​‌​
Cllr Dunbar added, "When I was the County Councillor together with my colleague Cllr Ian Smith for South Ward, we set up a Committee with the residents who live in and around the Eurgain Avenue area. This would help tremendously for us to apply for funding for the much-needed swings. This was going well, especially for the hardworking tax payers of Connah's Quay because the funding would not have to be paid back. However, in Connah's Quay Welsh Labour did not get a majority for the Town Council in last year's local election, which has led to the Independents now being in control. The funds for the swings have come from the Council reserves, which I believe has now been severely depleted without any regard. I believe this could have been avoided by going for funding.". ‌​‌‌‌​‌‌‍‌​‌‌‌​‌​‍‌​‌‌‌​‌​
Commenting on the recently agreed precept set by the ruling Independent Group on Connah's Quay Town Council, Cllr Dunbar added "The precept for the coming year is the highest it's ever been at 7.4%. It is the highest in the whole of Flintshire. I am very aggrieved by this because during the election campaign last year, the leaflets given out by my opponents (Cllr Bill Crease and Cllr Antony Wren) lambasted the precepts the Labour Group produced in previous years, even though the precept never exceeded 5%. We even had a 0% Precept in one year, which they omitted to mention in their leaflet. Cllr Crease (who is the Chair of the Finance and General Purposes Committee on CQTC) also said they intend to have the reserves back in the region of £150,000 to £200,000. This can only be achieved by hugely increasing the precept residents pay. Residents who all are already struggling and going through one of the toughest times ever. With this 7.4% precept the residents from the area where the swings were replaced, will be paying back the fund, together with the rest of Connah's Quay residents who don't live in that area, but will have to pay this high Precept to replenish the reserves.". ‌​‌‌‌​‌‌‍‌​‌‌‌​‌​‍‌​‌‌‌​‌​
Cllr Dunbar highlighted Flint Town Council's rumoured precept, saying "Our neighbours in Flint have thought about their residents in this terrible period and have set a 0% Precept. I said at CQTC to the Independents to please think of the hardship people were going through with Gas, Electric, Food costs, Mortgage payments and the many people using Foodbanks – setting such a high precept for this difficult year we are all experiencing. They refused and asked for a recorded vote which resulted in them all voting for the precept, except Cllr Andy Hughes who was absent.". ‌​‌‌‌​‌‌‍‌​‌‌‌​‌​‍‌​‌‌‌​‌​
To conclude, Cllr Dunbar commented, "It seems to me, as elected 'Independent' Councillors they don't appear to make their own choices or act on their own decisions but seem to follow whatever Council Attridge decides.". ‌​‌‌‌​‌‌‍‌​‌‌‌​‌​‍‌​‌‌‌​‌​
Cllr Andy Dunbobbin, Leader of Connah's Quay Town Council Labour Group commented, "The precept hike has been voted on and carried. Our Welsh Labour group abstained, and in my opinion, were right to do so given the continuing concerns we have surround Standing Orders at Connah's Quay Town Council. Let us not forget that if it wasn't for the Welsh Labour Group, an unlawful act nearly took place. The law was nearly broke; however I am pleased that this was recognised and unanimously supported prior to voting on the precept. No matter what your view may be on the level of precept, the law must be upheld.". ‌​‌‌‌​‌‌‍‌​‌‌‌​‌​‍‌​‌‌‌​‌​
Independents respond ‌​‌‌‌​‌‌‍‌​‌‌‌​‌​‍‌​‌‌‌​‌​
Councillor Bill Crease said: Cllr Dunbar's claim that the precept increase in Connah's Quay is the highest in Flintshire is false. Indeed, a number  of labour-controlled councils have increased precept charges at a higher rate than Connah's Quay. Most notably  Shotton has increased its precept by 55.2% resulting in an annual charge of £80.78p whereas Connah's Quay  increase of 7.38% resulted in an annual charge of £62.39 per household in band D property. This is a matter of public  record. It is perfectly true that on 2 occasions in the relatively recent past the ruling Labour administration applied a  0% precept increase. Interestingly both those occasions were in the April preceding local elections in May. Surely the  Labour administration were not putting electioneering before financial good practice?  ‌​‌‌‌​‌‌‍‌​‌‌‌​‌​‍‌​‌‌‌​‌​
To put into context the 7.38% precept increase highlighted by Cllr Dunbar amounts to an annual increase of  approximately £4.50p per household, just over 8p a week. This increase in our first budget has been made necessary  by a number of issues. The most notable being the previous labour administrations failure to properly scrutinise,  oversee and manage its financial activity.   ‌​‌‌‌​‌‌‍‌​‌‌‌​‌​‍‌​‌‌‌​‌​
This failure to apply proper financial overview and scrutiny can be most clearly seen in the previous administrations  failure to claim over £70,000.00 in milk subsidies; insisting that the Quay Cafés huge loss-making operation be  maintained in the face of a damning public interest report which declared the decision to open the café as illegal;  added to the £25,000.00 plus contract for the lease of vending machines for which we can find no evidence of  correct procurement procedures. These three elements on their own resulted in pressures on the budget well in excess of £250,000.00 .  ‌​‌‌‌​‌‌‍‌​‌‌‌​‌​‍‌​‌‌‌​‌​
If any of these failures of oversight and scrutiny had been addressed by the previous administration then it would  have been perfectly possible to arrive at a different precept figure.  ‌​‌‌‌​‌‌‍‌​‌‌‌​‌​‍‌​‌‌‌​‌​
To address Cllr Dunbar's assertion that part funding the renovation of the play area in South Ward was "frivolous" it  is necessary to consider some of the history here. Almost immediately after election Cllr Crease & Cllr Wren were  approached by a residents group based around the park. They were concerned that the park had deteriorated to the  point where it was unsafe for use. We agreed to meet with the parent's group and gathered at the park. We agreed  with the residents that the park was inherently unsafe and assured residents we would speak with Aura as a matter  of urgency. At that meeting Aura confirmed that over a period of 13 or 14 years Connah's Quay was the only town  council which had not participated in the match funded upgrade/repair scheme they ran on behalf of FCC. They also  confirmed that their annual survey of play areas in town had identified the area on Eurgain Avenue as the "worst" in  the town and the one most in need of urgent works. We discussed with Aura Staff potential costs associated with  the required works and were informed that, in their opinion, repairs and renewals would amount to some  £28,000.00 but said it was normal for the council contributions to be capped at £10,000.00 which might result in  some additional works being held over. We took this information to Council and it was agreed that the Town Council  would make a contribution of £10,000.00 towards the cost of making the play area safe and useable by the children  of the town. We do not consider provision of safe, accessible play areas frivolous. Cllr Dunbar implies that his efforts  were progressing well, we as Cllrs could find no evidence of that and residents certainly did not appear to believe  that was the case.  ‌​‌‌‌​‌‌‍‌​‌‌‌​‌​‍‌​‌‌‌​‌​
Cllr Dunbar's concluding comment that the Independent group appear to follow everything Cllr Attridge decides is clearly wrong. Indeed, he has seen at first hand the differences Cllr Attridge and I have had and must understand  that we work with Cllr Attridge for the benefit of all in Connah's Quay. A recent example of independent actions  would be the LDP vote at County Hall where Cllr Attridge and 2 others in the group voted for, 3 voted against and  one abstained, this is a matter of public record. This is not the voting pattern of a group of mindless followers. It is  perhaps time for Cllr Dunbar to cease the continuous name calling and back biting and accept that working for the  benefit of all in the town is the priority, not some petty political point scoring. He has also seen that I am unafraid to  voice my opinions and views in all matters relating to my ward and the people of Connah's Quay. I stood for election  primarily upon the platform of resolving the financial issues afflicting the Town Council. The issues highlighted earlier  of poor, or non-existent financial scrutiny and oversight have been tackled in our first year. All purchases are listed  and notified at monthly council meetings which are open to the public. All transactions (other than those protected  ‌​‌‌‌​‌‌‍‌​‌‌‌​‌​‍‌​‌‌‌​‌​
in law) are declared and itemised for scrutiny. The financial standing of the Council at the end of every month is  published and open to scrutiny.   ‌​‌‌‌​‌‌‍‌​‌‌‌​‌​‍‌​‌‌‌​‌​
My statement that we need to work towards accruing general reserves at year end of £150,000.00 to £200,000.00  has been underlined as a necessity by a statement from the internal auditor in her interim report "year end general  reserves should be maintained between 25% and 100% of net operating expenditure". This would place our target  reserves as between £125,000.00 and £500,000.00.   ‌​‌‌‌​‌‌‍‌​‌‌‌​‌​‍‌​‌‌‌​‌​
Finally on the issue raised by Cllr Dunbobbin that an "unlawful act nearly took place". I would have hoped that our  Police and Crime Commissioner understood that "nearly unlawful" is in fact lawful. The issue being referred to was  the adoption of a set of model financial regulations. The issue is in fact that the financial regulations we inherited  were flawed and in fact in themselves failing to meet proper requirements.  ‌​‌‌‌​‌‌‍‌​‌‌‌​‌​‍‌​‌‌‌​‌​
The regulations state " The Council is responsible in law for ensuring that its financial management is adequate and  effective and that the council has a sound system of internal control which facilitates the effective exercise of the  Council's functions".   ‌​‌‌‌​‌‌‍‌​‌‌‌​‌​‍‌​‌‌‌​‌​
I would point out that when we took control of the Council there were no effective financial controls in place as is  evidenced by the failure to claim milk subsidies, the continuous losses experienced at the Quay Café and the  purchasing/leasing of in excess of £25,000.00 worth of vending equipment with no record of the decisions  associated with them. In the current interim auditors report this issue was identified "The Council Financial  Regulations have not been reviewed or updated since 2015." This statement by the internal auditor relates to the  status which we inherited. The auditor goes on to note" a fundamental part of the model financial regulations is omitted which is the detailed procurement requirements for contracts, including the financial thresholds requiring  quotations, and then a higher threshold where a formal tender process is required. There are no tender  procurement processes of any sort described in the Financial Regulations"  ‌​‌‌‌​‌‌‍‌​‌‌‌​‌​‍‌​‌‌‌​‌​
These statements by the internal auditor clearly show that the previous administration were operating without the  proper constraints on purchasing and of themselves probably resulted in the purchase of the vending machines  without proper consideration.   ‌​‌‌‌​‌‌‍‌​‌‌‌​‌​‍‌​‌‌‌​‌​
As soon as it was practicable to have revised and updated financial regulations in place those regulations were  ratified, but it is interesting to note that since July of last year the Auditor has noted that the total value of payments  approved have been stated in the minutes.  ‌​‌‌‌​‌‌‍‌​‌‌‌​‌​‍‌​‌‌‌​‌​
Summing up I would simply say it would seem to me that the energies of those seeking to score "political points"  over the independent group should consider redirecting those efforts into activity which would deliver a tangible  benefit to the community. Rather than some embittered efforts to discredit the independent group, its leader and  deputy leader perhaps the labour group should buckle down and try to work alongside a group who are moving the  town forward irrespective of individual political persuasion ‌​‌‌‌​‌‌‍‌​‌‌‌​‌​‍‌​‌‌‌​‌​
Spotted something? Got a story? Send a Facebook Message | A direct message on Twitter | Email: News@Deeside.com
---
Latest News
---