Time now set for UK Emergency Alerts test on Sunday 23 April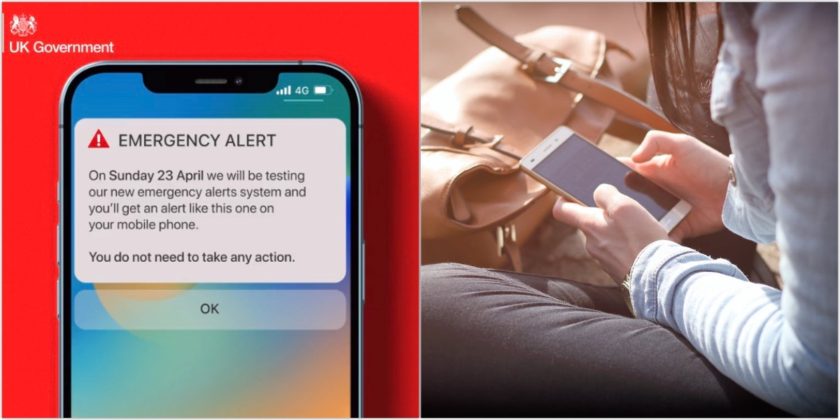 The UK government has now revealed the exact time it will test a new emergency alert system. ‌​‌‌‌​‌‌‍‌​‌‌‌​‌​‍‌​‌‌‌​‌​
A loud, 10-second blast will be sent to all mobiles at 3pm on Sunday, April 23 as part of a nationwide test on warning the public about life-threatening situations such as wildfires or severe flooding. ‌​‌‌‌​‌‌‍‌​‌‌‌​‌​‍‌​‌‌‌​‌​
Following successful pilots in East Suffolk and Reading, the test of the new Emergency Alerts system will see people receive a message on the home screen of their mobile phone, along with a sound and vibration for up to ten seconds. ‌​‌‌‌​‌‌‍‌​‌‌‌​‌​‍‌​‌‌‌​‌​ ‌​‌‌‌​‌‌‍‌​‌‌‌​‌​‍‌​‌‌‌​‌​
For the test – that has been over a decade in the making – the public does not need to take any action, the sound and vibration will stop automatically after ten seconds. ‌​‌‌‌​‌‌‍‌​‌‌‌​‌​‍‌​‌‌‌​‌​
All people need to do is swipe away the message or click 'OK' on their phone's home screen – just like for a 'low battery' warning or notification – and continue to use their phone as normal. ‌​‌‌‌​‌‌‍‌​‌‌‌​‌​‍‌​‌‌‌​‌​ ‌​‌‌‌​‌‌‍‌​‌‌‌​‌​‍‌​‌‌‌​‌​
Emergency Alerts have already been used successfully in a number of other countries, including the US, Canada, the Netherlands and Japan, where it has been widely credited with saving lives, for example, during severe weather events. ‌​‌‌‌​‌‌‍‌​‌‌‌​‌​‍‌​‌‌‌​‌​
The UK Government has worked together with the emergency services and partners, including the Football Association and London Marathon, to make sure the national test has minimum impact on major events taking place on the day. ‌​‌‌‌​‌‌‍‌​‌‌‌​‌​‍‌​‌‌‌​‌​
UK's Emergency Alerts system will provide urgent messages quickly to almost 90% of mobile phones in a defined area when there is a risk to life. ‌​‌‌‌​‌‌‍‌​‌‌‌​‌​‍‌​‌‌‌​‌​
It will give clear instructions on how to respond and has been shown to work more effectively in other countries when people have previously received a test alert. ‌​‌‌‌​‌‌‍‌​‌‌‌​‌​‍‌​‌‌‌​‌​
The system will only be used in rare instances, and people may not receive an alert for months or years. ‌​‌‌‌​‌‌‍‌​‌‌‌​‌​‍‌​‌‌‌​‌​
​‌‌‌​‌‌‍‌But it has been feared that the alert could cause chaos on the roads by distracting drivers. ‌​‌‌‌​‌‌‍‌​‌‌‌​‌​‍‌​‌‌‌​‌​
Domestic abuse victims' 'lifeline' phones could also be uncovered by partners due to the alert. ‌​‌‌‌​‌‌‍‌​‌‌‌​‌​‍‌​‌‌‌​‌​
If you're a survivor of #DomesticAbuse with a secret or secondary phone, the government's new #EmergencyAlerts could reveal your phone even if it's on silent. ‌​‌‌‌​‌‌‍‌​‌‌‌​‌​‍‌​‌‌‌​‌​

Find out how to turn the alerts off >> https://t.co/yQQSkFIZe5 pic.twitter.com/4dkTHxtFnu ‌​‌‌‌​‌‌‍‌​‌‌‌​‌​‍‌​‌‌‌​‌​

— Refuge (@RefugeCharity) April 4, 2023 ‌​‌‌‌​‌‌‍‌​‌‌‌​‌​‍‌​‌‌‌​‌​
‌​‌‌‌​‌‌‍‌​‌‌‌​‌​‍‌​‌‌‌​‌​
Richard Evans, head of technical services at webuyanycar says: "As we prepare to receive an alert on our phones, due across the UK on Sunday April 23, there is a concern amongst industry experts that the siren could significantly impact drivers on the road." ‌​‌‌‌​‌‌‍‌​‌‌‌​‌​‍‌​‌‌‌​‌​
"Mobile phones can cause dangerous driving distractions and put all road users at risk." ‌​‌‌‌​‌‌‍‌​‌‌‌​‌​‍‌​‌‌‌​‌​
"Our research found that over 4 in 5 drivers (84%) are aware it is illegal to tap or use a mobile whilst driving." ‌​‌‌‌​‌‌‍‌​‌‌‌​‌​‍‌​‌‌‌​‌​
"If you receive the alert whilst behind the wheel, you should not respond or try to touch your phone." ‌​‌‌‌​‌‌‍‌​‌‌‌​‌​‍‌​‌‌‌​‌​
"Doing so could not only mean you end up with 6 points and expensive fines but it could also lead to a car accident."  ‌​‌‌‌​‌‌‍‌​‌‌‌​‌​‍‌​‌‌‌​‌​
Chancellor of the Duchy of Lancaster, Oliver Dowden MP, said: "Put the date in your diaries – at 3pm on 23 April, we'll be testing our new national Emergency Alerts system. ‌​‌‌‌​‌‌‍‌​‌‌‌​‌​‍‌​‌‌‌​‌​
"Getting this system operational with the national test means we have another tool in our toolkit to keep the public safe in life-threatening emergencies. It could be the sound that saves your life." ‌​‌‌‌​‌‌‍‌​‌‌‌​‌​‍‌​‌‌‌​‌​
National Police Chiefs' Council Lead for Civil Contingencies, Assistant Chief Constable Owen Weatherill said: "Warning and informing the public at speed during times of crises can be vital." ‌​‌‌‌​‌‌‍‌​‌‌‌​‌​‍‌​‌‌‌​‌​
"We look forward to further developing the use of the Emergency Alerts capability and how it can have real benefits for the public to protect and preserve life, as well as supporting policing's wider response to critical incidents with partner agencies." ‌​‌‌‌​‌‌‍‌​‌‌‌​‌​‍‌​‌‌‌​‌​
"Alongside partners, we will continue to listen carefully to public feedback and ensure the use of Emergency Alerts has a positive impact." ‌​‌‌‌​‌‌‍‌​‌‌‌​‌​‍‌​‌‌‌​‌​
You can find out further information on Emergency Alerts, including what they look and sound like at gov.uk/alerts
‌‌‌​‌‌‍‌​‌‌‌​‌​‍‌​‌‌‌​‌​ ‌​‌‌‌​‌‌‍‌​‌‌‌​‌​‍‌​‌‌‌​‌​
Spotted something? Got a story? Send a Facebook Message | A direct message on Twitter | Email: News@Deeside.com
---
Latest News
---