Steve Morgan Foundation backing for Flintshire Foodbank will help maintain vital service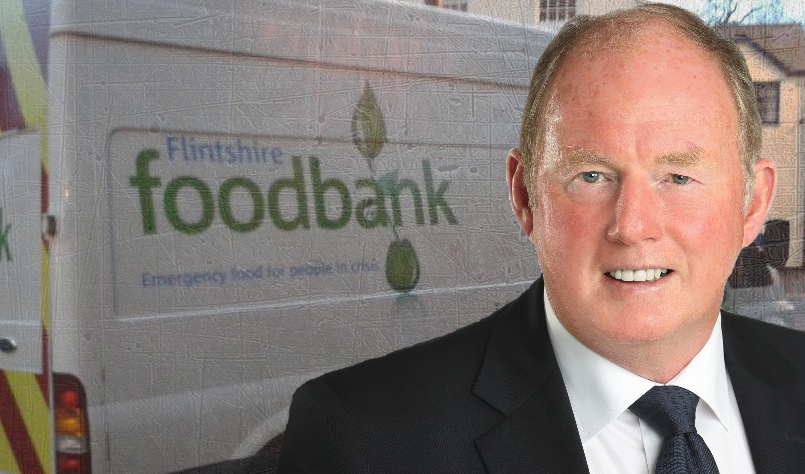 This article is old - Published: Wednesday, Nov 7th, 2018

A cash injection by the Steve Morgan Foundation, the charity set up by the founder and Chairman of Deeside based housebuilder Redrow (pictured above) has come at a vital time for Flintshire Foodbank. ‌​‌‌‌​‌‌‍‌​‌‌‌​‌​‍‌​‌‌‌​‌​
Figures released this week by the Trussell Trust, the charity which Flintshire Foodbank is a part of, show UK foodbank usage has soared by more than 13% in a year. ‌​‌‌‌​‌‌‍‌​‌‌‌​‌​‍‌​‌‌‌​‌​
According to the charity universal credit is the greatest single driver behind the increase as thousands more families are forced to rely on emergency food handouts. ‌​‌‌‌​‌‌‍‌​‌‌‌​‌​‍‌​‌‌‌​‌​
Since being founded in 2012, Flintshire Foodbank has provided food for 36,000 people in need and received over 335,000 kilos of donated food. ‌​‌‌‌​‌‌‍‌​‌‌‌​‌​‍‌​‌‌‌​‌​
The eye opening figures underlines the importance of the charity's work across Flintshire, the busiest foodbank in North Wales. ‌​‌‌‌​‌‌‍‌​‌‌‌​‌​‍‌​‌‌‌​‌​
Flintshire Foodbank has over 60 volunteers giving their time every week at eight centres across the county. Founder Andy Leake said: ‌​‌‌‌​‌‌‍‌​‌‌‌​‌​‍‌​‌‌‌​‌​
"We exist purely to help people who are in crisis, for whatever reason, and to ensure they have enough food on the table for themselves and their families. ‌​‌‌‌​‌‌‍‌​‌‌‌​‌​‍‌​‌‌‌​‌​
A lot of people find themselves struggling these days, and I would say that a significant number of people that we support are in work. ‌​‌‌‌​‌‌‍‌​‌‌‌​‌​‍‌​‌‌‌​‌​
It is just that for whatever reason they are unable to feed their family that week, or that month, and in those situations we are just pleased to be able to help." ‌​‌‌‌​‌‌‍‌​‌‌‌​‌​‍‌​‌‌‌​‌​
The Steve Morgan Foundation has donated £51,000 over the next three years to help with the part-time salaries of a Distribution Manager and a Debt Centre Manager. ‌​‌‌‌​‌‌‍‌​‌‌‌​‌​‍‌​‌‌‌​‌​
The grant will play a huge part in the Flintshire Foodbank being able to continue with its vital service to the local community. ‌​‌‌‌​‌‌‍‌​‌‌‌​‌​‍‌​‌‌‌​‌​
"It is an amazing grant, and will go to support the wages of a couple of part-time staff," explains Andy. ‌​‌‌‌​‌‌‍‌​‌‌‌​‌​‍‌​‌‌‌​‌​
"Without these two staff we simply wouldn't be able to function properly. ‌​‌‌‌​‌‌‍‌​‌‌‌​‌​‍‌​‌‌‌​‌​
One manages the debt advice centre and the other oversees the distribution of food across our centres. ‌​‌‌‌​‌‌‍‌​‌‌‌​‌​‍‌​‌‌‌​‌​
They are key people in our charity, and so this support across a three-year period is invaluable – we can't thank the Steve Morgan Foundation enough."  Andy said. ‌​‌‌‌​‌‌‍‌​‌‌‌​‌​‍‌​‌‌‌​‌​
The backing from the Steve Morgan Foundation dovetails with the huge support of the local community. Andy says: ‌​‌‌‌​‌‌‍‌​‌‌‌​‌​‍‌​‌‌‌​‌​
"The whole community of Flintshire are such a generous group of people ‌​‌‌‌​‌‌‍‌​‌‌‌​‌​‍‌​‌‌‌​‌​
They always come forward to donate food, which is really important, as we will always tend to ask people for food rather than funding. ‌​‌‌‌​‌‌‍‌​‌‌‌​‌​‍‌​‌‌‌​‌​
In the past we have managed to secure funding from national charities, but less so from those more focused in local areas, apart from the Steve Morgan Foundation, who have been amazing. ‌​‌‌‌​‌‌‍‌​‌‌‌​‌​‍‌​‌‌‌​‌​
"The majority of the food is donated by the general public, for which we are extremely grateful, and we also have food donated by businesses and some good corporate relationships which help us." ‌​‌‌‌​‌‌‍‌​‌‌‌​‌​‍‌​‌‌‌​‌​
The ultimate ambition for all those at Flintshire Foodbank is to end food poverty and end the need for foodbanks. ‌​‌‌‌​‌‌‍‌​‌‌‌​‌​‍‌​‌‌‌​‌​
"In essence we are actually trying to put ourselves, as a charity, out of business. ‌​‌‌‌​‌‌‍‌​‌‌‌​‌​‍‌​‌‌‌​‌​
"We want to get to a point where people are all in work and managing their budgets so that they can cope with the income they receive whether that is indeed from work or benefits, to be able to feed themselves and their families." Andy adds. ‌​‌‌‌​‌‌‍‌​‌‌‌​‌​‍‌​‌‌‌​‌​
To find out more about Flintshire Foodbank visit here: https://flintshire.foodbank.org.uk/ ‌​‌‌‌​‌‌‍‌​‌‌‌​‌​‍‌​‌‌‌​‌​
‌​‌‌‌​‌‌‍‌​‌‌‌​‌​‍‌​‌‌‌​‌​
‌​‌‌‌​‌‌‍‌​‌‌‌​‌​‍‌​‌‌‌​‌​
Spotted something? Got a story? Send a Facebook Message | A direct message on Twitter | Email: News@Deeside.com
---
Latest News
---