Residents in Flintshire could face increased garden waste fees and reduced bin collections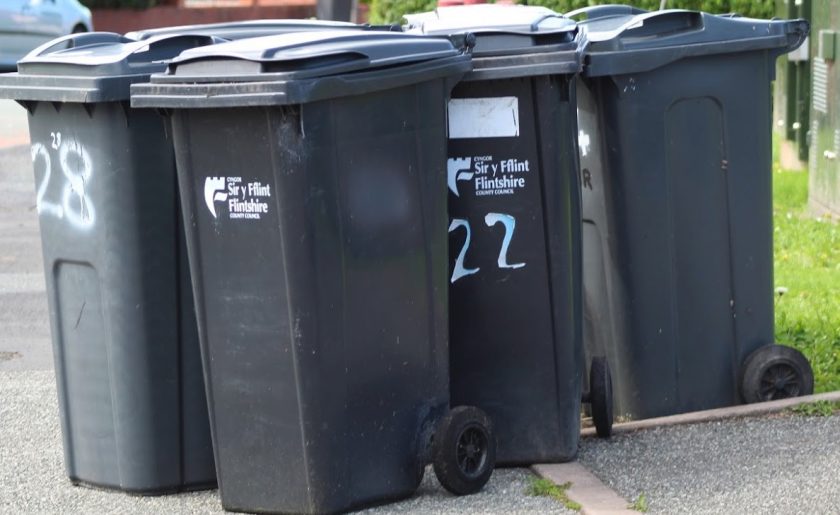 This article is old - Published: Thursday, Jan 5th, 2023
Flintshire bin collections could become monthly in a bid to achieve recycling targets. ‌​‌‌‌​‌‌‍‌​‌‌‌​‌​‍‌​‌‌‌​‌​
Larger black bins or sacks could be provided should Flintshire Council eventually move to less frequent collections, while residents also look set to be hit with a garden waste charge increase. ‌​‌‌‌​‌‌‍‌​‌‌‌​‌​‍‌​‌‌‌​‌​
The authority is looking at potential moves to three-weekly or even monthly black bin collections when its Environment and Economy scrutiny committee looks at its Waste Strategy next week (Tuesday, January 10). ‌​‌‌‌​‌‌‍‌​‌‌‌​‌​‍‌​‌‌‌​‌​
There is concern that the council might not meet Welsh Government targets for recycling and could be at risk of being fined. ‌​‌‌‌​‌‌‍‌​‌‌‌​‌​‍‌​‌‌‌​‌​
Councils have been set a target of achieving 70 per cent recycling by 2024-25, which Flintshire was close to hitting three years ago in 2019. But there has been a decline since, with Flintshire achieving 60 per cent in 2021. ‌​‌‌‌​‌‌‍‌​‌‌‌​‌​‍‌​‌‌‌​‌​
The pandemic and lockdown restrictions have been cited as a factor, but if the Welsh Government were to implement their powers the council could be facing an estimated six-figure fine if it misses targets. ‌​‌‌‌​‌‌‍‌​‌‌‌​‌​‍‌​‌‌‌​‌​
One of the issues highlighted in a report put together by Flintshire's Chief Officer for Streetscene and Transportation is that almost half the waste placed in the county's black bins is recyclable. ‌​‌‌‌​‌‌‍‌​‌‌‌​‌​‍‌​‌‌‌​‌​
It also finds that 27 per cent of what is placed into black bins across the county is food waste, a significant amount of which was found to be in edible condition. ‌​‌‌‌​‌‌‍‌​‌‌‌​‌​‍‌​‌‌‌​‌​
The report to councillors states: "Since September 2022 we have seen increases in the amount of residual waste collected following a sustained decrease in the months April-August. ‌​‌‌‌​‌‌‍‌​‌‌‌​‌​‍‌​‌‌‌​‌​
"Whilst work is still underway to verify the analysis, the initial results have shown that up to 50 per cent of what is placed in the residual waste (black) bins by residents in Flintshire is recyclable material. ‌​‌‌‌​‌‌‍‌​‌‌‌​‌​‍‌​‌‌‌​‌​
"Furthermore, 27 per cent of the black bin contents was found to be food waste, a significant amount of which was considered to be in an edible condition. ‌​‌‌‌​‌‌‍‌​‌‌‌​‌​‍‌​‌‌‌​‌​
"With a separate weekly kerbside collection service available for food waste and weekly collection for recycling, the current situation is not sustainable and remains a significant risk to the local authority." ‌​‌‌‌​‌‌‍‌​‌‌‌​‌​‍‌​‌‌‌​‌​
The report advises that councillors consider either reducing residual waste by changing the capacity of the black bin or by changing the frequency of waste collections – which would reduce a reliance on agency staff costs. ‌​‌‌‌​‌‌‍‌​‌‌‌​‌​‍‌​‌‌‌​‌​
Potential options outlined in the report are; ‌​‌‌‌​‌‌‍‌​‌‌‌​‌​‍‌​‌‌‌​‌​
Four weekly collections with a 240 litre bin (60 litres/week)
Three weekly collections with 180 litre bin (60 litres/week)
Two weekly collections with a 140 litre bin (70 litres/week)
Or ‌​‌‌‌​‌‌‍‌​‌‌‌​‌​‍‌​‌‌‌​‌​
Four weekly collections with four waste sacks (60 litres/week)
Three weekly collections with three waste sacks (60 litres/week)
Two weekly collections with two waste sacks (60 litres/week)
"Operational savings are realised by a reduction in the number of operatives required per week on residual waste rounds", the report says. ‌​‌‌‌​‌‌‍‌​‌‌‌​‌​‍‌​‌‌‌​‌​
"These operatives would be allocated to alternative areas of the Service Delivery team to reduce the reliance on agency staff. ‌​‌‌‌​‌‌‍‌​‌‌‌​‌​‍‌​‌‌‌​‌​
"The reductions could potentially save up to £210,000 (three-weekly collections) or £315,000 (four-weekly collections) per year. ‌​‌‌‌​‌‌‍‌​‌‌‌​‌​‍‌​‌‌‌​‌​
"A change in collection frequency may require consideration of changes to the container size or container types, which would involve further considerations, including funding, health and safety impact on crews, compatibility with vehicles and storage for residents." ‌​‌‌‌​‌‌‍‌​‌‌‌​‌​‍‌​‌‌‌​‌​
The report adds: "Capital funding would be required to procure alternative sized residual waste containers should a change in container size be required. This is estimated to be in the region of £1million. ‌​‌‌‌​‌‌‍‌​‌‌‌​‌​‍‌​‌‌‌​‌​
"Consideration would need to be given to what happens to the old bins/containers and whether these should be collected and provision made for their resale or disposal. ‌​‌‌‌​‌‌‍‌​‌‌‌​‌​‍‌​‌‌‌​‌​
"Changing to a sack collection could present health and safety risks to the workforce in terms of manual handling, sharps/needle stick injuries, slips, trips and falls, personal injury and hygiene. ‌​‌‌‌​‌‌‍‌​‌‌‌​‌​‍‌​‌‌‌​‌​
"There would be a need for our residents to control and contain the waste securely and safely on their own properties, which if contained within sacks could attract vermin and produce odour. ‌​‌‌‌​‌‌‍‌​‌‌‌​‌​‍‌​‌‌‌​‌​
"This option would also present the need to collect all existing containers and make provision for their resale or disposal. ‌​‌‌‌​‌‌‍‌​‌‌‌​‌​‍‌​‌‌‌​‌​
"Regardless of any changes to collection frequencies or container sizes, side waste enforcement would need to continue to ensure that only residual waste is presented for collection in the residual waste (black) bin and that residents are fully participating in recycling." ‌​‌‌‌​‌‌‍‌​‌‌‌​‌​‍‌​‌‌‌​‌​
In addition, the council is also looking at an increase in the garden waste (brown bin) charge, which has not increased since being set at £32 per year in 2018gBy Rory Sheehan – Local Democracy Reporter ‌​‌‌‌​‌‌‍‌​‌‌‌​‌​‍‌​‌‌‌​‌​
Spotted something? Got a story? Send a Facebook Message | A direct message on Twitter | Email: News@Deeside.com
---
Latest News
Deeside politician joins campaigners calling for full contents of 1983 inquiry into sinking of Sir Galahad to be published
---