Nearly 30,000 people in Flintshire have now received their first dose of a coronavirus vaccine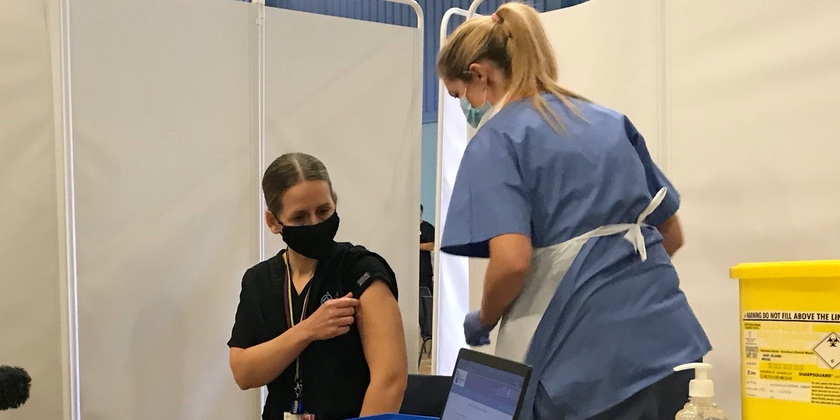 This article is old - Published: Thursday, Feb 11th, 2021
Betsi Cadwaladr University Health Board says it on track to reach the target set by Welsh Government to have offered COVID-19 vaccinations to the first four priority groups by the middle this month. ‌​‌‌‌​‌‌‍‌​‌‌‌​‌​‍‌​‌‌‌​‌​
So far 160,395 people the first four priority groups have now received their first dose of a coronavirus vaccine. ‌​‌‌‌​‌‌‍‌​‌‌‌​‌​‍‌​‌‌‌​‌​
These groups are made of the over 80s, care home staff and residents, the over 70s, healthcare workers and those who were asked to shield during the pandemic. ‌​‌‌‌​‌‌‍‌​‌‌‌​‌​‍‌​‌‌‌​‌​
This includes 29,865 in Flintshire, 25,706 in Wrexham, Anglesey: 17,419, Gwynedd: 26,500, Conwy: 31,374, Denbighshire: 24,374 and Other: 4,575. ‌​‌‌‌​‌‌‍‌​‌‌‌​‌​‍‌​‌‌‌​‌​
Across Wales 684,097 have been vaccinated – around 20% of the adult population. ‌​‌‌‌​‌‌‍‌​‌‌‌​‌​‍‌​‌‌‌​‌​
From next week the north Wales health board will start administer the second dose of Pfizer vaccines to those who were vaccinated at the end of 2020. ‌​‌‌‌​‌‌‍‌​‌‌‌​‌​‍‌​‌‌‌​‌​
Chris Stockport, executive director for primary care and community services at the health board, said: "Just like in lots of other parts of the UK, we are currently able to vaccinate people far more quickly than the supply of vaccine allows us to. ‌​‌‌‌​‌‌‍‌​‌‌‌​‌​‍‌​‌‌‌​‌​
"Here in North Wales we are getting our fair share of vaccines and we have to remind ourselves that the two vaccines available were first licensed in December and it is always the case that supplies of vaccine are slower and a little bit more bumpy in the early weeks of rollout. ‌​‌‌‌​‌‌‍‌​‌‌‌​‌​‍‌​‌‌‌​‌​
"We are assured that the vaccine companies are increasing their rate of manufacturing and of course it is likely than more vaccines will become approved with time. ‌​‌‌‌​‌‌‍‌​‌‌‌​‌​‍‌​‌‌‌​‌​
"So although people are frustrated at having to wait for vaccination we are confident that we can administer them as soon as they are supplied to us, and that the supply rate will continue to increase. ‌​‌‌‌​‌‌‍‌​‌‌‌​‌​‍‌​‌‌‌​‌​
‌​‌‌‌​‌‌‍‌​‌‌‌​‌​‍‌​‌‌‌​‌​
"At present our supply is roughly half Pfizer Biontech and half AstraZeneca. The Pfizer Biontech vaccine needs particular handling conditions due to it needing to be stored at ultra-low temperatures. Once a tray of vaccines is thawed for use and then opened it has to be fully used within a short period of time. Each tray contains over 1,000 doses so once thawed, we have to administer that particular vaccine at high volumes. ‌​‌‌‌​‌‌‍‌​‌‌‌​‌​‍‌​‌‌‌​‌​
"The AstraZeneca vaccine is a little easier to handle and store using the normal vaccine facilities that you would find in your GP practice, dentist or community pharmacy for example. ‌​‌‌‌​‌‌‍‌​‌‌‌​‌​‍‌​‌‌‌​‌​
"To deal with this we are using two different methods of deployment here in north Wales. For the PfizerBiontech vaccine, we are using large scale mass vaccination centres, which can handle the complex storage and handling requirements and can administer to enough people to use up all of the doses in the tray within time. ‌​‌‌‌​‌‌‍‌​‌‌‌​‌​‍‌​‌‌‌​‌​
"For the AstraZeneca vaccine, we distributing all of this through primary care providers, such as your gp surgery, because they have the facilities to handle this vaccine. In this way we are delivering as much vaccine as possible in local communities, so that less people need to travel to a mass vaccination centre." ‌​‌‌‌​‌‌‍‌​‌‌‌​‌​‍‌​‌‌‌​‌​
The following advice on your appointment and what to do when you attend either your GP surgery or local vaccination centre has also been issued by the health board: ‌​‌‌‌​‌‌‍‌​‌‌‌​‌​‍‌​‌‌‌​‌​
Please don't phone the call centre, or your GP practice, unless you have been asked to do so, or unless you are in one of the age groups invited to phone us if they haven't yet received an appointment. The health board won't be able to give you an appointment out of turn.
Please try to be understanding with your GP staff and the Health Board vaccination team, the vaccines are being administered as quickly as they are received
Some people do not answer their phones if they do not recognise the number. However if you are in one of the groups currently being vaccinated then you may be called and offered offer a short notice appointment if one becomes available.
If you receive an invitation for an appointment but are sure that you do not wish to be vaccinated then please make it known so that appointment can be offered to somebody else.
Finally, when you attend your vaccination appointment please remember that to keep you safe and so strict social distancing rules will be in force. Please do not arrive early, and please bring a face mask. You should also bring photo ID as you may be required to present it.
Dr Stockport added: "Because we are delivering vaccinations from mass vaccination centres and from local primary care providers there is a lot of work going on behind the scenes to make sure everyone receives an invitation at the right time. ‌​‌‌‌​‌‌‍‌​‌‌‌​‌​‍‌​‌‌‌​‌​
"Your invitation may come from your GP practice, or it may come directly from the Health Board to invite you to a mass vaccination centre. ‌​‌‌‌​‌‌‍‌​‌‌‌​‌​‍‌​‌‌‌​‌​
"Because it will take some time for the vaccination manufacturers to supply enough vaccine, we have grouped our population in north Wales into ten groups, according to how at vulnerable individuals are if they contract coronavirus. ‌​‌‌‌​‌‌‍‌​‌‌‌​‌​‍‌​‌‌‌​‌​
"This is entirely in keeping with the national guidance and it means that the first available supplies are being used for those members of our communities that are at the highest risks. ‌​‌‌‌​‌‌‍‌​‌‌‌​‌​‍‌​‌‌‌​‌​
"You will only get an invitation for vaccination when we get to your group. As we vaccinate each group we will open up our call centre to allow people who have not received an appointment automatically to book an appointment directly with us. ‌​‌‌‌​‌‌‍‌​‌‌‌​‌​‍‌​‌‌‌​‌​
"At the moment (the 2nd week of February) we are booking appointments directly with anyone aged over 70 who has not yet received an appointment. ‌​‌‌‌​‌‌‍‌​‌‌‌​‌​‍‌​‌‌‌​‌​
"As we move through the groups and open the call centre up to more people we will publicise this on our website, through social media, through our partners working across north Wales, and will keep the media informed too. ‌​‌‌‌​‌‌‍‌​‌‌‌​‌​‍‌​‌‌‌​‌​
"So please don't worry that you will not be able to be vaccinated, or that you have been forgotten about." ‌​‌‌‌​‌‌‍‌​‌‌‌​‌​‍‌​‌‌‌​‌​
Spotted something? Got a story? Send a Facebook Message | A direct message on Twitter | Email: News@Deeside.com
---
Latest News
---