Mold Town Council welcomes new officers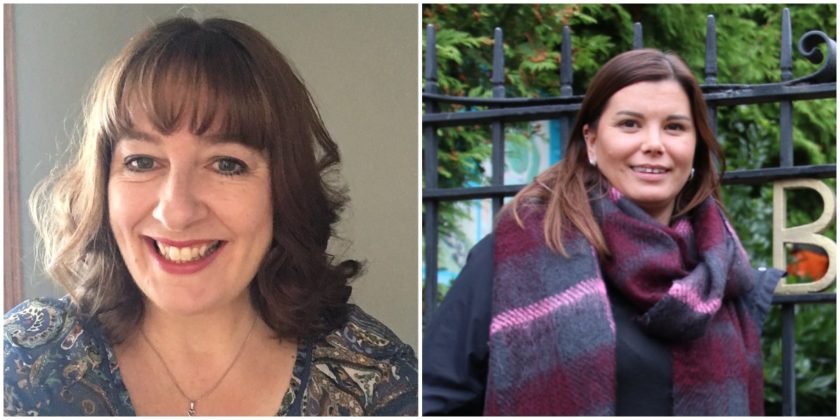 This article is old - Published: Saturday, Dec 10th, 2022

Mold Town Council has welcomed two new officers following the departure of former Town Clerk Ian Jones, who has recently retired and Joanna Douglass Business and Regeneration Officer, who left Mold to take up a position at Denbighshire Council, ‌​‌‌‌​‌‌‍‌​‌‌‌​‌​‍‌​‌‌‌​‌​
The two new town council appointments; Helen Belton (pictured left)  as Town Clerk and Finance Officer and Jo Lane (pictured right) as Business Regeneration Project Officer. ‌​‌‌‌​‌‌‍‌​‌‌‌​‌​‍‌​‌‌‌​‌​
Mayor of Mold Councillor Haydn Jones said "I am delighted that Mold Town Council have appointed Helen Belton and Jo Lane to our small team.  ‌​‌‌‌​‌‌‍‌​‌‌‌​‌​‍‌​‌‌‌​‌​
Helen has joined us from Ruabon Community Council and has gelled in exceptionally well in her first month in post, as has Jo in her new role.   ‌​‌‌‌​‌‌‍‌​‌‌‌​‌​‍‌​‌‌‌​‌​
Jo although is not new to the Town Council, Jo has been heading up the Bailey Hill Project for the last 3 years and has demonstrated great professional skills as head of the Bailey Hill project. ‌​‌‌‌​‌‌‍‌​‌‌‌​‌​‍‌​‌‌‌​‌​
With her new appointment,  Jo will now divide her time between her role at the Bailey Hill and the new post working with the town's businesses.   ‌​‌‌‌​‌‌‍‌​‌‌‌​‌​‍‌​‌‌‌​‌​
On behalf of the Council,  I wish them well in their new positions and I'm delighted knowing that their experience will help me carry out my duties as Mayor during my term." ‌​‌‌‌​‌‌‍‌​‌‌‌​‌​‍‌​‌‌‌​‌​
Helen Belton Mold Town Council –  Town Clerk and Finance Officer said "After leaving University I followed in my parents footsteps and became a Teacher for 20 years before taking up a post as Clerk to Coedpoeth Community Council in 2014.  ‌​‌‌‌​‌‌‍‌​‌‌‌​‌​‍‌​‌‌‌​‌​
As Clerk, I  found the role very interesting and a community-centred job; I was able to spend time helping people from all areas of the village, both residents and businesses. ‌​‌‌‌​‌‌‍‌​‌‌‌​‌​‍‌​‌‌‌​‌​
I then became the Clerk to Ruabon Community Council in 2019. ‌​‌‌‌​‌‌‍‌​‌‌‌​‌​‍‌​‌‌‌​‌​
With both of these councils I was responsible for the parks, village halls, streetlights, Christmas lights, cemeteries and management of staff, as well as liaising with the County Council on behalf of residents. ‌​‌‌‌​‌‌‍‌​‌‌‌​‌​‍‌​‌‌‌​‌​
In 2021, in addition to my role at Ruabon, I became the Clerk to Weston Rhyn Parish Council; a small council on the Wrexham/Shropshire border, which I still manage currently alongside my work in Mold. ‌​‌‌‌​‌‌‍‌​‌‌‌​‌​‍‌​‌‌‌​‌​
This is very interesting, as Local Council laws are slightly different over the border, so it keeps me on my toes!"  ‌​‌‌‌​‌‌‍‌​‌‌‌​‌​‍‌​‌‌‌​‌​
Helen went on to say "Having worked from home for a number of years, it is wonderful to be back amongst staff and councillors at Mold Town Hall. ‌​‌‌‌​‌‌‍‌​‌‌‌​‌​‍‌​‌‌‌​‌​
I have enjoyed meeting people and everyone has been extremely friendly and welcoming towards me. I am in touch with previous Clerks to Mold to ensure there is a smooth transition.   ‌​‌‌‌​‌‌‍‌​‌‌‌​‌​‍‌​‌‌‌​‌​
In my spare time I walk my two dogs and I am also a singer with local choirs, piano teacher and can often be seen on stage in theatres in Wrexham and Llangollen, most recently playing Geraldine Granger in the Vicar of Dibley.  ‌​‌‌‌​‌‌‍‌​‌‌‌​‌​‍‌​‌‌‌​‌​
I look forward to meeting Mold's residents and business community and also helping out at the many Town Council events." ‌​‌‌‌​‌‌‍‌​‌‌‌​‌​‍‌​‌‌‌​‌​
Jo Lane Mold Town Council – Business Regeneration Project Officer said "I am delighted to take up my new role, which combines the Business Regeneration Officer post with the Bailey Hill Project Officer role and shows the commitment of Mold Town Council to continuation and development of our local historical site, Bailey Hill.  ‌​‌‌‌​‌‌‍‌​‌‌‌​‌​‍‌​‌‌‌​‌​
I am a 'Mold girl', I grew up in the town and have lived here for the majority of my life, aside from my time spent at University and a few years down South when I married my husband Ben, my daughters attend the local schools and my family are also still living in the town, so I am passionate about our town and I hope this comes through in my work. I am very active in the community and have a number of volunteering roles which includes: ‌​‌‌‌​‌‌‍‌​‌‌‌​‌​‍‌​‌‌‌​‌​
Secretary for Dementia Friendly Mold and a Parent Governor at Ysgol Bryn Gwalia."  Jo went onto say " I have over 15 years' experience working in the public and charity sectors, setting up many projects and working with and supporting businesses and organisations of all shapes and sizes. I believe my skills and experience will be an asset to the town of Mold." ‌​‌‌‌​‌‌‍‌​‌‌‌​‌​‍‌​‌‌‌​‌​
To get in touch with Helen or Jo, their contact details are:- ‌​‌‌‌​‌‌‍‌​‌‌‌​‌​‍‌​‌‌‌​‌​
Helen Belton 01352 751819  email townclerk@moldtowncouncil.org.uk ‌​‌‌‌​‌‌‍‌​‌‌‌​‌​‍‌​‌‌‌​‌​
Spotted something? Got a story? Send a Facebook Message | A direct message on Twitter | Email: News@Deeside.com
---
Latest News
---