Millions of low-income households missing out on cheaper broadband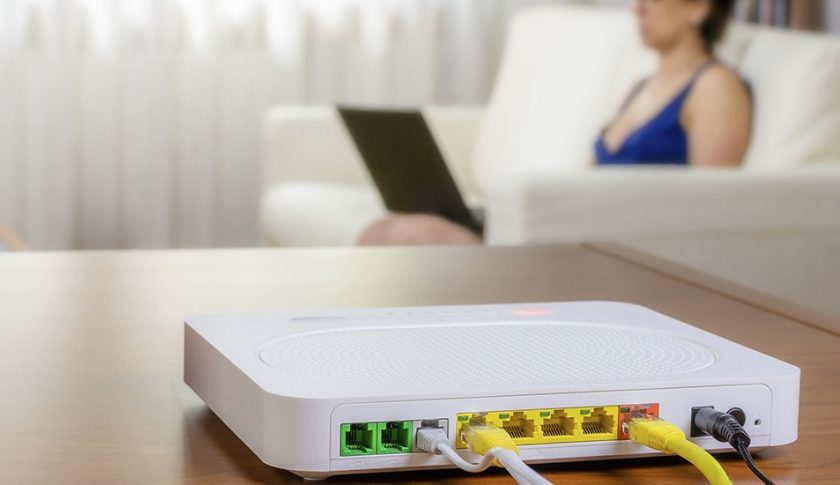 Millions of low-income households across the UK are missing out on cheaper broadband deals according to a new report by Ofcom. ‌​‌‌‌​‌‌‍‌​‌‌‌​‌​‍‌​‌‌‌​‌​
Struggling families could save around £200 per year by switching to a broadband social tariff, the telecoms regulator has said. ‌​‌‌‌​‌‌‍‌​‌‌‌​‌​‍‌​‌‌‌​‌​
Despite quadrupling since January 2022, take-up of social tariffs remains low, with just 5% of eligible households signed up to a discounted package. ‌​‌‌‌​‌‌‍‌​‌‌‌​‌​‍‌​‌‌‌​‌​
These offers, available to an estimated 4.3 million households that receive one of several government benefits, can provide superfast broadband speeds and a price freeze for as little as £12 per month. ‌​‌‌‌​‌‌‍‌​‌‌‌​‌​‍‌​‌‌‌​‌​
While Ofcom has welcomed the expansion of social tariffs, the low take-up figures highlight the need for increased awareness and support. ‌​‌‌‌​‌‌‍‌​‌‌‌​‌​‍‌​‌‌‌​‌​
Over half of eligible households, or 53%, are unaware of these discounts, despite the cost-of-living crisis affecting many across the country. ‌​‌‌‌​‌‌‍‌​‌‌‌​‌​‍‌​‌‌‌​‌​
Most households who were aware of social tariffs discovered them through social media and television, rather than from their providers. ‌​‌‌‌​‌‌‍‌​‌‌‌​‌​‍‌​‌‌‌​‌​
Ofcom has urged providers to promote social tariffs more effectively, including reviewing their web pages as a matter of urgency and ensuring that information is accurate, clear, and understandable for customers. ‌​‌‌‌​‌‌‍‌​‌‌‌​‌​‍‌​‌‌‌​‌​
The regulatory body has also requested that TalkTalk and O2 introduce social tariffs in their broadband and mobile markets, respectively. ‌​‌‌‌​‌‌‍‌​‌‌‌​‌​‍‌​‌‌‌​‌​
To be eligible for social tariffs, account holders must receive government benefits such as Universal Credit or Pension Credit. ‌​‌‌‌​‌‌‍‌​‌‌‌​‌​‍‌​‌‌‌​‌​
Major providers including BT, Sky, and Virgin Media offer social tariffs, along with other providers such as Hyperoptic and Vodafone, as well as many smaller, localised providers. ‌​‌‌‌​‌‌‍‌​‌‌‌​‌​‍‌​‌‌‌​‌​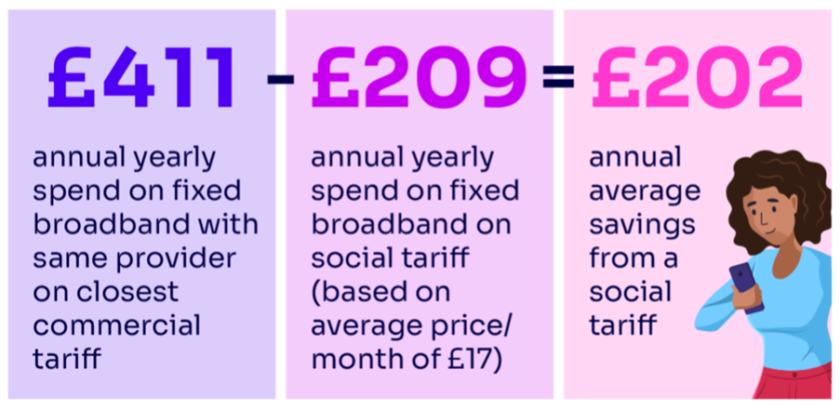 ‌​‌‌‌​‌‌‍‌​‌‌‌​‌​‍‌​‌‌‌​‌​
Ofcom found that around 85% of eligible customers could switch to a social tariff with their current provider without paying a fee. ‌​‌‌‌​‌‌‍‌​‌‌‌​‌​‍‌​‌‌‌​‌​
Consumer watchdog Which? has called on telecom providers to increase awareness of social tariffs and provide options to ensure eligible consumers can choose the right connection for their households' needs. ‌​‌‌‌​‌‌‍‌​‌‌‌​‌​‍‌​‌‌‌​‌​
The group also wants providers to waive exit fees and enable customers to leave their contracts without penalty when prices are increased mid-contract. ‌​‌‌‌​‌‌‍‌​‌‌‌​‌​‍‌​‌‌‌​‌​
Lindsey Fussell, Ofcom's Group Director, Network and Communications, said: ‌​‌‌‌​‌‌‍‌​‌‌‌​‌​‍‌​‌‌‌​‌​
"Hundreds of thousands of customers are now benefitting from the huge savings that can be made from securing a social tariff. But millions are still missing out on superfast speeds for super low prices – with many not aware they even exist." ‌​‌‌‌​‌‌‍‌​‌‌‌​‌​‍‌​‌‌‌​‌​
"We're urging anyone who thinks they could be eligible for a discount deal to contact their provider today and potentially save hundreds of pounds." ‌​‌‌‌​‌‌‍‌​‌‌‌​‌​‍‌​‌‌‌​‌​
"Providers should also do much more to help these customers find and access these deals, at a time when these savings could make a massive difference." ‌​‌‌‌​‌‌‍‌​‌‌‌​‌​‍‌​‌‌‌​‌​
Rocio Concha, Which? Director of Policy and Advocacy, said: "With millions of households across the country struggling to make ends meet, it's outrageous that some providers continue to conceal their social tariffs from customers." ‌​‌‌‌​‌‌‍‌​‌‌‌​‌​‍‌​‌‌‌​‌​
"Broadband providers need to step up their efforts to promote their social tariffs to low-income consumers and ensure people aren't missing out unnecessarily." ‌​‌‌‌​‌‌‍‌​‌‌‌​‌​‍‌​‌‌‌​‌​
"They must also make sure customers do not have to pay any early termination charges to move to another firm's social tariff." ‌​‌‌‌​‌‌‍‌​‌‌‌​‌​‍‌​‌‌‌​‌​
"We'd strongly encourage anyone who thinks they could be eligible for a social tariff to get in touch with their provider as soon as possible – as switching to these discounted rates could halve their bills overnight." ‌​‌‌‌​‌‌‍‌​‌‌‌​‌​‍‌​‌‌‌​‌​
As of January 2023, three in ten households (29%) reported an affordability issue when paying for their phone, broadband, pay-TV or streaming bills, equating to approximately 8.1 million households. ‌​‌‌‌​‌‌‍‌​‌‌‌​‌​‍‌​‌‌‌​‌​
This is similar level to the record high figure of 32% recorded in October 2022. ‌​‌‌‌​‌‌‍‌​‌‌‌​‌​‍‌​‌‌‌​‌​
Affordability problems can include having to reduce spend elsewhere to pay for a service, making a change to a deal, or missing a bill. ‌​‌‌‌​‌‌‍‌​‌‌‌​‌​‍‌​‌‌‌​‌​
Ofcom research also shows 6% of households with broadband and 8% with a mobile found it difficult to afford their service. This rose to 11% and 17% respectively for households on government benefits. ‌​‌‌‌​‌‌‍‌​‌‌‌​‌​‍‌​‌‌‌​‌​
Ofcom analysis found that households with younger individuals, as well as those in part-time work or not in work, were more likely to experience affordability problems with their broadband and mobile services. ‌​‌‌‌​‌‌‍‌​‌‌‌​‌​‍‌​‌‌‌​‌​
"We encourage providers to actively target social tariffs to these customers." Ofcom said. ‌​‌‌‌​‌‌‍‌​‌‌‌​‌​‍‌​‌‌‌​‌​
Matthew Upton, Acting Executive Director of Policy & Advocacy at Citizens Advice, said: ‌​‌‌‌​‌‌‍‌​‌‌‌​‌​‍‌​‌‌‌​‌​
"Social tariffs put money back into people's pockets. But as it stands, a shocking 95% of eligible households are together missing out on a £200 saving each year. That's £824 million of support going unclaimed. ‌​‌‌‌​‌‌‍‌​‌‌‌​‌​‍‌​‌‌‌​‌​
"These latest figures show firms are still moving at a snail's pace. As they only have to offer these tariffs on a voluntary basis, they clearly aren't incentivised to promote discounts. If this current rate of uptake continues, it will take 25 years before they reach everyone eligible. ‌​‌‌‌​‌‌‍‌​‌‌‌​‌​‍‌​‌‌‌​‌​
"While we support the drive to raise awareness, the poor take-up looks like groundhog day. It's time to question whether firms offering social tariffs on a voluntary basis really works." ‌​‌‌‌​‌‌‍‌​‌‌‌​‌​‍‌​‌‌‌​‌​
‌​‌‌‌​‌‌‍‌​‌‌‌​‌​‍‌​‌‌‌​‌​
Advice for people struggling with bills: ‌​‌‌‌​‌‌‍‌​‌‌‌​‌​‍‌​‌‌‌​‌​
 If you're not able to manage on your current tariff,ask your provider if they can offer you cheaper phone or broadband. You can find out how to contact your provider on their website. You might be able to get a cheaper broadband deal called a 'social tariff'. It depends which benefits you get and where you live. You can check which providers offer social tariffs on the Ofcom website.
If you or someone in your household claims Universal Credit, you could switch to any of the tariffs available. Some providers also include people on other benefits such as Pension Credit, Employment and Support Allowance, Jobseeker's Allowance, Income Support and Personal Independence Payment (PIP). The person receiving the benefit will need to be the main person on the contract (Ofcom)
‌​‌‌‌​‌‌‍‌​‌‌‌​‌​‍‌​‌‌‌​‌​ Spotted something? Got a story? Send a Facebook Message | A direct message on Twitter | Email: News@Deeside.com
---
Latest News
---