Leading street food entrepreneurs to share top tips with local culinary businesses at free workshop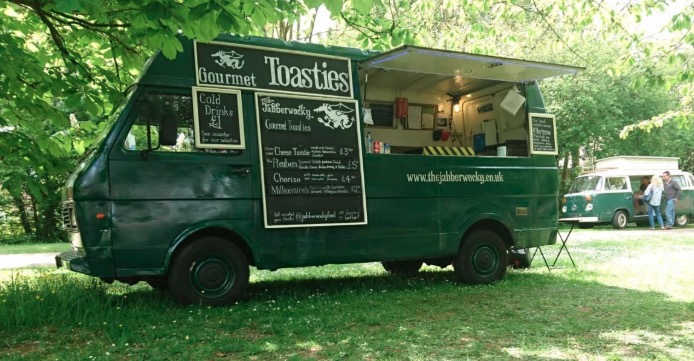 This article is old - Published: Saturday, Oct 27th, 2018
They cooked up a storm at BBC Radio 1's Big Weekend and now one of the UK's leading street food caterers will be hitting all the right notes with up-and-coming North Wales culinary businesses. ‌​‌‌‌​‌‌‍‌​‌‌‌​‌​‍‌​‌‌‌​‌​
Jabberwocky Street Food – run by husband and wife team Flic and Barny Luxmoore – dish up award-winning toasties at festivals, events, and weddings up and down the country. ‌​‌‌‌​‌‌‍‌​‌‌‌​‌​‍‌​‌‌‌​‌​
But there's more to this couple than their catering vans, which they nickname Betty and Balu. ‌​‌‌‌​‌‌‍‌​‌‌‌​‌​‍‌​‌‌‌​‌​
Both gave up full-time careers to turn toasties into a thriving business. The couple, who have served more than 50,000 customers, attended over 250 events, and cook an average of 120 toasties an hour, are blazing a trail in the street food scene. ‌​‌‌‌​‌‌‍‌​‌‌‌​‌​‍‌​‌‌‌​‌​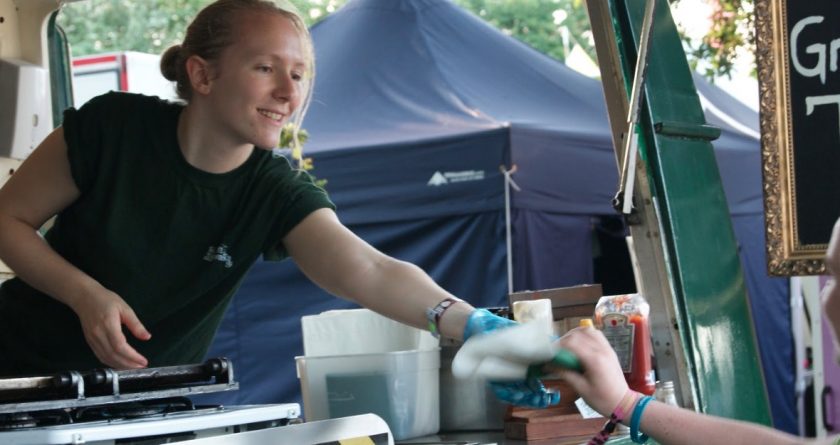 ‌​‌‌‌​‌‌‍‌​‌‌‌​‌​‍‌​‌‌‌​‌​
Flic who penned a book – Street Food Soliloquy – about the couple's experiences will share the highs and lows of making  a success with other North East Wales entrepreneurs at a special free workshop aimed at helping people who want to develop or launch their own street food business. ‌​‌‌‌​‌‌‍‌​‌‌‌​‌​‍‌​‌‌‌​‌​
Organised by the North East Wales Food Forum, the workshop will offer top tips and guidance to get businesses on the road to culinary success. ‌​‌‌‌​‌‌‍‌​‌‌‌​‌​‍‌​‌‌‌​‌​
Flic said: "We've both always been passionate about food and enjoy cooking. ‌​‌‌‌​‌‌‍‌​‌‌‌​‌​‍‌​‌‌‌​‌​
Barny was a chef in a restaurant and I was working in marketing. ‌​‌‌‌​‌‌‍‌​‌‌‌​‌​‍‌​‌‌‌​‌​
We both had jobs we hated, and we had an idea to set up a street food company selling modern British food. ‌​‌‌‌​‌‌‍‌​‌‌‌​‌​‍‌​‌‌‌​‌​
Street food was still in its infancy then. ‌​‌‌‌​‌‌‍‌​‌‌‌​‌​‍‌​‌‌‌​‌​
We realised quite quickly that what we were offering was confusing so wondered what we could provide that people were familiar with, something comforting using local produce. ‌​‌‌‌​‌‌‍‌​‌‌‌​‌​‍‌​‌‌‌​‌​
"My husband is obsessed with toasties, so we decided to try that. It was the right decision. Now we have a range of 100 different toasties, have been able to give up our jobs ‌​‌‌‌​‌‌‍‌​‌‌‌​‌​‍‌​‌‌‌​‌​
and work on Jabberwocky full-time. Street food is more prevalent in the big cities of London, Birmingham and Manchester but when we started out there ‌​‌‌‌​‌‌‍‌​‌‌‌​‌​‍‌​‌‌‌​‌​
were no resources to help us. ‌​‌‌‌​‌‌‍‌​‌‌‌​‌​‍‌​‌‌‌​‌​
There is room to develop the concept in North East Wales and there may be people wondering how to go about growing or starting their own street food business. I'll be giving them a blow-by-blow account on how to achieve it from starting out to maximising profits." ‌​‌‌‌​‌‌‍‌​‌‌‌​‌​‍‌​‌‌‌​‌​
The workshop is aimed at people thinking of setting up a mobile business, existing caterers looking to expand or food producers. ‌​‌‌‌​‌‌‍‌​‌‌‌​‌​‍‌​‌‌‌​‌​
North East Wales Food Forum's Jane Clough said it was a coup to have the Leamington Spa-based business over for the workshop which has received funding through the Welsh Government Rural Communities – Rural Development Programme 2014-2020. ‌​‌‌‌​‌‌‍‌​‌‌‌​‌​‍‌​‌‌‌​‌​
Jane added: "We're looking to inspire caterers and new start-up businesses and give them the tools and techniques to make the most of their ideas. ‌​‌‌‌​‌‌‍‌​‌‌‌​‌​‍‌​‌‌‌​‌​
"There has been a rise in street food over the past few years and great opportunities for caterers. But it's a specialised area and it can be difficult to know where to start. ‌​‌‌‌​‌‌‍‌​‌‌‌​‌​‍‌​‌‌‌​‌​
"Jabberwocky are leaders in their field and a familiar sight at festivals up and down the country. They have been there, done that, and bought the apron, so Flic is in a great ‌​‌‌‌​‌‌‍‌​‌‌‌​‌​‍‌​‌‌‌​‌​
position to be able to share experiences and pass on her knowledge." ‌​‌‌‌​‌‌‍‌​‌‌‌​‌​‍‌​‌‌‌​‌​
The workshop will be held at the Pontcysyllte Chapel Tearoom, Station Road, Trevor, Llangollen, on Tuesday November 13 between 4pm-8pm. ‌​‌‌‌​‌‌‍‌​‌‌‌​‌​‍‌​‌‌‌​‌​
Businesses who take part will also have the opportunity to join in with Light up Local Food & Drink which includes five Christmas events in towns across North East Wales. ‌​‌‌‌​‌‌‍‌​‌‌‌​‌​‍‌​‌‌‌​‌​
To book a free workshop place or for more information contact Jane Clough jane@celynconsult.co.uk / 07570 097787. ‌​‌‌‌​‌‌‍‌​‌‌‌​‌​‍‌​‌‌‌​‌​
Spotted something? Got a story? Send a Facebook Message | A direct message on Twitter | Email: News@Deeside.com
---
Latest News
---