Home Office announces police force recruitment targets – North Wales to get an extra 62 officers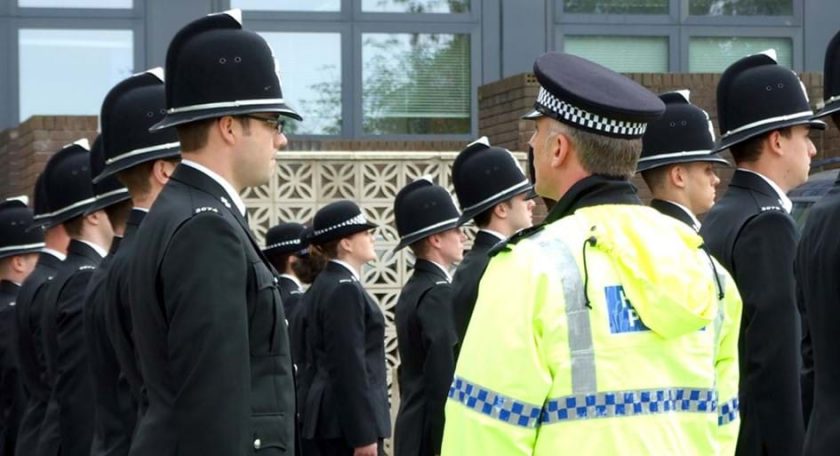 This article is old - Published: Wednesday, Oct 9th, 2019
North Wales is to get an additional 62 police officers as part of plans announced by the UK Government. ‌​‌‌‌​‌‌‍‌​‌‌‌​‌​‍‌​‌‌‌​‌​
The Home Office confirmed today officer recruitment targets for police forces for the first year of an "unprecedented drive" to increase their ranks by 20,000 over the next three years ‌​‌‌‌​‌‌‍‌​‌‌‌​‌​‍‌​‌‌‌​‌​
The Government is providing £750 million to support forces to recruit up to 6,000 additional officers by the end of 2020-21, the first stage of the new uplift. ‌​‌‌‌​‌‌‍‌​‌‌‌​‌​‍‌​‌‌‌​‌​
Police forces in Wales will be able to recruit a total of 302 new officers, 62 of those will join North Wales Police, a 4.3 percent increase in officer numbers within the region. ‌​‌‌‌​‌‌‍‌​‌‌‌​‌​‍‌​‌‌‌​‌​
Chief Constable at North Wales Police, Carl Foulkes said: ‌​‌‌‌​‌‌‍‌​‌‌‌​‌​‍‌​‌‌‌​‌​
"A positive day for north Wales and north Wales police in relation to the announcement we are to get an additional 62 officers on top of the extra officers agreed through the PCC precept over the next 18 months. ‌​‌‌‌​‌‌‍‌​‌‌‌​‌​‍‌​‌‌‌​‌​
We will focus on making North Wales the safest place in the UK." ‌​‌‌‌​‌‌‍‌​‌‌‌​‌​‍‌​‌‌‌​‌​
Mark Jones, North Wales Police General Secretary said: ‌​‌‌‌​‌‌‍‌​‌‌‌​‌​‍‌​‌‌‌​‌​
"Naturally we are very pleased with the Home Office announcement regarding the uplift in police officer number in North Wales. Police resources continue to be stretched with soaring demands on the Police Service, so additional numbers are welcomed. ‌​‌‌‌​‌‌‍‌​‌‌‌​‌​‍‌​‌‌‌​‌​
We will, as always, continue to work with the Force to ensure that our dedicated and brave members are best supported as they protect our local communities." ‌​‌‌‌​‌‌‍‌​‌‌‌​‌​‍‌​‌‌‌​‌​
Commenting on the announcement, Secretary of State for Wales, Alun Cairns said: ‌​‌‌‌​‌‌‍‌​‌‌‌​‌​‍‌​‌‌‌​‌​
"This Conservative Government has promised to get tough on crime, and this is a positive step towards delivering on that promise. ‌​‌‌‌​‌‌‍‌​‌‌‌​‌​‍‌​‌‌‌​‌​
Extra police officers will make us all feel safer, on the streets and in our homes – and this is just the start. ‌​‌‌‌​‌‌‍‌​‌‌‌​‌​‍‌​‌‌‌​‌​
We will back our police and give them the power they need to crack down hard on criminals and protect the public from harm." ‌​‌‌‌​‌‌‍‌​‌‌‌​‌​‍‌​‌‌‌​‌​
All officers recruited as part of the 20,000 uplift will be in addition to those hired to fill existing vacancies, the Government says. ‌​‌‌‌​‌‌‍‌​‌‌‌​‌​‍‌​‌‌‌​‌​
Government funding for recruitment in 2020-21 will cover all associated costs, including training and kit. ‌​‌‌‌​‌‌‍‌​‌‌‌​‌​‍‌​‌‌‌​‌​
Today's announcement has received a "guarded welcome" from North Wales Police and Crime Commissioner, Arfon Jones, who said: "Any increase in police numbers is to be welcomed especially if it is paid for via an increase in the Central Police Grant thus reducing the burden on already hard up local taxpayers. ‌​‌‌‌​‌‌‍‌​‌‌‌​‌​‍‌​‌‌‌​‌​
"It should also be remembered that the cost of 62 officers is a fraction of the £31 million that North Wales Police have lost since 2010. ‌​‌‌‌​‌‌‍‌​‌‌‌​‌​‍‌​‌‌‌​‌​
"It's also worth making the point that here in North Wales we have done our best to redress the balance of those cuts by recruiting more than 62 police officers in the last two years. ‌​‌‌‌​‌‌‍‌​‌‌‌​‌​‍‌​‌‌‌​‌​
"I also hope to see the force rebuilding the resilience of its roads policing unit with some of these additional resources. ‌​‌‌‌​‌‌‍‌​‌‌‌​‌​‍‌​‌‌‌​‌​
"But it remains unclear from today's announcement whether rural forces are receiving our proper entitlement compared to the larger urban forces – I suspect not." ‌​‌‌‌​‌‌‍‌​‌‌‌​‌​‍‌​‌‌‌​‌​
He added: "My Police and Crime Plan aims to reduce threat, risk and harm by identifying the most vulnerable people in society. I will do everything in my power to protect them. ‌​‌‌‌​‌‌‍‌​‌‌‌​‌​‍‌​‌‌‌​‌​
"Crime is evolving and as a police force we have to change to deal with new threats like modern slavery, human trafficking and child sexual exploitation, as well as the massive increase in cybercrime ‌​‌‌‌​‌‌‍‌​‌‌‌​‌​‍‌​‌‌‌​‌​
"We are facing new and increasing challenges so the force must evolve and adapt and despite the Government's swingeing cuts of recent years, we have continued to invest in our frontline so that North Wales continues to be one of the safest places in the UK to live, work and visit." ‌​‌‌‌​‌‌‍‌​‌‌‌​‌​‍‌​‌‌‌​‌​
North Wales Police recruitment window opens on Monday 14th October and closes at midday on Monday 28th October for a start date of May/June 2020. More details on how to apply can be found here. ‌​‌‌‌​‌‌‍‌​‌‌‌​‌​‍‌​‌‌‌​‌​
‌​‌‌‌​‌‌‍‌​‌‌‌​‌​‍‌​‌‌‌​‌​
Spotted something? Got a story? Send a Facebook Message | A direct message on Twitter | Email: News@Deeside.com
---
Latest News
---