Health service remains under "intense and sustained pressure", despite drop in Covid cases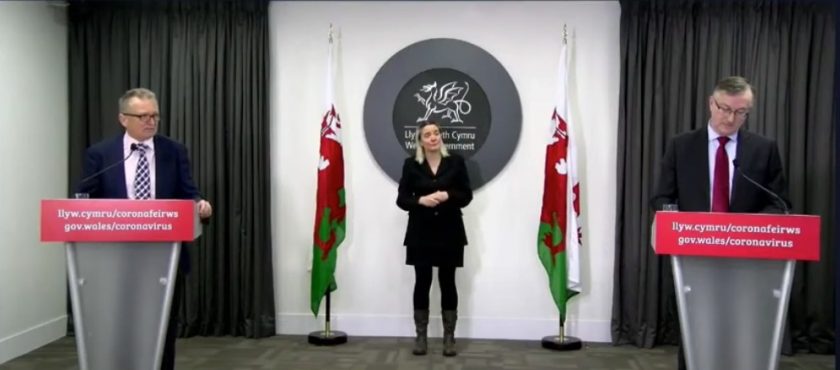 This article is old - Published: Friday, Feb 26th, 2021
The head of the NHS in Wales says the health service remains under "intense and sustained pressure", despite a drop in the number of new coronavirus cases. ‌​‌‌‌​‌‌‍‌​‌‌‌​‌​‍‌​‌‌‌​‌​
The seven day rolling average in Wales now at 75.2 per 100,000 – down from over 560 per 100,000 at the end of December. ‌​‌‌‌​‌‌‍‌​‌‌‌​‌​‍‌​‌‌‌​‌​
In Flintshire, which at one point had the worst case rate in Wales,  the average is now at 93 per 100k. ‌​‌‌‌​‌‌‍‌​‌‌‌​‌​‍‌​‌‌‌​‌​
Speaking at today's Welsh Government briefing Dr Andrew Goodall, chief executive of the NHS, said that the drop in community transmission is starting to "translate into lower demand and fewer people being admitted to our hospitals." ‌​‌‌‌​‌‌‍‌​‌‌‌​‌​‍‌​‌‌‌​‌​
It is thought this drop is largely due to the lockdown restrictions in place. ‌​‌‌‌​‌‌‍‌​‌‌‌​‌​‍‌​‌‌‌​‌​
However data released by Public Health Scotland this week showed that the vaccine rollout had led to a "substantial fall" in hospital admissions. ‌​‌‌‌​‌‌‍‌​‌‌‌​‌​‍‌​‌‌‌​‌​
Dr Goodall notes that further information on the impact of vaccination on admissions in Wales is expected in the coming weeks. ‌​‌‌‌​‌‌‍‌​‌‌‌​‌​‍‌​‌‌‌​‌​
The number of coronavirus related patients in hospitals across Wales is 1,650, which is around 1,200 lower than the peak in January. ‌​‌‌‌​‌‌‍‌​‌‌‌​‌​‍‌​‌‌‌​‌​
This, Dr Goodall said, is the lowest number since November 19. ‌​‌‌‌​‌‌‍‌​‌‌‌​‌​‍‌​‌‌‌​‌​
However he added that there are still more patients in hospital being treated for the virus than there were during the first wave of the pandemic in April. ‌​‌‌‌​‌‌‍‌​‌‌‌​‌​‍‌​‌‌‌​‌​
He said: "This continues to be a challenging time for our health service as we balance the ongoing pandemic, winter pressures and all the other demands on our NHS. ‌​‌‌‌​‌‌‍‌​‌‌‌​‌​‍‌​‌‌‌​‌​
"The NHS has been under intense and sustained pressure over the last few months. ‌​‌‌‌​‌‌‍‌​‌‌‌​‌​‍‌​‌‌‌​‌​
"It's been the most challenging time that I have known and that our incredible NHS staff will ever have experienced. ‌​‌‌‌​‌‌‍‌​‌‌‌​‌​‍‌​‌‌‌​‌​
"We've seen a drop in the proportion of GP consultations identified as coronavirus incidents reported by Public Health Wales. This represents around 70 per cent reduction since January. ‌​‌‌‌​‌‌‍‌​‌‌‌​‌​‍‌​‌‌‌​‌​
"The Welsh Ambulance Service has confirmed that the percentage of ambulance demand related to covid has reduced to around nine per cent from a high of 20 per cent. Whilst improving this still means that one in 10 ambulance calls are to help someone with Coronavirus. ‌​‌‌‌​‌‌‍‌​‌‌‌​‌​‍‌​‌‌‌​‌​
"The number of people admitted daily to hospital with coronavirus symptoms has been reducing over the last month. There are now on average around 70 coronavirus hospital admissions a day, down from a peak of around 130 a day in January. ‌​‌‌‌​‌‌‍‌​‌‌‌​‌​‍‌​‌‌‌​‌​
"I remain concerned about this sustained pressure on our critical care facilities and hard working staff. Today there are 60 covid related patients in critical care beds. It's a quarter lower than last week and two thirds lower than its peak. ‌​‌‌‌​‌‌‍‌​‌‌‌​‌​‍‌​‌‌‌​‌​
"However, despite falling numbers our staff are supporting the equivalent of 110 per cent occupancy in critical care. ‌​‌‌‌​‌‌‍‌​‌‌‌​‌​‍‌​‌‌‌​‌​
"It is really positive to see recent improvements in the trends that show our collective response against coronavirus is working and we hope and expect that this could progress will continue." ‌​‌‌‌​‌‌‍‌​‌‌‌​‌​‍‌​‌‌‌​‌​
However he warned that it would "not take much to see these numbers go up very quickly if the virus once again spreads through our communities." ‌​‌‌‌​‌‌‍‌​‌‌‌​‌​‍‌​‌‌‌​‌​
Dr Goodall said: "The NHS remains very concerned that the good progress we are now seeing could be reversed if we do not retain the right balance between NHS pressures and the gradual release of restrictions. ‌​‌‌‌​‌‌‍‌​‌‌‌​‌​‍‌​‌‌‌​‌​
"Although the NHS is under immense pressure, people still receive life saving treatment each and every day. It is absolutely critical that people still come forward for emergency or urgent care. ‌​‌‌‌​‌‌‍‌​‌‌‌​‌​‍‌​‌‌‌​‌​
"If you require non-urgent and medical attention, please contact your GP or call NHS 111. ‌​‌‌‌​‌‌‍‌​‌‌‌​‌​‍‌​‌‌‌​‌​
"I would like to acknowledge the incredible commitment of the NHS and care workforce in continuing to protect the people of Wales throughout this crisis. ‌​‌‌‌​‌‌‍‌​‌‌‌​‌​‍‌​‌‌‌​‌​
"I also want to pass on my personal thanks to NHS staff, supported by partners, volunteers and military colleagues who are working tirelessly to deliver vaccinations at pace." ‌​‌‌‌​‌‌‍‌​‌‌‌​‌​‍‌​‌‌‌​‌​
You can view the full briefing on the below video: ‌​‌‌‌​‌‌‍‌​‌‌‌​‌​‍‌​‌‌‌​‌​
Cynhadledd i'r Wasg byw | Live Press Conference 26.02.21 https://t.co/a8OQdIR6qi ‌​‌‌‌​‌‌‍‌​‌‌‌​‌​‍‌​‌‌‌​‌​

— Welsh Government #StayHome🏠 (@WelshGovernment) February 26, 2021 ‌​‌‌‌​‌‌‍‌​‌‌‌​‌​‍‌​‌‌‌​‌​
‌​‌‌‌​‌‌‍‌​‌‌‌​‌​‍‌​‌‌‌​‌​
Spotted something? Got a story? Send a Facebook Message | A direct message on Twitter | Email: News@Deeside.com
---
Latest News
---