Flintshire schools 'recommended' to close again on Friday due to snow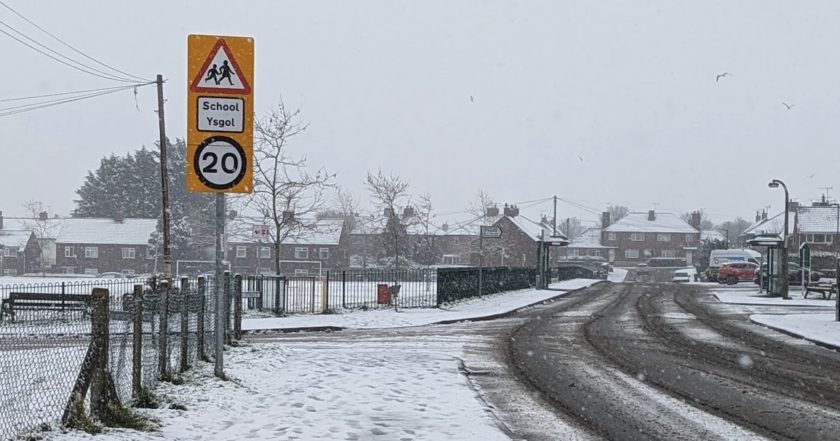 This article is old - Published: Thursday, Mar 9th, 2023
Flintshire schools have been 'recommended' to close again on Friday due to the adverse weather conditions. ‌​‌‌‌​‌‌‍‌​‌‌‌​‌​‍‌​‌‌‌​‌​
Flintshire Council said on Wednesday it had recommended, "that all schools in the county should close today and switch to online learning. ‌​‌‌‌​‌‌‍‌​‌‌‌​‌​‍‌​‌‌‌​‌​
An amber weather warning is now in place for Flintshire with heavy snowfall expected to continue throughout the day and into the night. ‌​‌‌‌​‌‌‍‌​‌‌‌​‌​‍‌​‌‌‌​‌​
The Met Office upgraded a yellow weather warning to amber, running from midday Thursday until 9am on Friday. ‌​‌‌‌​‌‌‍‌​‌‌‌​‌​‍‌​‌‌‌​‌​
Forecasters expect as much as 20 cm of snow to fall in parts of Flintshire with as much as 30cm on higher ground. ‌​‌‌‌​‌‌‍‌​‌‌‌​‌​‍‌​‌‌‌​‌​ ‌​‌‌‌​‌‌‍‌​‌‌‌​‌​‍‌​‌‌‌​‌​ ‌​‌‌‌​‌‌‍‌​‌‌‌​‌​‍‌​‌‌‌​‌​
All 82 schools in the county are closed today as a result of adverse weather conditions, a decision has now been taken to 'recommend' they remain closed on Friday. ‌​‌‌‌​‌‌‍‌​‌‌‌​‌​‍‌​‌‌‌​‌​
Flintshire County Councillor for Broughton South, Chrissy Gee posted an update on Facebook just after 3pm on Thursday, she said: "FYI schools closed again tomorrow". ‌​‌‌‌​‌‌‍‌​‌‌‌​‌​‍‌​‌‌‌​‌​
The same message is now being filtered out by schools on their respective social media channels. ‌​‌‌‌​‌‌‍‌​‌‌‌​‌​‍‌​‌‌‌​‌​
**School Closure – Friday 10/3/23**
On the basis of the ongoing adverse weather, it is Flintshire County Council's recommendation that schools remain closed and continue making provision for online learning. Therefore, Hawarden High School will remain closed on Friday, 10 March ‌​‌‌‌​‌‌‍‌​‌‌‌​‌​‍‌​‌‌‌​‌​

— Hawarden High School (@hawardenhs) March 9, 2023 ‌​‌‌‌​‌‌‍‌​‌‌‌​‌​‍‌​‌‌‌​‌​
‌​‌‌‌​‌‌‍‌​‌‌‌​‌​‍‌​‌‌‌​‌​
Flintshire County Council has now informed us that all schools will again be closed on Friday 10th March due to the adverse weather anticipated and dangerous conditions it has created. We apologise sincerely for all inconvenience caused. Diolch. pic.twitter.com/isDDCvnoWs ‌​‌‌‌​‌‌‍‌​‌‌‌​‌​‍‌​‌‌‌​‌​

— Castell Alun (@CastellAlun) March 9, 2023 ‌​‌‌‌​‌‌‍‌​‌‌‌​‌​‍‌​‌‌‌​‌​
‌​‌‌‌​‌‌‍‌​‌‌‌​‌​‍‌​‌‌‌​‌​

Amber alert ‌​‌‌‌​‌‌‍‌​‌‌‌​‌​‍‌​‌‌‌​‌​

During the period of the amber alert, the Met Office has said it's likely there will be travel disruption, possible power cuts and a good chance that some rural communities could become cut off. ‌​‌‌‌​‌‌‍‌​‌‌‌​‌​‍‌​‌‌‌​‌​

"Within this warning area many areas are likely to see 10-20cm of snow with a chance of up to 30cm falling, most likely over high ground." The Met Office has said.

High winds will represent an additional hazard for those with heavy snow, with significantly deeper snowdrifts possible and very poor travel conditions. ‌​‌‌‌​‌‌‍‌​‌‌‌​‌​‍‌​‌‌‌​‌​

Met Office Chief Meteorologist Jason Kelly said: "The boundary between milder and colder air is gradually moving north, with some heavy and persistent snow likely at times on the northern edge of this boundary." ‌​‌‌‌​‌‌‍‌​‌‌‌​‌​‍‌​‌‌‌​‌​

"Snow has already settled quite widely in centrals parts of the UK and further accumulations are likely even to lower levels with disruption most likely for those within the amber warning areas." ‌​‌‌‌​‌‌‍‌​‌‌‌​‌​‍‌​‌‌‌​‌​

"With some strong winds accompanying these snow showers, blizzard conditions are likely for a time in northern England and Wales, as well as parts of Northern Ireland." ‌​‌‌‌​‌‌‍‌​‌‌‌​‌​‍‌​‌‌‌​‌​

"Ice will be a continuing hazard for many in the forecast period, with very low overnight temperatures likely to exacerbate continued likely travel disruption." ‌​‌‌‌​‌‌‍‌​‌‌‌​‌​‍‌​‌‌‌​‌​

Travel disruption ‌​‌‌‌​‌‌‍‌​‌‌‌​‌​‍‌​‌‌‌​‌​

RAC Breakdown spokesperson Rod Dennis said: "We're seeing up to 50% more breakdowns in the worst affected areas today compared to normal, with some drivers already stuck in the snow in some parts of South Yorkshire and Wales." ‌​‌‌‌​‌‌‍‌​‌‌‌​‌​‍‌​‌‌‌​‌​

"Rural routes through central and northern England covered by the Met Office's amber weather warning are also starting to get difficult to negotiate, and these are areas drivers should avoid if they can." ‌​‌‌‌​‌‌‍‌​‌‌‌​‌​‍‌​‌‌‌​‌​

"Given the weather, we recommend thinking carefully before setting out today as, with more snow forecast, things are likely to get worse on the roads before they get better." ‌​‌‌‌​‌‌‍‌​‌‌‌​‌​‍‌​‌‌‌​‌​

"These aren't conditions anyone wants to be caught out in, so those who have to drive need to be confident on potentially slippery surfaces, have ensured their vehicles are up to the task, and are carrying an emergency breakdown kit so they can stay warm and communicate easily should they get stuck or break down." ‌​‌‌‌​‌‌‍‌​‌‌‌​‌​‍‌​‌‌‌​‌​

North Wales Police has said: "The Met Office have upgraded their weather warning for snow and ice to amber for a large part of North Wales which comes into force at midday and will remain in place until Friday." ‌​‌‌‌​‌‌‍‌​‌‌‌​‌​‍‌​‌‌‌​‌​

"Difficult driving conditions are predicted for rural communities and those living on higher ground in certain parts of Gwynedd, Conwy, Denbighshire, Flintshire and Wrexham." ‌​‌‌‌​‌‌‍‌​‌‌‌​‌​‍‌​‌‌‌​‌​

"North Wales Police have already received reports of minor road traffic collisions and poor driving conditions in some areas and are advising motorists to take extra care if heading out on the roads today and to allow plenty of time for their journey." ‌​‌‌‌​‌‌‍‌​‌‌‌​‌​‍‌​‌‌‌​‌​

"Motorists are also being advised to keep an eye on the weather forecast throughout the day. Regular Tactical Coordination Group meetings are being held between North Wales Police and partners who are progressing well tested plans regarding adverse weather." ‌​‌‌‌​‌‌‍‌​‌‌‌​‌​‍‌​‌‌‌​‌​

‌​‌‌‌​‌‌‍‌​‌‌‌​‌​‍‌​‌‌‌​‌​ Spotted something? Got a story? Send a Facebook Message | A direct message on Twitter | Email: News@Deeside.com
---
Latest News
---