Flintshire schools caught up in the traffic chaos at the Port of Dover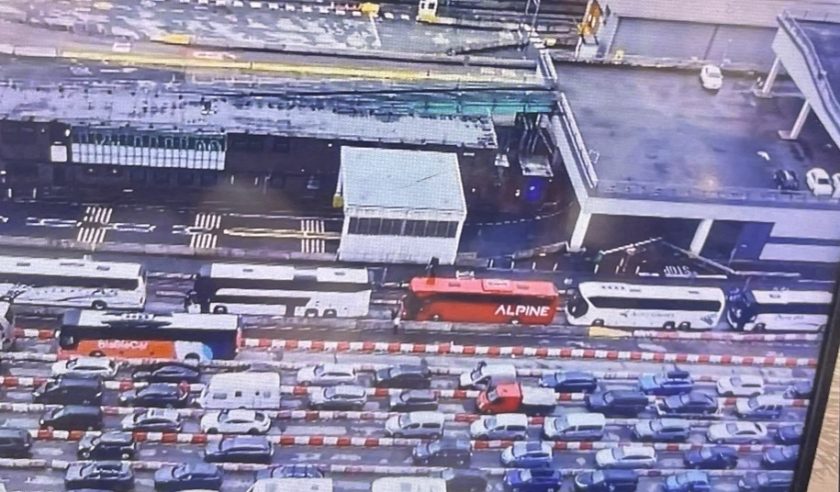 This article is old - Published: Sunday, Apr 2nd, 2023
Schools from Flintshire have been caught up in the traffic chaos at the Port of Dover in recent days. ‌​‌‌‌​‌‌‍‌​‌‌‌​‌​‍‌​‌‌‌​‌​
The port declared a 'critical incident' due to high levels of traffic, which caused significant delays for coach passengers. ‌​‌‌‌​‌‌‍‌​‌‌‌​‌​‍‌​‌‌‌​‌​
The delays began on Friday night and persisted throughout Saturday, leaving passengers stranded for hours. ‌​‌‌‌​‌‌‍‌​‌‌‌​‌​‍‌​‌‌‌​‌​
On Sunday morning, the port reported that roads leading to the port were clear for cars, but coach passengers were still experiencing delays of up to eight hours. ‌​‌‌‌​‌‌‍‌​‌‌‌​‌​‍‌​‌‌‌​‌​
The delays have been attributed to several factors, including slower border processing and a higher-than-expected number of coaches arriving at the port. ‌​‌‌‌​‌‌‍‌​‌‌‌​‌​‍‌​‌‌‌​‌​
The port estimated that 111 coaches were waiting to cross the English Channel on Sunday afternoon, with more than 300 having departed on Saturday. ‌​‌‌‌​‌‌‍‌​‌‌‌​‌​‍‌​‌‌‌​‌​
P&O Ferries reported that coach passengers faced a four-hour wait upon arrival at the cruise terminal and a further six-hour wait after being called to a "buffer zone" at the port. One coach driver taking a group from Cardiff to Austria reported being stuck in the vehicle for 14 hours. ‌​‌‌‌​‌‌‍‌​‌‌‌​‌​‍‌​‌‌‌​‌​
The delays have affected school groups from Flintshire, Castell Alun has been documenting their ski trip to Austria which began on Friday. ‌​‌‌‌​‌‌‍‌​‌‌‌​‌​‍‌​‌‌‌​‌​
As of 3pm Sunday the group were still 5 hours from their destination having been travelling for over 48 hours. ‌​‌‌‌​‌‌‍‌​‌‌‌​‌​‍‌​‌‌‌​‌​
And we have hit 48.5hours of travel, with approximately 5 hours left till we get to Austria (2.05days)! 🇦🇹⛷️🤙🏻 @CastellAlun pic.twitter.com/DkxLITsA1r ‌​‌‌‌​‌‌‍‌​‌‌‌​‌​‍‌​‌‌‌​‌​

— CAHS PE 🎾🏈🏀 (@CAHS_PE) April 2, 2023 ‌​‌‌‌​‌‌‍‌​‌‌‌​‌​‍‌​‌‌‌​‌​
‌​‌‌‌​‌‌‍‌​‌‌‌​‌​‍‌​‌‌‌​‌​
Our bus made it to BBC news (red alpine) we are now waiting for the 3.30pm ferry to take us over to France! @castellalun pic.twitter.com/bJhMGXLuln ‌​‌‌‌​‌‌‍‌​‌‌‌​‌​‍‌​‌‌‌​‌​

— CAHS PE 🎾🏈🏀 (@CAHS_PE) April 1, 2023 ‌​‌‌‌​‌‌‍‌​‌‌‌​‌​‍‌​‌‌‌​‌​
‌​‌‌‌​‌‌‍‌​‌‌‌​‌​‍‌​‌‌‌​‌​
Hawarden High Schools ski trip to Andorra has also been delayed, Head teacher Simon Budgen said on Saturday: "Despite the very long queues in Dover the Ski Trip remain in good spirits. Staff and students are currently enjoying themselves with coach karaoke" ‌​‌‌‌​‌‌‍‌​‌‌‌​‌​‍‌​‌‌‌​‌​
Well worth a watch @HHSskitours 😂 https://t.co/GXfRrFvXf5 pic.twitter.com/EDixQ2MUqB ‌​‌‌‌​‌‌‍‌​‌‌‌​‌​‍‌​‌‌‌​‌​

— Hawarden Headteacher (@HeadHawarden) April 1, 2023 ‌​‌‌‌​‌‌‍‌​‌‌‌​‌​‍‌​‌‌‌​‌​
‌​‌‌‌​‌‌‍‌​‌‌‌​‌​‍‌​‌‌‌​‌​
The delays have led to criticism of the UK government, with Labour's shadow levelling-up secretary, Lisa Nandy, telling Sky News that the problems could have been avoided "if the government got a grip, got down to brass tacks and started doing the actual job." ‌​‌‌‌​‌‌‍‌​‌‌‌​‌​‍‌​‌‌‌​‌​
However, Home Secretary Suella Braverman defended the government's response, stating that the delays were due to a "combination of factors," including high coach volumes.
Braverman expressed sympathy for families and school children affected by the delays and expected the problems to ease soon. ‌​‌‌‌​‌‌‍‌​‌‌‌​‌​‍‌​‌‌‌​‌​
The delays at Dover have been partly attributed to slower border processing times following the UK's departure from the EU. Travel correspondent Simon Calder said that processing times had increased sharply since Brexit and may be contributing to the delays. ‌​‌‌‌​‌‌‍‌​‌‌‌​‌​‍‌​‌‌‌​‌​
Despite additional overnight services being put in place to clear the backlog, delays have persisted, and the port has apologised for "prolonged delays." ‌​‌‌‌​‌‌‍‌​‌‌‌​‌​‍‌​‌‌‌​‌​
In a statement the Port of Dover said, "it has been working round the clock with the ferry operators and border agencies to get coach passengers on their way, with extra sailings being put on overnight to help clear the backlog." ‌​‌‌‌​‌‌‍‌​‌‌‌​‌​‍‌​‌‌‌​‌​
"Over 300 coaches departed the port on Saturday, with all of the freight backlog cleared and tourist cars processed successfully." ‌​‌‌‌​‌‌‍‌​‌‌‌​‌​‍‌​‌‌‌​‌​
"There remain pockets of coaches still waiting to be processed with smaller volumes of coaches expected today." ‌​‌‌‌​‌‌‍‌​‌‌‌​‌​‍‌​‌‌‌​‌​
"The Port remains deeply frustrated by the continuing situation caused by a mix of lengthy immigration processes at the border and sheer volume of traffic, particularly on behalf of those who have waited for such a long time." ‌​‌‌‌​‌‌‍‌​‌‌‌​‌​‍‌​‌‌‌​‌​
"Minimal freight is expected today and so the focus remains on ensuring all partners work to get the remaining coaches and other tourist traffic on its way as soon as possible." ‌​‌‌‌​‌‌‍‌​‌‌‌​‌​‍‌​‌‌‌​‌​
"We continue to offer our sincere apologies for the prolonged delays." ‌​‌‌‌​‌‌‍‌​‌‌‌​‌​‍‌​‌‌‌​‌​
Spotted something? Got a story? Send a Facebook Message | A direct message on Twitter | Email: News@Deeside.com
---
Latest News
---