Plans for 14 new homes in Buckley thrown out over fears for children's safety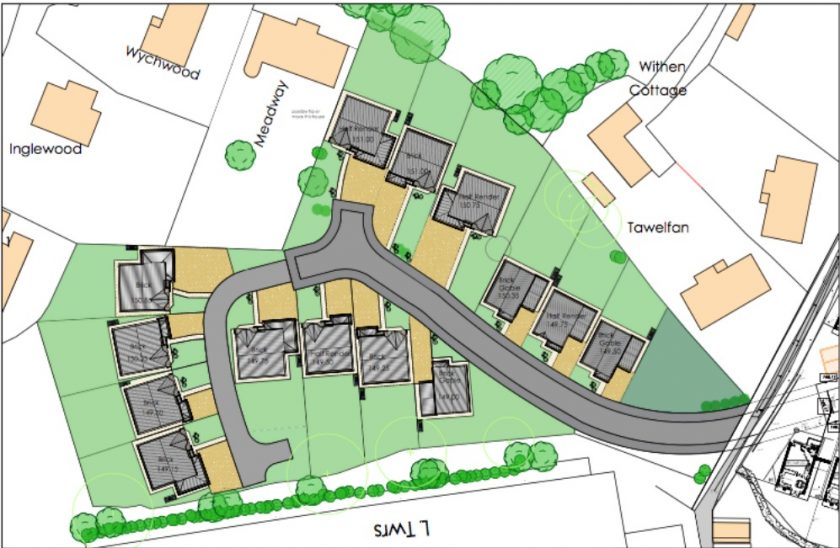 This article is old - Published: Friday, Nov 9th, 2018

Plans to build 14 new homes in Buckley have been thrown out over fears for the safety of school children. ‌​‌‌‌​‌‌‍‌​‌‌‌​‌​‍‌​‌‌‌​‌​
Proposals had been put forward by Quatrefoil Homes to build a development on Alltami Road in Buckley. ‌​‌‌‌​‌‌‍‌​‌‌‌​‌​‍‌​‌‌‌​‌​
They were considered by Flintshire Council's planning committee for a third time on Wednesday after twice being deferred because of issues concerning third party-owned land and access to the site. ‌​‌‌‌​‌‌‍‌​‌‌‌​‌​‍‌​‌‌‌​‌​
Around 50 letters of objection were received from residents, highlighting  concerns regarding the impact of the development on a footpath, known locally as 'Tucky Lane'. ‌​‌‌‌​‌‌‍‌​‌‌‌​‌​‍‌​‌‌‌​‌​
The path is regularly used by pupils walking to Elfed High School and several councillors at the meeting said they felt their safety would be put at risk. ‌​‌‌‌​‌‌‍‌​‌‌‌​‌​‍‌​‌‌‌​‌​
Buckley Mountain councillor Carole Ellis, who was unable to vote on the plans because of her position as a governor at the school, questioned why the local authority was selling off a section of its own land to enable the scheme. ‌​‌‌‌​‌‌‍‌​‌‌‌​‌​‍‌​‌‌‌​‌​
She said: "I am totally, utterly opposed to this application, mostly on the grounds of safety. ‌​‌‌‌​‌‌‍‌​‌‌‌​‌​‍‌​‌‌‌​‌​
"You could not fail to be shocked when you arrived on the site visit to actually see the proposal and to see the implications to footpath number 22, which has been free of traffic I'm told locally for 60 years. ‌​‌‌‌​‌‌‍‌​‌‌‌​‌​‍‌​‌‌‌​‌​
"It's very well used by the community, especially by the school children. ‌​‌‌‌​‌‌‍‌​‌‌‌​‌​‍‌​‌‌‌​‌​
"When has Flintshire County Council started disposing of school land for developers to make profit and to actually put school children at risk?
"I'm sorry if I'm being quite blunt but it's the safety of children and there are lots of other issues I could mention."
The proposals went before the committee with a recommendation for approval from planning officers.
In a report, the authority's chief officer for planning, environment and economy, Andrew Farrow, said the proposed road layout was considered to be acceptable.
He added that an alternative route would be provided for pupils during the construction of the houses, with upgrades to be carried out to the path.
However, Cllr Ellis's concerns were echoed by a number of commitee members. ‌​‌‌‌​‌‌‍‌​‌‌‌​‌​‍‌​‌‌‌​‌​
They included Cllr Patrick Heesom, who said he felt 'distressed' by the implications of the plans going ahead. ‌​‌‌‌​‌‌‍‌​‌‌‌​‌​‍‌​‌‌‌​‌​
He said: "Having been on site visits for a number of years and seen this site in an embryonic state for some time, I couldn't believe it really that we were actually contemplating a layout and development of this type. ‌​‌‌‌​‌‌‍‌​‌‌‌​‌​‍‌​‌‌‌​‌​
"It's a fit up, it's a fix, it's a fiddle to get houses into a plot which is not appropriate.
"I see no alternative other than to refuse it." ‌​‌‌‌​‌‌‍‌​‌‌‌​‌​‍‌​‌‌‌​‌​
The approval of the scheme would have been subject to the developers entering into a section 106 agreement with payments of £1,100 per home to enhance Buckley's skate park. ‌​‌‌‌​‌‌‍‌​‌‌‌​‌​‍‌​‌‌‌​‌​
A payment of £2,500 would have also been required to mitigate the impact on a special area of conservation.
Cllr Derek Butler said he was in support of the plans being pushed through. ‌​‌‌‌​‌‌‍‌​‌‌‌​‌​‍‌​‌‌‌​‌​
He said: "This is an awkward one but let's keep it in context here. ‌​‌‌‌​‌‌‍‌​‌‌‌​‌​‍‌​‌‌‌​‌​
"On an awful lot of safe routes to school children have to cross a road to get to that school. ‌​‌‌‌​‌‌‍‌​‌‌‌​‌​‍‌​‌‌‌​‌​
"The issue about who owns the land, my understanding is Flintshire County Council own the land, not the school. ‌​‌‌‌​‌‌‍‌​‌‌‌​‌​‍‌​‌‌‌​‌​
"Flintshire County Council is currently, under these austere times, looking for assets so it's quite at liberty for the council to be looking at assets in their ownership to benefit." ‌​‌‌‌​‌‌‍‌​‌‌‌​‌​‍‌​‌‌‌​‌​
A proposal was ultimately put forward to reject the plans, which won by a narrow margin of eight votes to seven. ‌​‌‌‌​‌‌‍‌​‌‌‌​‌​‍‌​‌‌‌​‌​
By Liam Randall – Local Democracy Reporter. ‌​‌‌‌​‌‌‍‌​‌‌‌​‌​‍‌​‌‌‌​‌​
Spotted something? Got a story? Send a Facebook Message | A direct message on Twitter | Email: News@Deeside.com
---
Latest News
Leading voice in solar sector urges businesses to switch to renewable energy or risk closure due to soaring costs
---