Flintshire Mum's crusade for son battling life-threatening 1-in-60 million genetic condition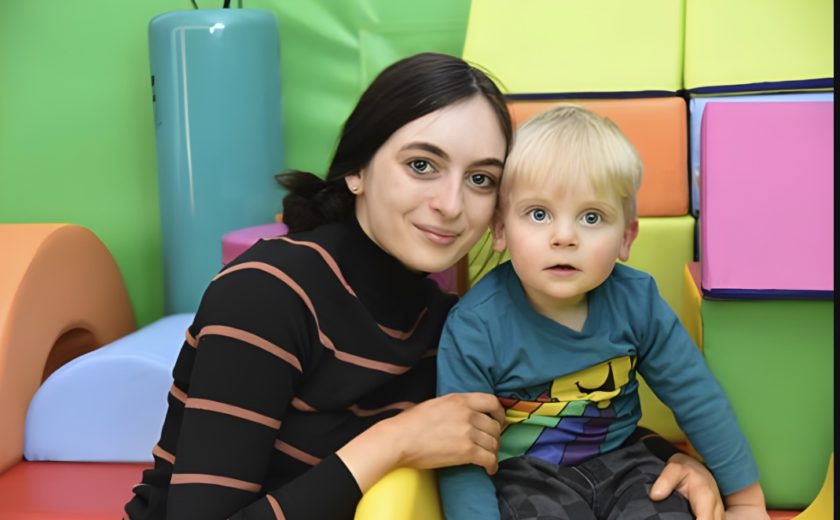 A mum of a four-year-old boy, who is battling a life-threatening condition, has shared her family's journey to raise funds for the hospice that provides essential care for her son. ‌​‌‌‌​‌‌‍‌​‌‌‌​‌​‍‌​‌‌‌​‌​
Georgia Hughes of Holywell and her son Myles are featured in the Hope House and Tŷ Gobaith Children's Hospices Summer Appeal, which has been mailed to 25,000 of the charity's supporters across the region. ‌​‌‌‌​‌‌‍‌​‌‌‌​‌​‍‌​‌‌‌​‌​
Myles was born with a rare genetic condition that is already having an effect on his development, mobility, hearing and also his teeth. ‌​‌‌‌​‌‌‍‌​‌‌‌​‌​‍‌​‌‌‌​‌​
Says Georgia: "So many children with this condition die between the ages of eight and ten years old. More than anything I would love to see him become a teenager. That would be my dream." ‌​‌‌‌​‌‌‍‌​‌‌‌​‌​‍‌​‌‌‌​‌​
Georgia was thrilled when Myles was born. A routine examination flagged up that he had a 'clunky' hip, his feet turned in and he had what the nurses thought was glue ear. Georgia was told she'd be sent follow up appointments but was able to take Myles home. ‌​‌‌‌​‌‌‍‌​‌‌‌​‌​‍‌​‌‌‌​‌​
"I didn't think much about it all at the time because I just wanted to focus on my new little bundle of joy. He was like a tiny sparrow with his little hands and legs," she remembers. ‌​‌‌‌​‌‌‍‌​‌‌‌​‌​‍‌​‌‌‌​‌​
In the months that followed Myles was diagnosed with severe hearing loss and fitted with tiny hearing aids, and had an operation on his hip. ‌​‌‌‌​‌‌‍‌​‌‌‌​‌​‍‌​‌‌‌​‌​
"During that time I was terrified because of how quickly things were changing. I was taking Myles from one appointment to another and I didn't have the chance to process what was going on," says Georgia. ‌​‌‌‌​‌‌‍‌​‌‌‌​‌​‍‌​‌‌‌​‌​
"He needed another major operation on his hip at two years old. We stayed in hospital for a week then he came home in a cast. I hired a special table so that he could sit upright and play, but I had to move his position all the time to keep him comfortable." ‌​‌‌‌​‌‌‍‌​‌‌‌​‌​‍‌​‌‌‌​‌​
Georgia began researching Myles's symptoms online and became convinced he was showing signs of a condition called 4H Leukodystrophy. So, with the help of a crowdfunding page and generous donations from people who saw their story, she arranged to take Myles to Amsterdam for a consultation with a leading child neurologist who is an expert in the condition. ‌​‌‌‌​‌‌‍‌​‌‌‌​‌​‍‌​‌‌‌​‌​
"The doctor confirmed Myles had a severe form and did lots of neurological testing. There are only about 120 children worldwide with the condition and every child is so different so you don't really know what the future holds." ‌​‌‌‌​‌‌‍‌​‌‌‌​‌​‍‌​‌‌‌​‌​
It was a paediatrician in the UK who first told Georgia about Hope House. ‌​‌‌‌​‌‌‍‌​‌‌‌​‌​‍‌​‌‌‌​‌​
"When they said it was a children's hospice I just didn't know what to expect. I thought it would be a place that children went to die but it is so much more than that," she says. "We have had mainly respite care from Hope House but I've also used the counselling service as well. ‌​‌‌‌​‌‌‍‌​‌‌‌​‌​‍‌​‌‌‌​‌​
"The first time we came we thought it was so amazing. It was friendly, open and welcoming and Myles loved the hydrotherapy pool and the Supernova sensory room. He really likes the swinging hammock and sliding down the foam steps instead of crawling up them! He is a little daredevil and very fast at army crawling on his elbows! ‌​‌‌‌​‌‌‍‌​‌‌‌​‌​‍‌​‌‌‌​‌​
"The counselling has been really good in helping me come to terms with Myles' diagnosis and helping me to feel that I'm not alone. It's a relief to have professionals to talk to who really understand. ‌​‌‌‌​‌‌‍‌​‌‌‌​‌​‍‌​‌‌‌​‌​
"I've also met other parents through Hope House and it has been a massive help hearing about their children and their experiences. I guess it makes me feel less isolated. ‌​‌‌‌​‌‌‍‌​‌‌‌​‌​‍‌​‌‌‌​‌​
"Myles has been in mainstream school since the age of two and I've felt sad seeing children running out to their parents and telling them how their day was because I'm never going to get that with Myles. So to meet families and other children like us has just been a massive help because that is our world. ‌​‌‌‌​‌‌‍‌​‌‌‌​‌​‍‌​‌‌‌​‌​
"When we aren't at Hope House I care for Myles on my own, so it was very strange handing over his care to nurses and at first I would follow them around. But with very small steps I've been able to leave him in their expert care and just meet him for meals. It did feel strange at first but every time I saw him he was smiling and having the best time. ‌​‌‌‌​‌‌‍‌​‌‌‌​‌​‍‌​‌‌‌​‌​
"For the future, I just hope that Myles gets to be a teenager. I just want his happiness to continue and his health too because generally, despite everything he has going on, he is quite healthy. ‌​‌‌‌​‌‌‍‌​‌‌‌​‌​‍‌​‌‌‌​‌​
"Hope House is a massive breath of fresh air for us both – it's a place and people we can rely on. Julie (Hope House's Clinical Nurse Specialist) has been important too because she attends all our meetings with other health professionals and can arrange things like Myles staying at Hope House after future operations so I wouldn't have to nurse him at home on my own which would be terrifying. ‌​‌‌‌​‌‌‍‌​‌‌‌​‌​‍‌​‌‌‌​‌​
"I feel there is always someone that I can always rely on in a crisis or an emergency. I know I won't have to go through anything on my own because I can call Hope House and they are always there to help. ‌​‌‌‌​‌‌‍‌​‌‌‌​‌​‍‌​‌‌‌​‌​
"It's just an amazing place that I never thought I would need, but I am so grateful that it is there." ‌​‌‌‌​‌‌‍‌​‌‌‌​‌​‍‌​‌‌‌​‌​
If you would like to support Myles' Summer Appeal please go to:
hopehouse.org.uk/myles-story. ‌​‌‌‌​‌‌‍‌​‌‌‌​‌​‍‌​‌‌‌​‌​
Spotted something? Got a story? Send a Facebook Message | A direct message on Twitter | Email: News@Deeside.com
---
Latest News
---