Flintshire leader calls for residents' help as council looks to pilot three-weekly bin collection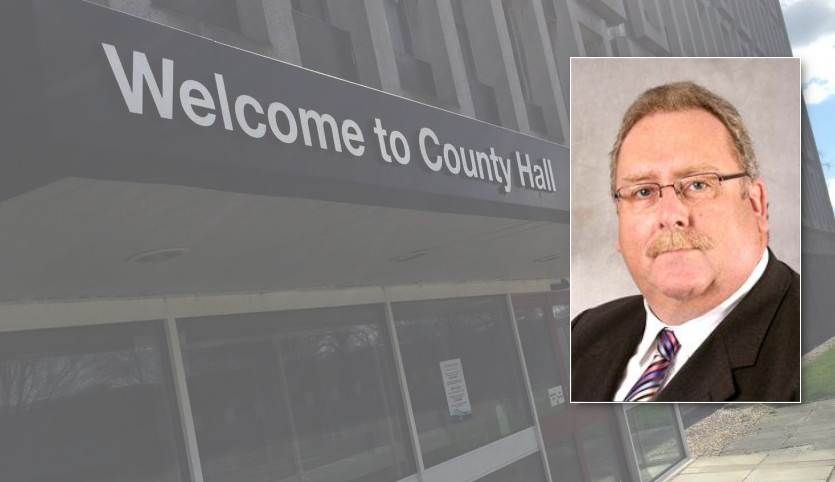 This article is old - Published: Thursday, Jan 12th, 2023

The leader of the council has directly appealed to the people of Flintshire to help improve the county's recycling rate, as it looks at piloting three-weekly black bin collections. ‌​‌‌‌​‌‌‍‌​‌‌‌​‌​‍‌​‌‌‌​‌​
Flint Castle Cllr Ian Roberts, leader of the Labour group which leads the authority has said the recycling issue would be one that had to be tackled by whichever group ran the administration. ‌​‌‌‌​‌‌‍‌​‌‌‌​‌​‍‌​‌‌‌​‌​
The issue flared up again at a meeting of the council's Corporate Resources scrutiny committee ahead of the authority setting its budget and council tax next month. ‌​‌‌‌​‌‌‍‌​‌‌‌​‌​‍‌​‌‌‌​‌​
It was raised by Whitford Cllr Chris Dolphin (Eagle), who took exception to senior council officers having to meet the Welsh Government Minister Julie James to explain why recycling targets were missed, something which Streetscene Chief Officer Katie Wilby described as "humiliating" at an Environment scrutiny meeting earlier in the week. ‌​‌‌‌​‌‌‍‌​‌‌‌​‌​‍‌​‌‌‌​‌​
Cllr Dolphin questioned the threat of an infraction fine for missing targets against the Welsh Labour run government's expenditure on other projects such as Cardiff Airport, and its reported financial losses, which he felt was of little value to this part of the county. ‌​‌‌‌​‌‌‍‌​‌‌‌​‌​‍‌​‌‌‌​‌​


‌​‌‌‌​‌‌‍‌​‌‌‌​‌​‍‌​‌‌‌​‌​
Cllr Dolphin said: "So money can be found in Wales for things like Cardiff Airport which is absolutely no use to anyone in this room probably, or hardly anyone in this county because you're not going to go there, you're not going to use it ever. ‌​‌‌‌​‌‌‍‌​‌‌‌​‌​‍‌​‌‌‌​‌​
"I defend our chief officer, she should not be attending any humiliating meetings with any Minister when it's not her or Flintshire's fault that there isn't money available." ‌​‌‌‌​‌‌‍‌​‌‌‌​‌​‍‌​‌‌‌​‌​
This led to Cllr Roberts rising to his feet in the chamber to refute that the meeting with the Minister, which he attended too, was 'humiliating', and added that recycling levels were a problem the council and Flintshire's residents need to get to grips with. ‌​‌‌‌​‌‌‍‌​‌‌‌​‌​‍‌​‌‌‌​‌​
He said: "The simple fact of the matter is we have dropped from third in Wales to bottom five in Wales for recycling. And that is a council problem and a problem we all need to accept. ‌​‌‌‌​‌‌‍‌​‌‌‌​‌​‍‌​‌‌‌​‌​
"As soon as we mention recycling various people will go on about fly-tipping which is socially irresponsible and an offence, and most people won't be involved in fly-tipping. ‌​‌‌‌​‌‌‍‌​‌‌‌​‌​‍‌​‌‌‌​‌​
"We have to look very closely at what we're doing here. Welsh Government have their targets which they're entitled to have for recycling and unfortunately we've dropped substantially. ‌​‌‌‌​‌‌‍‌​‌‌‌​‌​‍‌​‌‌‌​‌​
"We've got a very large piece of work to do and it's not as simple as saying we can do this or that." ‌​‌‌‌​‌‌‍‌​‌‌‌​‌​‍‌​‌‌‌​‌​
He added: "For example the town I live in, there are four tower blocks and there is no recycling. It's not the residents' fault but the fault of the system when the flats were built when you put everything down a shoot. ‌​‌‌‌​‌‌‍‌​‌‌‌​‌​‍‌​‌‌‌​‌​
"We need to look at that and issues such as houses of multiple occupancy where there seems to be a particular issue with recycling. ‌​‌‌‌​‌‌‍‌​‌‌‌​‌​‍‌​‌‌‌​‌​
"What we were hoping to do last year hasn't been achieved but Welsh Government has its targets to meet and we will have an infraction fine this year. ‌​‌‌‌​‌‌‍‌​‌‌‌​‌​‍‌​‌‌‌​‌​


‌​‌‌‌​‌‌‍‌​‌‌‌​‌​‍‌​‌‌‌​‌​
"This is a council problem and for whoever is in charge of the council. If control of the council was to change tomorrow, this would still be waiting for a new administration, so let's make no mistake about that – we need to work together on this and not score party political points. ‌​‌‌‌​‌‌‍‌​‌‌‌​‌​‍‌​‌‌‌​‌​
"It is a serious issue for the county and we need to work together." ‌​‌‌‌​‌‌‍‌​‌‌‌​‌​‍‌​‌‌‌​‌​
Chairing the meeting Buckley Bistre East Cllr Richard Jones, a member of the opposition independent group responded, saying: "What we're trying to do here is identify the issues so the administration can put it right. That's your job isn't it?" ‌​‌‌‌​‌‌‍‌​‌‌‌​‌​‍‌​‌‌‌​‌​
In response, Cllr Roberts rose to his feet again to say everyone in the county has a part to play in putting it right. ‌​‌‌‌​‌‌‍‌​‌‌‌​‌​‍‌​‌‌‌​‌​
"Putting it right is down to every household in Flintshire", he said. ‌​‌‌‌​‌‌‍‌​‌‌‌​‌​‍‌​‌‌‌​‌​
"I can do what I can with my own recycling where I live, we can all do that. But this is a collective responsibility of every resident in Flintshire. ‌​‌‌‌​‌‌‍‌​‌‌‌​‌​‍‌​‌‌‌​‌​
"Fly-tipping is socially irresponsible and I'm sorry to say not putting stuff in your (recycling) bags is socially irresponsible as well. ‌​‌‌‌​‌‌‍‌​‌‌‌​‌​‍‌​‌‌‌​‌​
"What Flintshire is doing is what Welsh Government want us to be doing. Household recycling actually done by the council, going into the correct containers. ‌​‌‌‌​‌‌‍‌​‌‌‌​‌​‍‌​‌‌‌​‌​
"We can have endless meetings here or wherever we want, but we can't do this without the help of the people of Flintshire. ‌​‌‌‌​‌‌‍‌​‌‌‌​‌​‍‌​‌‌‌​‌​
"I appeal to the people of Flintshire, help us to get this problem sorted. We'll only get it sorted when we all work collectively to improve our recycling rates." ‌​‌‌‌​‌‌‍‌​‌‌‌​‌​‍‌​‌‌‌​‌​
‌​‌‌‌​‌‌‍‌​‌‌‌​‌​‍‌​‌‌‌​‌​
By Rory Sheehan – Local Democracy Reporter ‌​‌‌‌​‌‌‍‌​‌‌‌​‌​‍‌​‌‌‌​‌​
Spotted something? Got a story? Send a Facebook Message | A direct message on Twitter | Email: News@Deeside.com
---
Latest News
---