Deeside MP takes Jade's Law proposals to government meeting on Tuesday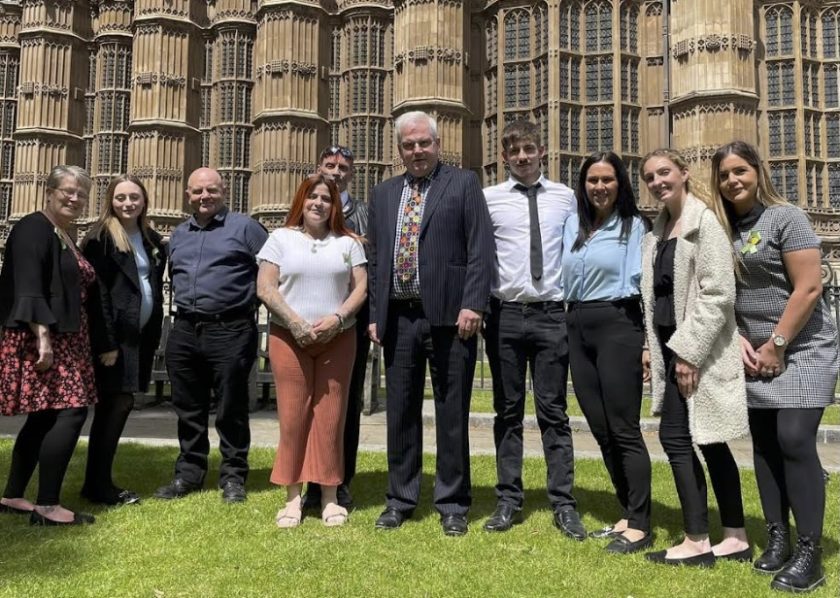 An MP helping the family of Jade Ward to change the law to help others like them will take their proposals to the Government tomorrow (Wednesday, January 25). ‌​‌‌‌​‌‌‍‌​‌‌‌​‌​‍‌​‌‌‌​‌​
Jade, from Shotton, was only 27 years old when she was brutally killed by her estranged husband Russell Marsh, with whom she shared four children. ‌​‌‌‌​‌‌‍‌​‌‌‌​‌​‍‌​‌‌‌​‌​
The children are cared for by her family, but Marsh retains parental responsibility, and they still have to consult him on decisions such as travel, schooling and health care. ‌​‌‌‌​‌‌‍‌​‌‌‌​‌​‍‌​‌‌‌​‌​
With their friend Edwin Duggan, a law graduate and researcher at Stafford University, Jade's parents Paul and Karen and sister Philippa set up a petition to automatically suspend the parental rights of a parent found guilty of murdering the other. ‌​‌‌‌​‌‌‍‌​‌‌‌​‌​‍‌​‌‌‌​‌​
The petition garnered a staggering 130,179 signatures and was presented to Parliament for debate by Mark Tami MP on November 7 last year. ‌​‌‌‌​‌‌‍‌​‌‌‌​‌​‍‌​‌‌‌​‌​
Mr Tami argued that it was distressing to families like Jade's to have to face the killer of their child and have them still be able to pull the strings from their jail cell. ‌​‌‌‌​‌‌‍‌​‌‌‌​‌​‍‌​‌‌‌​‌​
A change in the law would put the onus on the parent to prove why they deserve parental responsibility back, rather than on the family to haul themselves through a lengthy and painful court process to prove why that parent doesn't. ‌​‌‌‌​‌‌‍‌​‌‌‌​‌​‍‌​‌‌‌​‌​
The Government has said that legislation already exists to allow courts to limit the parental responsibility of a parent where it is deemed to be in the best interests of the child.  ‌​‌‌‌​‌‌‍‌​‌‌‌​‌​‍‌​‌‌‌​‌​
However, receiving the petition, Minister of State for Victims and Sentencing Edward Argar MP conceded that the current process of revoking parental responsibility is "time-consuming."  ‌​‌‌‌​‌‌‍‌​‌‌‌​‌​‍‌​‌‌‌​‌​
He also offered a meeting between himself, Mr Tami and Lord Bellamy KC, Parliamentary Under Secretary of State in the Ministry of Justice in order to further discuss how the Government can best deliver on their commitment to safeguard children.  ‌​‌‌‌​‌‌‍‌​‌‌‌​‌​‍‌​‌‌‌​‌​
Mark Tami MP said: "The law surrounding parental responsibility is clearly not fit for purpose and facilitates further unnecessary emotional trauma. ‌​‌‌‌​‌‌‍‌​‌‌‌​‌​‍‌​‌‌‌​‌​
It helps perpetrators with a history of domestic abuse to practise their controlling and psychological abuse from inside their prison cell.  ‌​‌‌‌​‌‌‍‌​‌‌‌​‌​‍‌​‌‌‌​‌​
"I hope that the Government will take this on board and consider taking steps to implement Jade's Law, or at least to reform the legal status quo to make it more supportive of victims." ‌​‌‌‌​‌‌‍‌​‌‌‌​‌​‍‌​‌‌‌​‌​
Edwin Duggan, who will meet with Mark Tami at Westminster after the meeting, added: "If needs be our proposals can be tweaked to keep the courts in the process. What's really important is that something needs to change, and we as a campaign group will keep fighting."  ‌​‌‌‌​‌‌‍‌​‌‌‌​‌​‍‌​‌‌‌​‌​
Spotted something? Got a story? Send a Facebook Message | A direct message on Twitter | Email: News@Deeside.com
---
Latest News
---