Deeside MP Mark Tami brands Government Ministers Airbus criticism 'a disgrace'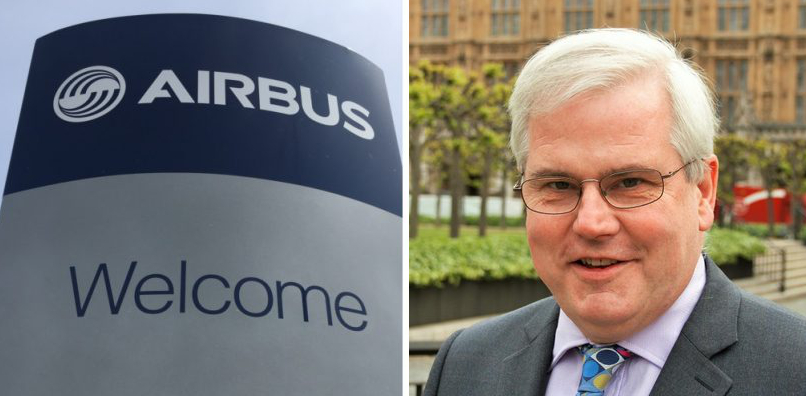 This article is old - Published: Tuesday, Jun 26th, 2018
Local MP Mark Tami has branded comments regarding Airbus' Brexit warning made by senior government ministers 'a disgrace.'  ‌​‌‌‌​‌‌‍‌​‌‌‌​‌​‍‌​‌‌‌​‌​
Mr Tami's comments came after he was granted an urgent question regarding Airbus' risk assessment on Monday in Parliament. ‌​‌‌‌​‌‌‍‌​‌‌‌​‌​‍‌​‌‌‌​‌​
The aerospace giant which employs around 6000 at the Broughton site and thousands more in its supply chain, issued its starkest warning yet to the UK Government that the company faces urgent risks to its business if the UK leaves the EU without a withdrawal agreement. ‌​‌‌‌​‌‌‍‌​‌‌‌​‌​‍‌​‌‌‌​‌​
Airbus have been seeking various assurances about a 'no deal' situation and warned that if this were to be the case they would have to reconsider investment in the UK. ‌​‌‌‌​‌‌‍‌​‌‌‌​‌​‍‌​‌‌‌​‌​
Politicians raised their concerns and Mark Tami MP joined a number of his Labour colleagues in calling for the Government to give global companies such as Airbus certain commitments so they can plan for the future. ‌​‌‌‌​‌‌‍‌​‌‌‌​‌​‍‌​‌‌‌​‌​
Important question to the Tories by my colleague @MarkTamiMP about the future of Airbus. ‌​‌‌‌​‌‌‍‌​‌‌‌​‌​‍‌​‌‌‌​‌​

Last week's news that Airbus is considering pulling out of the UK is causing deep distress to thousands of families who rely on the quality jobs and income that this major employer provides. ‌​‌‌‌​‌‌‍‌​‌‌‌​‌​‍‌​‌‌‌​‌​

— Jeremy Corbyn (@jeremycorbyn) June 25, 2018 ‌​‌‌‌​‌‌‍‌​‌‌‌​‌​‍‌​‌‌‌​‌​
‌​‌‌‌​‌‌‍‌​‌‌‌​‌​‍‌​‌‌‌​‌​
In an urgent question granted yesterday, the Alyn and Deeside MP asked Business Secretary, Greg Clark MP, to make a statement on Airbus' Brexit Risk Assessment Report and its implications for future investment and job security in the UK. ‌​‌‌‌​‌‌‍‌​‌‌‌​‌​‍‌​‌‌‌​‌​
The Secretary of State responded by commending the aerospace industry and acknowledging the importance of Airbus to the industry's success. ‌​‌‌‌​‌‌‍‌​‌‌‌​‌​‍‌​‌‌‌​‌​
He also said that Airbus should be listened to with respect and that it is his and the Prime Minister's aim to secure a deal that satisfies their demands. ‌​‌‌‌​‌‌‍‌​‌‌‌​‌​‍‌​‌‌‌​‌​
Mark Tami said after the debate; ‌​‌‌‌​‌‌‍‌​‌‌‌​‌​‍‌​‌‌‌​‌​
"It's a disgrace that senior Tory Ministers have come out since Airbus made the announcement and have publicly criticised them for doing so. ‌​‌‌‌​‌‌‍‌​‌‌‌​‌​‍‌​‌‌‌​‌​

Airbus have been privately asking for assurances for the past 12 months and I made it clear to the Secretary of State that Airbus are not alone with their fears, other big global companies like BMW and Siemens have since sought similar assurances from the Government. ‌​‌‌‌​‌‌‍‌​‌‌‌​‌​‍‌​‌‌‌​‌​

I am pleased that the Secretary of State has not dismissed the announcement as 'Project Fear' – like some of his cabinet colleagues. It is however now a case of doing something about it, we can't be in a position in March next year where global companies like Airbus are reconsidering their position in the UK because they are not happy with the deal with the EU. ‌​‌‌‌​‌‌‍‌​‌‌‌​‌​‍‌​‌‌‌​‌​

I thank my North Wales colleagues who also raised their concerns in the debate. We will continue to hold this Government account and ensure they are not putting our constituents' livelihoods at risk." ‌​‌‌‌​‌‌‍‌​‌‌‌​‌​‍‌​‌‌‌​‌​
International Trade Secretary Dr Liam Fox said Airbus should be "making the case" against a "no deal" Brexit in Europe – not just to the UK. ‌​‌‌‌​‌‌‍‌​‌‌‌​‌​‍‌​‌‌‌​‌​
Health Minister Jeremy Hunt said on Sunday the Brexit warning issued by Airbus last week was "completely inappropriate." ‌​‌‌‌​‌‌‍‌​‌‌‌​‌​‍‌​‌‌‌​‌​
Hunt said Brexit discussions were at an "absolutely critical moment" and "we need to get behind Theresa May." ‌​‌‌‌​‌‌‍‌​‌‌‌​‌​‍‌​‌‌‌​‌​
Airbus says a 'No Deal' would lead to severe disruption and interruption of UK production and leave Airbus considering its future in the UK. ‌​‌‌‌​‌‌‍‌​‌‌‌​‌​‍‌​‌‌‌​‌​
Spotted something? Got a story? Send a Facebook Message | A direct message on Twitter | Email: News@Deeside.com
---
Latest News
Flintshire County Council Chair takes on 125-mile Coastal Path challenge to raise funds for three worthy causes
"I can no longer afford to socialise": an estimated 2.3 million households missed payments in January
---