Result: Andy Dunbobbin is new North Wales Police and Crime Commissioner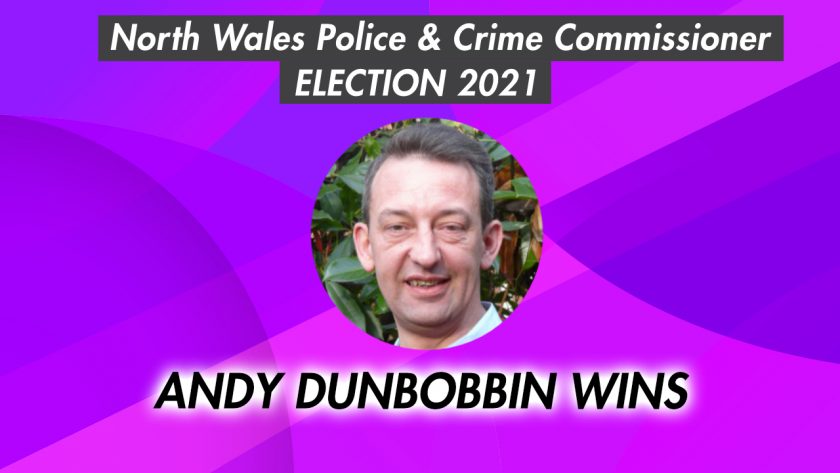 This article is old - Published: Sunday, May 9th, 2021
North Wales has a new Police and Crime Commissioner – Andy Dunbobbin. The electoral journey to that point is documented below… ‌​‌‌‌​‌‌‍‌​‌‌‌​‌​‍‌​‌‌‌​‌​
Updates below… Live updates have ended. ‌​‌‌‌​‌‌‍‌​‌‌‌​‌​‍‌​‌‌‌​‌​
‌​‌‌‌​‌‌‍‌​‌‌‌​‌​‍‌​‌‌‌​‌​
That wraps up our election updates for the PCC election 2021 – thanks again to all three candidates who took part in our Q&A sessions and those who have engaged with the coverage. Will this be the last election of 2021? 👀 ‌​‌‌‌​‌‌‍‌​‌‌‌​‌​‍‌​‌‌‌​‌​
‌​‌‌‌​‌‌‍‌​‌‌‌​‌​‍‌​‌‌‌​‌​
The Officer of the Police Police and Crime Commissioner have published the below picture of the new PCC, with Stephen Hughes, Chief Executive of the Office of the Police and Crime Commissioner, saying: "On behalf of the team, I would like to offer our congratulations to Mr Dunbobbin on winning the election to become North Wales Police and Crime Commissioner. We look forward to supporting him in drafting a Police and Crime Plan to outline the strategic priorities of North Wales Police and to scrutinise the force to ensure the objectives are achieved to make North Wales an even safer place to live and work." ‌​‌‌‌​‌‌‍‌​‌‌‌​‌​‍‌​‌‌‌​‌​
‌​‌‌‌​‌‌‍‌​‌‌‌​‌​‍‌​‌‌‌​‌​
‌​‌‌‌​‌‌‍‌​‌‌‌​‌​‍‌​‌‌‌​‌​
Welsh Labour's Dunbobbin won with a total of 98,034 votes against 90,149 for Conservative Pat Astbury. ‌​‌‌‌​‌‌‍‌​‌‌‌​‌​‍‌​‌‌‌​‌​
In the first round Andy Dunbobbin was behind with 69,455 votes, against Pat Astbury's 75,476 votes. ‌​‌‌‌​‌‌‍‌​‌‌‌​‌​‍‌​‌‌‌​‌​
‌​‌‌‌​‌‌‍‌​‌‌‌​‌​‍‌​‌‌‌​‌​
The aim of the role of the PCC is to hold police accountable – with the new PCC holding the power to fire the Chief Constable – reaction in from the Chief ! ‌​‌‌‌​‌‌‍‌​‌‌‌​‌​‍‌​‌‌‌​‌​
Congratulations to Andy Dunbobbin the newly elected Police and Crime Commissioner for North Wales, I look forward to working with him to deliver his police and crime plan and make a difference for all those who live, work and visit North Wales. ‌​‌‌‌​‌‌‍‌​‌‌‌​‌​‍‌​‌‌‌​‌​

— Carl Foulkes (@NWPCCFoulkes) May 9, 2021 ‌​‌‌‌​‌‌‍‌​‌‌‌​‌​‍‌​‌‌‌​‌​
‌​‌‌‌​‌‌‍‌​‌‌‌​‌​‍‌​‌‌‌​‌​
The new PCC is being sworn in straight away: ‌​‌‌‌​‌‌‍‌​‌‌‌​‌​‍‌​‌‌‌​‌​
Andy Dunbobbin is sworn in as new North Wales PCC#NorthWalesSenedd2021 #LDReporter pic.twitter.com/rhSgJOhQu9 ‌​‌‌‌​‌‌‍‌​‌‌‌​‌​‍‌​‌‌‌​‌​

— Conwy and Denbighshire Local Democracy Reporter (@LDRJezHemming) May 9, 2021 ‌​‌‌‌​‌‌‍‌​‌‌‌​‌​‍‌​‌‌‌​‌​
‌​‌‌‌​‌‌‍‌​‌‌‌​‌​‍‌​‌‌‌​‌​
We have a new Police and Crime Commissioner – Andy Dunbobbin. ‌​‌‌‌​‌‌‍‌​‌‌‌​‌​‍‌​‌‌‌​‌​
The Welsh Labour candidate beat Conservative Pat Astbury in the second round of voting. ‌​‌‌‌​‌‌‍‌​‌‌‌​‌​‍‌​‌‌‌​‌​
You can get a flavour on how the new PCC could operate via their election Q&A with us here. ‌​‌‌‌​‌‌‍‌​‌‌‌​‌​‍‌​‌‌‌​‌​
‌​‌‌‌​‌‌‍‌​‌‌‌​‌​‍‌​‌‌‌​‌​
Andy Dunbobbin wins. ‌​‌‌‌​‌‌‍‌​‌‌‌​‌​‍‌​‌‌‌​‌​
Labour gain police and crime commissioner North wales from Plaid Cymru – congratulations @acdunbobbin
Majority over Conservative around 8000 in second round
Labour topped poll in local Delyn police result also ‌​‌‌‌​‌‌‍‌​‌‌‌​‌​‍‌​‌‌‌​‌​

Congratulations 👏👏Andy @WelshLabour @DelynClp pic.twitter.com/TWYJKOkHoQ ‌​‌‌‌​‌‌‍‌​‌‌‌​‌​‍‌​‌‌‌​‌​

— Sir David Hanson (@RTHondavehanson) May 9, 2021 ‌​‌‌‌​‌‌‍‌​‌‌‌​‌​‍‌​‌‌‌​‌​
‌​‌‌‌​‌‌‍‌​‌‌‌​‌​‍‌​‌‌‌​‌​
We are expecting final results soon. ‌​‌‌‌​‌‌‍‌​‌‌‌​‌​‍‌​‌‌‌​‌​
Does this Lib Dem candidate from the Senedd election know something? ‌​‌‌‌​‌‌‍‌​‌‌‌​‌​‍‌​‌‌‌​‌​
Saw decent things at the Wrexham verification yesterday. We need policing for young people for a range of socio-economic communities and ethnicities. We all deserve be safe and not discriminated against ‌​‌‌‌​‌‌‍‌​‌‌‌​‌​‍‌​‌‌‌​‌​

— Leena Sarah Farhat 🏴󠁧󠁢󠁷󠁬󠁳󠁿🔶 (@LeenaSFarhat) May 9, 2021 ‌​‌‌‌​‌‌‍‌​‌‌‌​‌​‍‌​‌‌‌​‌​
‌​‌‌‌​‌‌‍‌​‌‌‌​‌​‍‌​‌‌‌​‌​
Counts all ended. ‌​‌‌‌​‌‌‍‌​‌‌‌​‌​‍‌​‌‌‌​‌​
‌​‌‌‌​‌‌‍‌​‌‌‌​‌​‍‌​‌‌‌​‌​
Counts are ongoing so perhaps not that imminent on results! ‌​‌‌‌​‌‌‍‌​‌‌‌​‌​‍‌​‌‌‌​‌​
‌​‌‌‌​‌‌‍‌​‌‌‌​‌​‍‌​‌‌‌​‌​
Some detail on how close the first vote was – where will the second preferences go? ‌​‌‌‌​‌‌‍‌​‌‌‌​‌​‍‌​‌‌‌​‌​
*Provisional results from first round.
Mark Young – Independent: 15,907
Andy Dunbobbin – Labour: 69,455
Lisa Wilkins – Lib Dem: 10,149
Pat Astbury – Conservative: 75,476
Ann Griffith – Plaid: 67,672 ‌​‌‌‌​‌‌‍‌​‌‌‌​‌​‍‌​‌‌‌​‌​

Turnout: 46.86% up on last time out (41.6%)#NorthWalesPCC2021 ‌​‌‌‌​‌‌‍‌​‌‌‌​‌​‍‌​‌‌‌​‌​

— Conwy and Denbighshire Local Democracy Reporter (@LDRJezHemming) May 9, 2021 ‌​‌‌‌​‌‌‍‌​‌‌‌​‌​‍‌​‌‌‌​‌​
‌​‌‌‌​‌‌‍‌​‌‌‌​‌​‍‌​‌‌‌​‌​
Counts now underway on the second preferences! ‌​‌‌‌​‌‌‍‌​‌‌‌​‌​‍‌​‌‌‌​‌​
‌​‌‌‌​‌‌‍‌​‌‌‌​‌​‍‌​‌‌‌​‌​
CONFIRMED – PCC election is going to second preference. ‌​‌‌‌​‌‌‍‌​‌‌‌​‌​‍‌​‌‌‌​‌​
The process is explained as "…at the second count, where required, the ballot papers on which a first preference vote was given to those candidates who did not remain in the contest equals: the total number of ballot papers containing a valid second preference vote for a continuing candidate, plus the total number of ballot papers containing a second preference vote for a candidate not remaining in the contest, plus the rejected ballot papers at the second count." ‌​‌‌‌​‌‌‍‌​‌‌‌​‌​‍‌​‌‌‌​‌​
Basically where did voters for the Independent / Liberal Democrat / Plaid Cymru candidates put their X for second preference? Conservative or Labour? We will find out soon. What we do know for sure is either Pat Astbury or Andy Dunbobbin will be the new PCC. ‌​‌‌‌​‌‌‍‌​‌‌‌​‌​‍‌​‌‌‌​‌​
‌​‌‌‌​‌‌‍‌​‌‌‌​‌​‍‌​‌‌‌​‌​
We are expecting a Labour v Conservative run off on second preference votes – not yet confirmed. ‌​‌‌‌​‌‌‍‌​‌‌‌​‌​‍‌​‌‌‌​‌​
‌​‌‌‌​‌‌‍‌​‌‌‌​‌​‍‌​‌‌‌​‌​
The idea of a single constituency recount is interesting, as the overall PCC process is a 50% +1 vote to avoid a second preference run off. A recount sometimes finds the odd extra few votes which could all add up and make a difference in the total to get over that threshold – however a recount is only called usually when things are tight (around 87 votes in CS). The 'winner' of Clwyd South is irrelevant, so why recount that and not every single constituency? ‌​‌‌‌​‌‌‍‌​‌‌‌​‌​‍‌​‌‌‌​‌​
‌​‌‌‌​‌‌‍‌​‌‌‌​‌​‍‌​‌‌‌​‌​
Sources tell us there is a recount in Clwyd South so things must be tight, with Wrexham's vote close but told Conservatives ahead of Labour there with Plaid Cymru third. A reminder it is a vote across the entire of North Wales! ‌​‌‌‌​‌‌‍‌​‌‌‌​‌​‍‌​‌‌‌​‌​
‌​‌‌‌​‌‌‍‌​‌‌‌​‌​‍‌​‌‌‌​‌​
The local democracy reporter is pointing to Labour and Conservatives doing well in Delyn, however as one Labour insider tells us "We always do, but it is Plaid Cymru out west!" ‌​‌‌‌​‌‌‍‌​‌‌‌​‌​‍‌​‌‌‌​‌​
Just getting an inkling that Conservative Pat Astbury and Labour's Andy Dunbobbin have done well in Delyn as you'd expect – but there's a long way to go yet#NorthWalesPCC2021 #LDReporter ‌​‌‌‌​‌‌‍‌​‌‌‌​‌​‍‌​‌‌‌​‌​

— Conwy and Denbighshire Local Democracy Reporter (@LDRJezHemming) May 9, 2021 ‌​‌‌‌​‌‌‍‌​‌‌‌​‌​‍‌​‌‌‌​‌​
‌​‌‌‌​‌‌‍‌​‌‌‌​‌​‍‌​‌‌‌​‌​
So the first round of counting for the #NorthWalesPCC2021 election is well underway in Flintshire
So let me explain what's happening.
All first preference votes from across the region will be called through and collated here by returning officer Colin Everett
1/3 pic.twitter.com/q4pRAwoQiv ‌​‌‌‌​‌‌‍‌​‌‌‌​‌​‍‌​‌‌‌​‌​

— Conwy and Denbighshire Local Democracy Reporter (@LDRJezHemming) May 9, 2021 ‌​‌‌‌​‌‌‍‌​‌‌‌​‌​‍‌​‌‌‌​‌​
‌​‌‌‌​‌‌‍‌​‌‌‌​‌​‍‌​‌‌‌​‌​
Counts are underway of your votes on Thursday, with verification already having taken place on Friday. Totals are sent through to Flintshire where the totals will be collated, and if there is an outright winner one will be declared, and if not, second preference votes will be used. ‌​‌‌‌​‌‌‍‌​‌‌‌​‌​‍‌​‌‌‌​‌​
‌​‌‌‌​‌‌‍‌​‌‌‌​‌​‍‌​‌‌‌​‌​
Spotted something? Got a story? Send a Facebook Message | A direct message on Twitter | Email: News@Deeside.com
---
Latest News
---