Connah's Quay teenagers latest sci-fi spine-chiller goes worldwide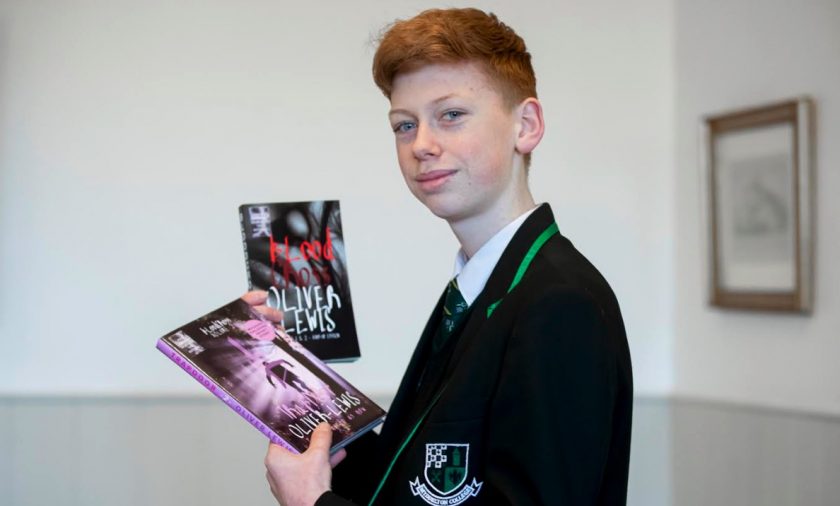 This article is old - Published: Wednesday, Mar 18th, 2020

A teenage author's latest sci-fi horror book is being read by students around the world after it was picked up by a global reading programme. ‌​‌‌‌​‌‌‍‌​‌‌‌​‌​‍‌​‌‌‌​‌​
Fifteen-year-old Oliver Lewis, a Year 10 pupil at leading independent school Myddelton College, in Denbigh, has just had his third book published and is already on the first draft of his next which he expects to bring out later this year. ‌​‌‌‌​‌‌‍‌​‌‌‌​‌​‍‌​‌‌‌​‌​
TrapDoor, out now on Amazon, is the second in a trilogy of sci-fi horror novels by Oliver, from Connah's Quay, and follows BloodCross which came out last year. ‌​‌‌‌​‌‌‍‌​‌‌‌​‌​‍‌​‌‌‌​‌​
His first book, Balance, was a non-fiction guide to getting organised for teenagers and followed two short stories, his first forays into published work. ‌​‌‌‌​‌‌‍‌​‌‌‌​‌​‍‌​‌‌‌​‌​
The novels have also been picked up by Accelerated Reader, a worldwide programme which is used by Myddelton College to encourage reading by young people and which could bring them to the attention of millions. ‌​‌‌‌​‌‌‍‌​‌‌‌​‌​‍‌​‌‌‌​‌​
He said: "English has always been my favourite subject and I've really got into reading over the last couple of years – I read 54 books last year. ‌​‌‌‌​‌‌‍‌​‌‌‌​‌​‍‌​‌‌‌​‌​
"I read a lot of young adult fantasy and started watching Booktube, which is part of Youtube, and got into writing in the sci-fi horror genre although my first book was non-fiction, all about getting yourself organised as a teenager. ‌​‌‌‌​‌‌‍‌​‌‌‌​‌​‍‌​‌‌‌​‌​
"Then I wrote BloodCross V1 and have followed it up TrapDoor and have already got a first draft of the third in the series but that still needs a lot of editing and re-writing before it's ready for publication." ‌​‌‌‌​‌‌‍‌​‌‌‌​‌​‍‌​‌‌‌​‌​
It's an impressive start to a writing career according to Myddelton College's Head of English, Alan Biles-Liddell, who said: "Oliver has real ability and takes great care, re-writing his work several times before publication. ‌​‌‌‌​‌‌‍‌​‌‌‌​‌​‍‌​‌‌‌​‌​
"It's a great inspiration to his fellow pupils and they listen to him more than to me because he's a published author. ‌​‌‌‌​‌‌‍‌​‌‌‌​‌​‍‌​‌‌‌​‌​
"His books are on the Accelerated Reader programme which I've worked with at other4 schools but here at Myddelton College they're really buying into it and they've got young kids with reading ages far beyond their actual age and even reluctant readers are really getting engaged." ‌​‌‌‌​‌‌‍‌​‌‌‌​‌​‍‌​‌‌‌​‌​
Like many teenagers Oliver is never far from his phone but he said: "It's a very useful tool. There's always this time at three in the morning when I wake up and often get great ideas then. ‌​‌‌‌​‌‌‍‌​‌‌‌​‌​‍‌​‌‌‌​‌​
"I have my phone by my bed and I tap the idea into Notes on my phone – otherwise I would go back to sleep and forget it. ‌​‌‌‌​‌‌‍‌​‌‌‌​‌​‍‌​‌‌‌​‌​
"I like to get my schoolwork done early in the evening and then I can spend time writing – at home we have a summer house and I can disappear there for hours, even missing meals sometimes. ‌​‌‌‌​‌‌‍‌​‌‌‌​‌​‍‌​‌‌‌​‌​
"When I go out there my mum and dad just say, 'OK, see you later.'" ‌​‌‌‌​‌‌‍‌​‌‌‌​‌​‍‌​‌‌‌​‌​
His choice of sci-horror is simple: "I like horror films," he said: "But you rarely find a good horror book for my age group. ‌​‌‌‌​‌‌‍‌​‌‌‌​‌​‍‌​‌‌‌​‌​
"I let my best friend read what I write and if she likes it then I know it works. If she says 'I hate you' I know I've done my job. ‌​‌‌‌​‌‌‍‌​‌‌‌​‌​‍‌​‌‌‌​‌​
"Getting published was a lot of trial and error and I went for self-publishing with Blurb so it doesn't cost me anything – people can order the book and have it printed and sent to them and I get paid a percentage each time that happens." ‌​‌‌‌​‌‌‍‌​‌‌‌​‌​‍‌​‌‌‌​‌​
Oliver plans to go on to do A-levels at Myddelton College, including English and Art – he has done all the covers for his books – and would like to go on to take a degree in English and Creative Writing. ‌​‌‌‌​‌‌‍‌​‌‌‌​‌​‍‌​‌‌‌​‌​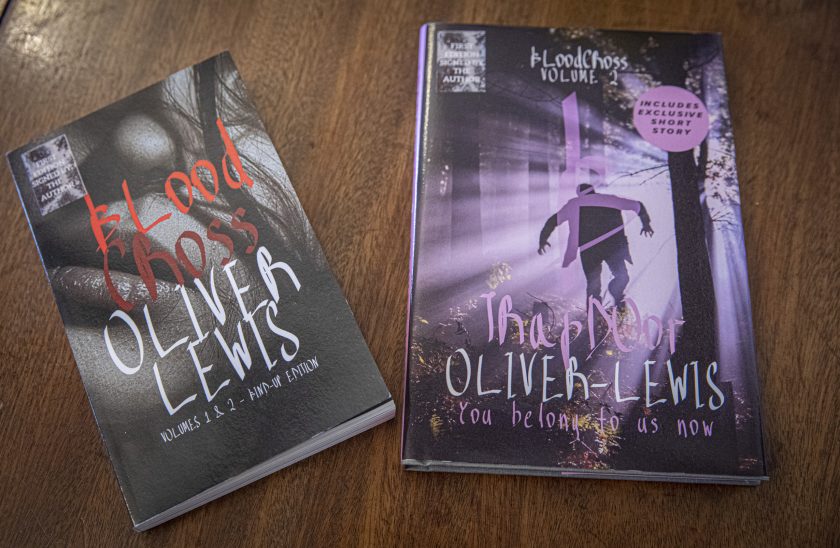 ‌​‌‌‌​‌‌‍‌​‌‌‌​‌​‍‌​‌‌‌​‌​
He added: "I would like to carry on writing and keep up my art as well but my real goal now is to work as a book editor. ‌​‌‌‌​‌‌‍‌​‌‌‌​‌​‍‌​‌‌‌​‌​
Myddelton College, a co-educational day and boarding school, was the UK's newest independent school when it opened in the autumn of 2016 and the Estyn Report issued last year praised the way the school celebrates its diversity, said that pupils' behaviour was "exemplary" and was also impressed by the high level of support and guidance provided by the "committed staff". ‌​‌‌‌​‌‌‍‌​‌‌‌​‌​‍‌​‌‌‌​‌​
Myddelton College Headmaster Andrew Allman said: "We have some great support here for the pupils and the foundations have been set here very successfully. ‌​‌‌‌​‌‌‍‌​‌‌‌​‌​‍‌​‌‌‌​‌​
"The Accelerated Reader programme is very much part of those foundations and is really important to us so we group students according to their ability. ‌​‌‌‌​‌‌‍‌​‌‌‌​‌​‍‌​‌‌‌​‌​
"They say good readers are tomorrow's leaders and it's true so we make sure that we have at least half an hour of dedicated reading time for each pupil every day – that's how important we consider reading to be." ‌​‌‌‌​‌‌‍‌​‌‌‌​‌​‍‌​‌‌‌​‌​
The school currently has 70 boarders and 150 day pupils with 45 staff, including over 30 teachers, and is the only school in North Wales with a 5G network and Mr Allman added: "The school has integrated into the local community very well and people here are delighted is it open again and making a contribution to the local community. ‌​‌‌‌​‌‌‍‌​‌‌‌​‌​‍‌​‌‌‌​‌​
"We encourage local organisations to make use of our facilities here and the list of those that do includes dance groups, a boxing club and the Scouts." ‌​‌‌‌​‌‌‍‌​‌‌‌​‌​‍‌​‌‌‌​‌​
Spotted something? Got a story? Send a Facebook Message | A direct message on Twitter | Email: News@Deeside.com
---
Latest News
---