AM calls for a ministerial statement over rail chaos on Wrexham to Bidston line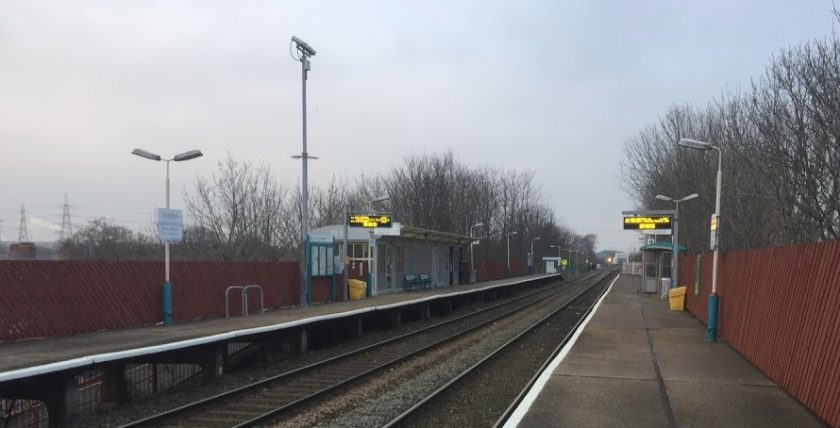 This article is old - Published: Wednesday, Nov 28th, 2018
Mark Isherwood AM has called for a ministerial statement over the Transport for Wales railway issues hitting the area, as it is confirmed Wrexham – Bidston line will have a ongoing bus and train service. ‌​‌‌‌​‌‌‍‌​‌‌‌​‌​‍‌​‌‌‌​‌​
Yesterday Mr Isherwood told members of the Welsh Assembly that he attended the Wrexham-Bidston Rail Users Association's annual general meeting at the weekend, where the chair referred them to Transport for Wales's live travel updates on Saturday, which showed that, with the exception of minor delays at Cardiff-Shrewsbury and Cardiff-Swansea, all the other south Wales services had good service. ‌​‌‌‌​‌‌‍‌​‌‌‌​‌​‍‌​‌‌‌​‌​
That contrasted to Llandudno-Blaenau Ffestiniog and Chester-Crewe that had severe delays, and Wrexham-Bidston that had an amended timetable – cancelled. ‌​‌‌‌​‌‌‍‌​‌‌‌​‌​‍‌​‌‌‌​‌​
Mr Isherwood said: "Yesterday, the executive member for transport at Wrexham wrote to the Cabinet Secretary here. You will be aware that following the decision by Transport for Wales that no train services operated on Wrexham-Bidston last weekend, due to rail services in south Wales being supplemented due to a sporting fixture, no stakeholders here were consulted in advance or informed directly of that, or then the decision to rescind and reduce the reduced timetable over the weekend with no discussion with stakeholders. ‌​‌‌‌​‌‌‍‌​‌‌‌​‌​‍‌​‌‌‌​‌​
"We know that the chair of Neston transport working group, the other end of this line, on Friday e-mailed—it's been their position in Neston for three years that the whole of the line should be operated by Merseytravel, because at least the section from Bidston to Shotton, they say, could then experience high-quality services provided by them." ‌​‌‌‌​‌‌‍‌​‌‌‌​‌​‍‌​‌‌‌​‌​
"Finally, on Friday, my office received a phone call from a rail insider, a whistleblower, who wished to remain anonymous, who told me that the majority of trains had been cancelled because no spares were available when the Welsh Government took over, and that the tooling and spares had been taken by Arriva. ‌​‌‌‌​‌‌‍‌​‌‌‌​‌​‍‌​‌‌‌​‌​
So, we need to know why these missing spares were not picked up and provided for by the operator, and why the wheel lathes access was not put into place. ‌​‌‌‌​‌‌‍‌​‌‌‌​‌​‍‌​‌‌‌​‌​
"Again, we heard on Saturday that there was no access, belatedly, to Crewe, Bristol and Taunton. But we also know that the excuse for so many trains being off the line is because of shortage of wheel lathes. Is there a sustainable solution in place, or is this a one-off, and will this address the problem?" ‌​‌‌‌​‌‌‍‌​‌‌‌​‌​‍‌​‌‌‌​‌​
"I don't want a short response. I'm calling for a ministerial statement to this Assembly so that we can get to the bottom of these many questions being raised by very worried stakeholders." ‌​‌‌‌​‌‌‍‌​‌‌‌​‌​‍‌​‌‌‌​‌​
Julie James AM replied pointing to a previous answer given in First Minister Questions that noted Transport for Wales will provide 'a weekly update for Members on the situation across Wales'. ‌​‌‌‌​‌‌‍‌​‌‌‌​‌​‍‌​‌‌‌​‌​
In earlier answers Julie James AM said "Transport for Wales have done an absolutely fantastic job, and 10 per cent of the fleet is now back in action again. So, I think, actually, they're to be praised for the swiftness of their response", however did point to Arriva being a possible cause of the problems, adding: "Transport for Wales has inherited a fleet of trains, very substandard and substantially not what we'd expect—frankly, from years and years and years of underinvestment by the private sector. ‌​‌‌‌​‌‌‍‌​‌‌‌​‌​‍‌​‌‌‌​‌​
"So, we have a very firm recovery plan in place. The Cabinet Secretary for Economy and Transport met with the chief executive officer of Transport for Wales last week to seek assurance that that recovery plan was there. It was confirmed at that meeting that Transport for Wales and Network Rail have operationalised a full recovery plan to manage the situation and that we will be receiving regular updates from the CEO of Transport for Wales on progress against that plan." ‌​‌‌‌​‌‌‍‌​‌‌‌​‌​‍‌​‌‌‌​‌​
"The engineers from Transport for Wales and from Network Rail are working around the clock to resume services as soon as possible. We've only had the franchise for just under a month; we cannot correct the underinvestment of 15 years in four weeks." ‌​‌‌‌​‌‌‍‌​‌‌‌​‌​‍‌​‌‌‌​‌​
Our sister site Wrexham.com was passed some information from an apparent insider, and a week ago asked Transport for Wales if things have been left in perhaps a worse state than was expected, and if therefore the current service issues are more of a result of Arriva Trains than anything specifically wrong with TfW. ‌​‌‌‌​‌‌‍‌​‌‌‌​‌​‍‌​‌‌‌​‌​
TfW has not responded to the claims when asked, in fact it has been a struggle to get any answers to several queries with confusing service messages being placed in the public domain. ‌​‌‌‌​‌‌‍‌​‌‌‌​‌​‍‌​‌‌‌​‌​
Yesterday saw TfW send out alerts saying no trains on the Wrexham – Bidston line with buses picking up the slack, that's despite earlier assurances trains would be running, however passengers were left confused when trains were seen running. ‌​‌‌‌​‌‌‍‌​‌‌‌​‌​‍‌​‌‌‌​‌​
We have been told on the situation yesterday: "A rail service is running every two hours on the Wrexham-Bidston line all week, with an improved rail replacement bus service in between services. ‌​‌‌‌​‌‌‍‌​‌‌‌​‌​‍‌​‌‌‌​‌​
Due to a late change in the availability in rolling stock, we were able to protect the service in Wrexham-Bidston but that message was late feeding into Control, who manage some of the information systems." ‌​‌‌‌​‌‌‍‌​‌‌‌​‌​‍‌​‌‌‌​‌​
‌​‌‌‌​‌‌‍‌​‌‌‌​‌​‍‌​‌‌‌​‌​
Spotted something? Got a story? Send a Facebook Message | A direct message on Twitter | Email: News@Deeside.com
---
Latest News
Ysbyty Glan Clwyd A&E still requires 'significant improvement' amid high patient numbers and staff shortages
---