Airbus Broughton opens doors for future apprentices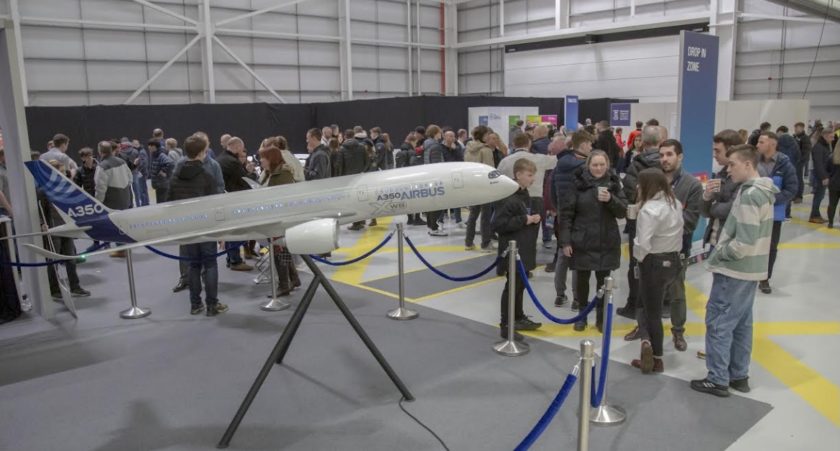 Airbus Broughton opened its doors to hundreds of local students as part of a recruitment drive for its 2023 apprenticeship programme. ‌​‌‌‌​‌‌‍‌​‌‌‌​‌​‍‌​‌‌‌​‌​
The Apprentice Open Day, which took place inside Airbus' state-of-the-art A350 Wing production facility, was the first public event the company has hosted since the pandemic. ‌​‌‌‌​‌‌‍‌​‌‌‌​‌​‍‌​‌‌‌​‌​
Around 1,500 visitors, comprising local students and their families, took part in the open day to find out more about the roles on offer. ‌​‌‌‌​‌‌‍‌​‌‌‌​‌​‍‌​‌‌‌​‌​


‌​‌‌‌​‌‌‍‌​‌‌‌​‌​‍‌​‌‌‌​‌​
Airbus employees from departments across the North Wales site, many of whom are past and present apprentices themselves, were in attendance to share information on the wide range of vacancies the company is looking to fill at Broughton this year. ‌​‌‌‌​‌‌‍‌​‌‌‌​‌​‍‌​‌‌‌​‌​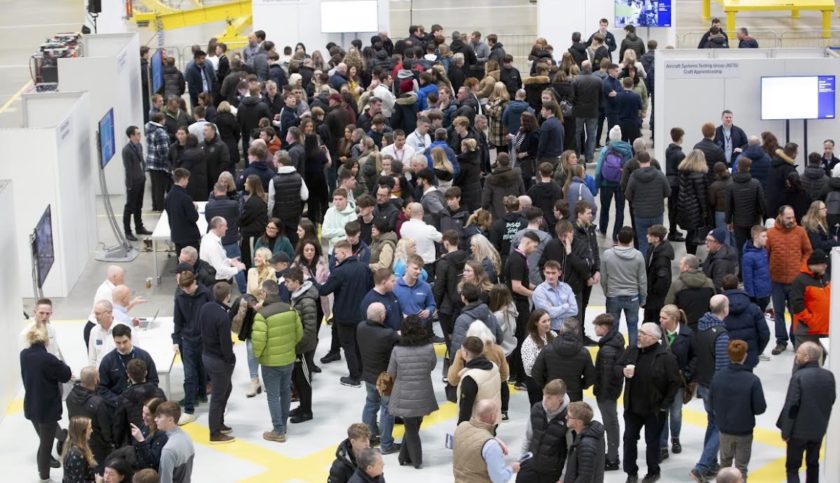 ‌​‌‌‌​‌‌‍‌​‌‌‌​‌​‍‌​‌‌‌​‌​
The range of opportunities currently available includes hands-on craft and technical apprenticeships, as well as a number of four-year undergraduate degree programme opportunities. ‌​‌‌‌​‌‌‍‌​‌‌‌​‌​‍‌​‌‌‌​‌​
The successful applicants will be sponsored to study towards their respective qualifications whilst simultaneously learning on-the-job and receiving career development support from Airbus, who were recently reconfirmed as a Top Employer by the global Top Employers Institute. ‌​‌‌‌​‌‌‍‌​‌‌‌​‌​‍‌​‌‌‌​‌​
Dan Rigby, Airbus's Head of Early Careers at Broughton, explains: "What all of the roles on offer have in common is an opportunity for talented young people to join an industry-leading company with a well-respected apprentice programme, as we drive fundamental change in the aviation sector." ‌​‌‌‌​‌‌‍‌​‌‌‌​‌​‍‌​‌‌‌​‌​
"Our apprentices have always played a key part in the success we have enjoyed as a company, and as we shape the future of sustainable aviation manufacturing and design here in Broughton, our future joiners will play a hugely important role in prolonging that success, by developing the skills we need for the future." ‌​‌‌‌​‌‌‍‌​‌‌‌​‌​‍‌​‌‌‌​‌​
"I'm delighted that we had such a strong uptake of interest at the open day, and I would encourage anyone who is interested to visit our Airbus Careers website to find out more and make an application." ‌​‌‌‌​‌‌‍‌​‌‌‌​‌​‍‌​‌‌‌​‌​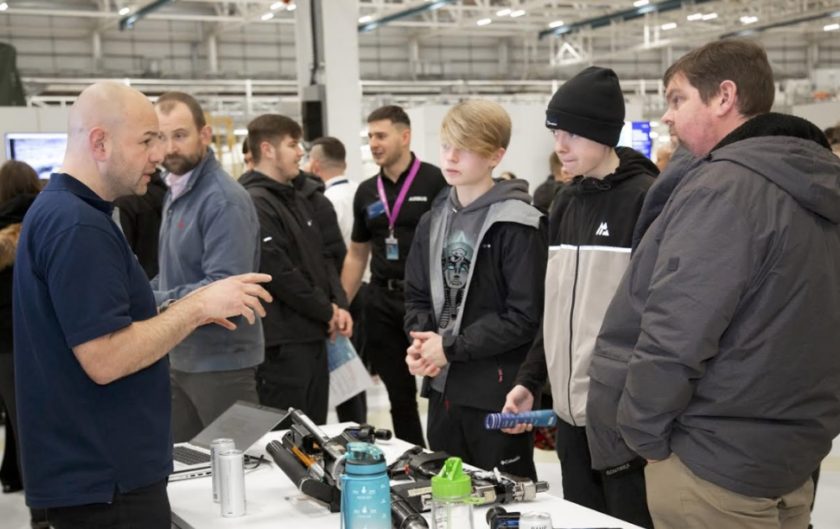 ‌​‌‌‌​‌‌‍‌​‌‌‌​‌​‍‌​‌‌‌​‌​
Jamie Roles, a recent degree programme digital solutions apprentice who is now an IT Business Analyst, sais "For me joining Airbus as an apprentice was the best decision that I have ever made. Having the opportunity to work and get paid at the same time as studying towards a first class degree in applied data science has been amazing. Seeing how the theory applies in real life situations helps to add an extra depth to the learning process."  ‌​‌‌‌​‌‌‍‌​‌‌‌​‌​‍‌​‌‌‌​‌​
Despite the challenges of the last few years, demand for air travel is now as strong as ever. That's why our mission to shape today and tomorrow – by making aerospace more sustainable – means there has never been a more exciting time to join us here at Airbus".  ‌​‌‌‌​‌‌‍‌​‌‌‌​‌​‍‌​‌‌‌​‌​


‌​‌‌‌​‌‌‍‌​‌‌‌​‌​‍‌​‌‌‌​‌​
Rosie Boddy, a fourth year aerosystems craft apprentice, who recently won a gold medal in aircraft maintenance at the WorldSkills UK national finals competition, commented:  ‌​‌‌‌​‌‌‍‌​‌‌‌​‌​‍‌​‌‌‌​‌​
"My apprenticeship at Airbus in Broughton has allowed me to follow my dream of being an aerospace engineer. I've absolutely loved the practical side of my course and getting stuck in with my hands. It's been particularly helpful to put the theory I learned at college into practice by working with the plane parts in real life.  ‌​‌‌‌​‌‌‍‌​‌‌‌​‌​‍‌​‌‌‌​‌​
"I've found each skill I've learned during my apprenticeship to be transferable, with time management and learning to work under pressure being skills that I've carried across my four years in the production environment."  ‌​‌‌‌​‌‌‍‌​‌‌‌​‌​‍‌​‌‌‌​‌​
The open roles include craft and technical apprenticeships in aircraft systems, tooling and mechanical maintenance, aerostructures and facilities management that lead to roles as qualified Aircraft Operators, Electricians, and Machinists  ‌​‌‌‌​‌‌‍‌​‌‌‌​‌​‍‌​‌‌‌​‌​
The undergraduate degree programme apprenticeships include opportunities in engineering, business, digital and technology solutions and HR.  ‌​‌‌‌​‌‌‍‌​‌‌‌​‌​‍‌​‌‌‌​‌​
The closing date for applications is Sunday 19 February. For more information and to make an application visit the Airbus Careers website:  ‌​‌‌‌​‌‌‍‌​‌‌‌​‌​‍‌​‌‌‌​‌​
https://www.airbus.com/en/careers/apprentices-and-pupils/apprenticeship-in-united-kingdom  ‌​‌‌‌​‌‌‍‌​‌‌‌​‌​‍‌​‌‌‌​‌​
Spotted something? Got a story? Send a Facebook Message | A direct message on Twitter | Email: News@Deeside.com
---
Latest News
---