Record Store Day 2018 – Biggest day of the year for smallest record shop in UK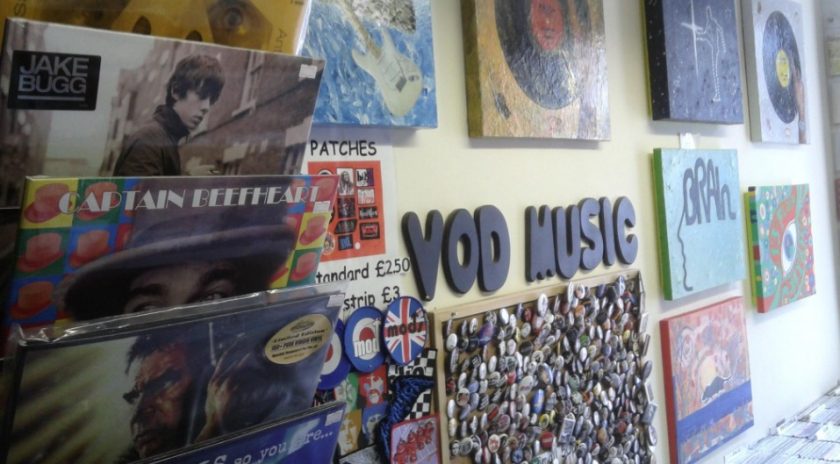 This article is old - Published: Friday, Apr 20th, 2018
It'll be the 11th 'Record Store Day' on Saturday, the one day of the year when over 200 independent record shops all across the UK come together to celebrate their unique culture.
For VOD Music in Mold, officially the UK's smallest record shop at just 67 square foot, and those other indi shops it marks the biggest day of the year.
Special vinyl releases are made exclusively for the day and VOD will have exclusive 'freebies' for the first few customers who, if like previous years will begin to queue from this evening, Friday April 20.
Thousands more shops celebrate the day around the globe in what's become one of the biggest annual events on the music calendar.
VOD which specialises in Prog Rock, Folk, Blues & Reggae collectables was establishment in 2004 – owner Colin Trueman is proud of the 'smallest record shop' title, he said;  "It is quite an honour to be listed as the smallest in the UK and our customers are very protective of our status.
We used to struggle with stock space but being well organised and having bespoke racking has made life a lot easier. We are very happy with the experience we've created and think our customers would actually be disappointed if we upsized!"
Record Store Day was created in 2007 with the aim of celebrating the culture, enthusiasts and community behind record shops and with the resurgence of vinyl the event is going from strength to strength.
Colin has no doubt Record Store Day has been a turning point for the fortunes of many shops and for VOD its become a great social event, he told Deeside.com:
Locally it's an amazing day with eager music fans joining the queue overnight to be sure to be near the front of the queue on Saturday morning.
The first one in our queue last year was outside the shop on the Friday evening at 7.45pm.
As for numbers there was a large queue down New Street in Mold last year and early indications are that it will be something similar this year.
For people attending on the day there is the added bonus of one of our Record Fairs just over the road at the Daniel Owen Community Centre with Live Music featuring Kavus Torabi and Sendelica (both well known on the Prog Rock and Psych scene).
Richer Sounds of Chester will also be demonstrating the latest Hi Fi at the same venue. 
There will be exclusive releases at the shop on Saturday from 9am with the Record Store Day event at the Daniel Owen Community Centre in Mold commencing at 9.30am." Colin said.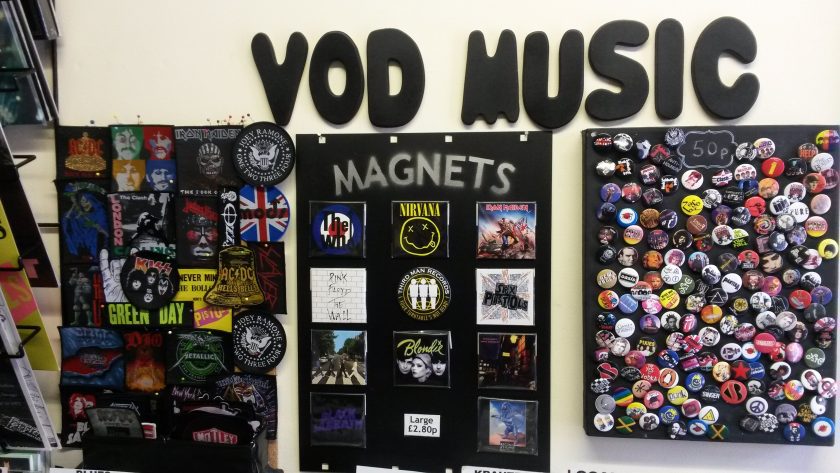 VOD guide for Record Store Day 2018
•Shop open at 9am until 4.30pm on Record Store Day (Saturday April 21st 2018)
•All RSD product is sold on a first come first served basis, in store only.
•No items can be reserved or pre-ordered.
•Ony 1 title per person of each release to a maximum of 10 different titles per person.
•Should you want more than 10 items it is OK to re-join the queue.
•Card Payments as well as Cash Sales.
Tips:
If there is a title(s) you are desperate to pick up on the day we recommend you
get to the shop early to get as near to the front of the queue as possible.
There will be a exclusive FREEBIES for the first few customers (Plus Snacks and Gifts).
Remember that all RSD titles are extremely limited and although we will do our very best to get multiples of any we have in for the day it is not always possible due to incredible demand from Record Stores across the Globe.
We will list anything that is arriving for the day on our RSD page, so be sure to check this before joining the queue.
Confirmations are listed in the run up to RSD with a price list viewable the night before the day. We always aim to sell as cheap as we  possibly can. A physical price list will be also available on the day and its generally handed down the queue to browse before getting to the counter. Those with Smart Phones or Tablets can check our Website RSD page online.
Wear suitable clothing if joining the queue early as it can be abit nippy in April and open to the elements. Should it rain,  we can put our Shop canopy up if required and there is some cover under nearby shop overhang which very handily is where the queue lines up….hopefully though this wont be necessary.
Timeline for Record Store Day  2018 in Mold .
9am RECORD SHOP OPENS New Street,Mold) Record Store Day releases go on sale
9.30am  RECORD FAIR EVENT COMMENCES Daniel Owen Community Centre  (Grd Floor)  plus
LIVE MUSIC,DJ SETS & HI FI (1st Floor)
10am            RICHER SOUNDS Hi Fi  Demos,Free Goody bags and Free Prize draw.
11.15am       HALCYON DREAMS DJ SET
11.45am       KAVUS TORABI (Gong,Knifeworld,Cardiacs)
12.45pm       HALCYON DREAMS DJ SET
1.30pm        SENDELICA (Pysch,Space rock)
2.30pm        HALCYON DREAMS DJ SET
4pm             RSD EVENT CLOSES
* Please note limited numbers for the FREE Live Music, to be sure speak to Colin at VOD Music, txt or phone 07904688739 or e-mail enquiries@vodmusic.co.uk .
A FREE code will be designated to you for the day*. *
Persons with FREE CODE should arrive for the Music (1st Floor) by 11.30am,
after this any spare spaces will be reallocated to anyone wishing to attend on the day.
NO CODE required for Hi Fi demos which are in ROOM 4 upstairs.
Spotted something? Got a story? Send a Facebook Message | A direct message on Twitter | Email: News@Deeside.com