NOTE: This content is old - Published: Saturday, Dec 1st, 2018.
Flintshire Foodbank has thanked the local Travelling community after an amazing response to a viral social media challenge which has seen over 70 trolleys of food donated in the past few days.
Members of the Traveller community across the country have been filling up shopping trolleys for local foodbanks as part of what has been dubbed the foodbank challenge.
The challenge works by people filming themselves filling a trolley then nominating friends and family to take part by donating a trolley full of goods within 48 hours.
The challenge was started by Traveller man and new father Watson Harrop, 30, of Bishops Auckland, County Durham.
Mr Harrop decided to take action after noticing families in his local area struggling.
While out shopping for his three-month-old daughter at his local Tesco last Thursday, he spontaneously decided to fill a trolley full of food to donate to the store's foodbank according travellerstimes.org.uk
Mr Harrop says enough food for around 18,000 meals has been donated in Bishop Auckland alone, a small market town with a population of less than 30,000.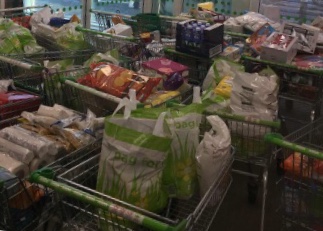 (Food waiting be collected at Asda Queensferry- Picture: Sarah Wilson)
On Thursday a post on the Flintshire Foodbank Facebook page said:
"We collected an amazing NINE full trolleys yesterday of donated items from Asda in Queensferry. On turning up to Tesco Broughton today we have collected even more trolleys full of donations.
All the items had been donated from the local travelling community who have taken up the #foodbankchallenge #foodbanknomination.
Since the photos were taken Asda yesterday we've been informed that a further two trolleys have been filled.
This is brilliant.Thank you so very much for all the donations and your generosity."
In an update on Saturday morning a spokesperson for Flintshire Foodbank told Deeside.com the number of trolley loads of food has snowballed to over 70.
In an interview with Travellers Times Watson Harrop said:
"In my local town alone the Tesco has had over six tonnes of food donated in just one week – that's enough to make 8,000 meals.
It's overwhelming how many people have helped and donated. It's caused an avalanche of different communities coming together. It doesn't matter if you're Traveller, Pakistani, black, white
I decided we're going to come together and make a difference for people who are less fortunate than us over the Christmas period."
Mr Harrop adds: "You don't realise until you have your own children just how less fortunate other children are out there.
Me and my wife always donate to the foodbank in our local supermarket but noticed that it never seemed to get any fuller.
You could walk past and what we had donated last week would still be in the bottom. The cat and dog donation bin was always full to the brim, but no one was donating for kids who are going to bed hungry with no tea across the country.
I wanted to encourage people to donate to their local foodbanks."
Flintshire Foodbank is also collecting donations from Tesco branches in Mold, Holywell and Broughton as part of the Tesco food collection event.
Volunteers will be in each of the Tesco stores on Saturday between 10am – 4pm.
On Friday 4857kg of food items were collected from local Tesco stores.