NOTE: This content is old - Published: Monday, Nov 13th, 2017.
The first Airbus A380 superjumbo to exit service will land at a French airfield this afternoon for storage while its owner looks to find a new operator for a plane.
Singapore Airlines announced the first withdrawal of an A380 back in August, they were the launch customer for the Airbus flagship jet.
The Singapore Airways A380 is being returned to German leasing firm Dr. Peters Group after 10 years of service with the airline, Dr. Peters own four of their A380s
MSN003 was the third A380 off the production line the first two were test aircraft.
Registered 9V-SKA it was delivered to Singapore Airlines on 15 October 2007 and began flights on 25 October 2007 between Singapore and Sydney.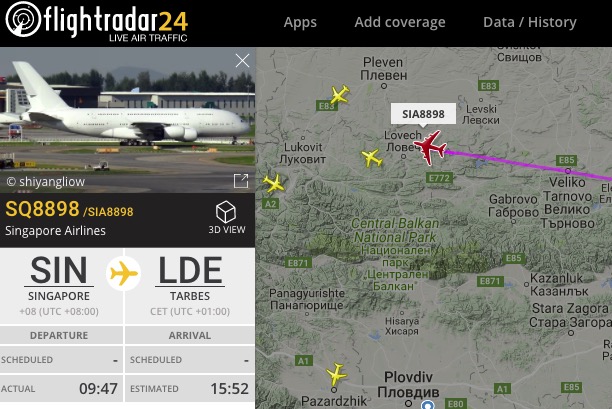 The aircraft will land at Tarbes–Lourdes–Pyrénées Airport this afternoon where it will be stored at Tarmac Aerosave, Europe's largest aircraft storage company.
The engines will be removed and returned to Rolls-Royce who will rent them out to other operators.
Some aviation experts believe it will be hard to find a new buyer for the plane as there is no resale market for the A380, it could leave no other than to scrap it.
Three more Singapore Air A380s are set to return to Dr. Peters in January, April and June next year,