Councillors in Wrexham back plans to take over Flintshire's CCTV system to help save money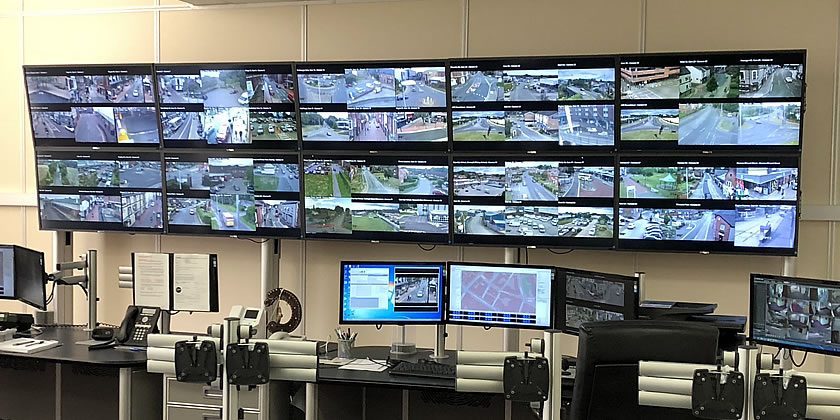 This article is old - Published: Wednesday, May 15th, 2019
Plans for Wrexham Council to create a shared and fully integrated CCTV service with Flintshire Council have been backed by councillors, writes Wrexham.com
Executive board members yesterday unanimously voted in favour of going ahead with the plans, which will see Flintshire Council's CCTV system relocated and managed at Wrexham's control centre.
Several years ago the option of creating one or two control rooms for monitoring CCTV across the whole of North Wales was put forward.
However it was not possible to agree a single scheme regionally that met the needs of all of the partners
A report presented to executive board members yesterday explained that Flintshire Council is looking for an alternative location for its existing CCTV control room due to its location in Shire Hall, which is due for demolition.
It is estimated that the joining up of the two systems will generate cost savings of approximately £47,000 per annum, in terms of staffing and supervision.
The proposals consist of appropriate rota of staff, together with a supervisor, to monitor both the Wrexham and Flintshire cameras.
This would allow for double manning at all times with the supervisor also being on site from 9-5 Monday to Friday and also being available to cover for leave and sickness to reduce potential overtime costs.
The current combined cost for the CCTV operation in Wrexham and Flintshire is £637,000.
Based on the rota proposal above, the cost for the shared service is estimated to be in the region of £590,000 which would mean a potential saving of £47,000.
It is suggested that the cost saving be split £28,000 Wrexham CBC and £19,000 Flintshire Council, based upon the pro rata current costs, as Wrexham is hosting the service and has to cover the costs of running the control room.
The current income towards the CCTV operations at both Wrexham Council and Flintshire Council consists of a mix of internal and external clients and is described as 'relatively complicated'.
To address this, it is suggested that the responsibility for the income generation will remain with each authority and it is only the cost element that will be split accordingly.
Speaking at yesterday's meeting, Cllr Hugh Jones, lead member for communities, partnerships, public protection and community safety, said: "Members will be aware of the long standing investment we have made to CCTV in Wrexham in order to improve community safety.
"It is a facility that is first class, it is fit for purpose and fit for the 21st century.
"At the time when we made the decision to invest in CCTV in Wrexham there were two challenges – one was to improve commerciality by bringing in funding from private sector funding by having an opportunity to provide additional services.
"Secondly was to continue to work with neighbouring authorities to bring them onboard to share in that facility. That followed a breakdown of pan North Wales proposals, which I was part of as was Simon Roberts, the author of the report.
"The team have worked tirelessly to bring Flintshire on board and it has been quite a long process, but we have got there.
"In bringing in an improved use of facilities and opportunity of cost savings for both authorities. hope having seen the joint working that a number of other authorities will come on board."
Leader of Wrexham Council, Cllr Mark Pritchard, added: "Can I think all officers and chief executives from both authorities, it has been a long journey but we got there.
"I hope it is one of many opportunities going forward where we can work together.
"It is the way forward. We need to be more efficient and make savings and I think all authorities across North Wales can understand that."
The plans also have to be agreed by Flintshire's Cabinet, and if approval is given from both sides the proposals will be taken forward for a shared services hosted in Wrexham with costs recovered from Flintshire Council.
Spotted something? Got a story? Send a Facebook Message | A direct message on Twitter | Email: News@Deeside.com