Yellow warnings for thunderstorms remain in place through to next week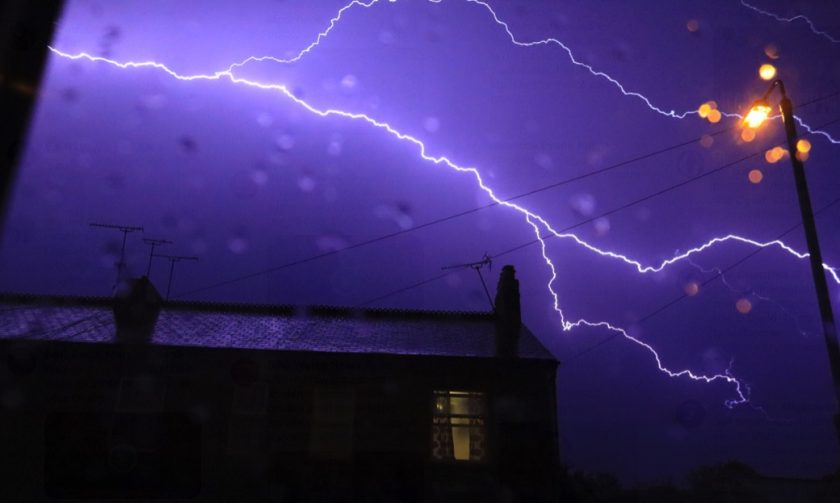 This article is old - Published: Thursday, Aug 13th, 2020

Thunderstorm warnings remain in place in Flintshire until Monday with the Met Office stating there's a continued risk of "impacts from heavy rain, flash flooding, lightning and hail." ‌​‌‌‌​‌‌‍‌​‌‌‌​‌​‍‌​‌‌‌​‌​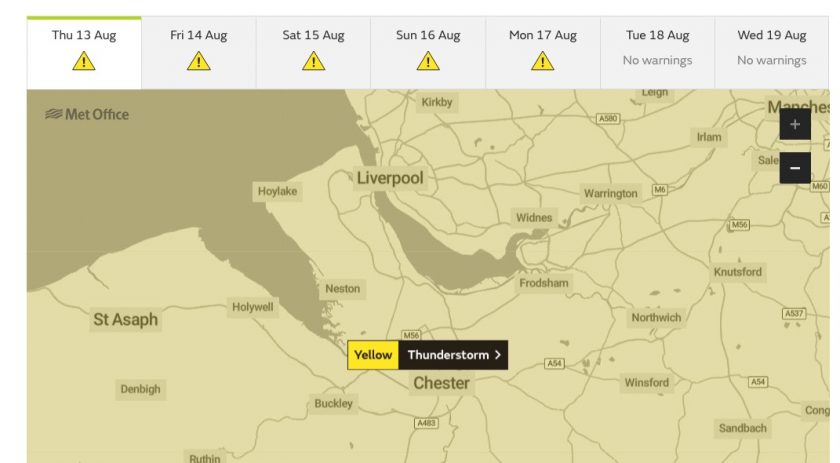 ‌​‌‌‌​‌‌‍‌​‌‌‌​‌​‍‌​‌‌‌​‌​
BBC Weather presenter Sabrina Lee said the extreme weather is keeping "us forecasters busy at the moment." ‌​‌‌‌​‌‌‍‌​‌‌‌​‌​‍‌​‌‌‌​‌​
"We are on day four of eight thunderstorm warnings and sustained thundery weather period like this is unusual. ‌​‌‌‌​‌‌‍‌​‌‌‌​‌​‍‌​‌‌‌​‌​
She said, "One of the reasons why we get extreme weather is because our atmosphere is always looking to find a nice balanced state. ‌​‌‌‌​‌‌‍‌​‌‌‌​‌​‍‌​‌‌‌​‌​
It doesn't like the big contrast and temperature, pressure or humidity, that's why we get weather fronts. ‌​‌‌‌​‌‌‍‌​‌‌‌​‌​‍‌​‌‌‌​‌​
At the moment we've got all this heat and humidity and the atmosphere doesn't want to allow that to keep building and building. ‌​‌‌‌​‌‌‍‌​‌‌‌​‌​‍‌​‌‌‌​‌​
That energy needs to go somewhere and at the moment that's where we're seeing a lot of thunderstorms." ‌​‌‌‌​‌‌‍‌​‌‌‌​‌​‍‌​‌‌‌​‌​
More on the current weather warning: https://www.metoffice.gov.uk/about-us/press-office/news/weather-and-climate/2020/thunderstorm-warnings-120820 ‌​‌‌‌​‌‌‍‌​‌‌‌​‌​‍‌​‌‌‌​‌​
The Met Office upgraded Wednesday's yellow warning to an amber warning as severe thunderstorms hit North Wales. ‌​‌‌‌​‌‌‍‌​‌‌‌​‌​‍‌​‌‌‌​‌​
During the afternoon and into the evening bolts of lightning could be seen lighting up the skies across Flintshire. ‌​‌‌‌​‌‌‍‌​‌‌‌​‌​‍‌​‌‌‌​‌​
For storm lovers, Wednesday night was an absolute treat, many people commented on social media they had never seen a storm like it. ‌​‌‌‌​‌‌‍‌​‌‌‌​‌​‍‌​‌‌‌​‌​
Around 15,000 strikes were reported in Wales in the past 24 hours and many were caught on camera with hundreds of videos and photographs shared across social media platforms. ‌​‌‌‌​‌‌‍‌​‌‌‌​‌​‍‌​‌‌‌​‌​
We had many photos and videos sent to us during the course of Wednesday evening – here's just a few: ‌​‌‌‌​‌‌‍‌​‌‌‌​‌​‍‌​‌‌‌​‌​
[Feature image above – Ryan Dodd] ‌​‌‌‌​‌‌‍‌​‌‌‌​‌​‍‌​‌‌‌​‌​
Peter Cross shot this spectacular slow-motion video of lightning over Hawarden. ‌​‌‌‌​‌‌‍‌​‌‌‌​‌​‍‌​‌‌‌​‌​
Lovely bit of weather tonight, #slowmotion #lightening @DeesideDotCom pic.twitter.com/5NsYxvqW6W ‌​‌‌‌​‌‌‍‌​‌‌‌​‌​‍‌​‌‌‌​‌​

— petercross (@peterrcross) August 12, 2020 ‌​‌‌‌​‌‌‍‌​‌‌‌​‌​‍‌​‌‌‌​‌​
‌​‌‌‌​‌‌‍‌​‌‌‌​‌​‍‌​‌‌‌​‌​
Another slow motion video shot in Deeside. ‌​‌‌‌​‌‌‍‌​‌‌‌​‌​‍‌​‌‌‌​‌​
Wow! @DeesideDotCom pic.twitter.com/U9bUsrkjPm ‌​‌‌‌​‌‌‍‌​‌‌‌​‌​‍‌​‌‌‌​‌​

— MUFC2811 (@davidgurney2811) August 12, 2020 ‌​‌‌‌​‌‌‍‌​‌‌‌​‌​‍‌​‌‌‌​‌​
‌​‌‌‌​‌‌‍‌​‌‌‌​‌​‍‌​‌‌‌​‌​
Just Wow!!! So happy with these!! @DeesideDotCom ⚡️📸 #ukstorm pic.twitter.com/6fqV5jq6RY ‌​‌‌‌​‌‌‍‌​‌‌‌​‌​‍‌​‌‌‌​‌​

— Gaz Urquhart (@gazurquhart) August 12, 2020 ‌​‌‌‌​‌‌‍‌​‌‌‌​‌​‍‌​‌‌‌​‌​
‌​‌‌‌​‌‌‍‌​‌‌‌​‌​‍‌​‌‌‌​‌​
Matt captured this video in Buckley. ‌​‌‌‌​‌‌‍‌​‌‌‌​‌​‍‌​‌‌‌​‌​
Best lightening ⚡️of the past 3 days this evening over Buckley Flintshire 🏴󠁧󠁢󠁷󠁬󠁳󠁿 It's not even dark yet 😀 @Ruth_ITV @kelseyredmore @Lauratobin1 @FlintshireSkies @DeesideDotCom pic.twitter.com/NH321jkdFO ‌​‌‌‌​‌‌‍‌​‌‌‌​‌​‍‌​‌‌‌​‌​

— matt hellen 🏴󠁧󠁢󠁷󠁬󠁳󠁿 (@MattHellen) August 12, 2020 ‌​‌‌‌​‌‌‍‌​‌‌‌​‌​‍‌​‌‌‌​‌​
‌​‌‌‌​‌‌‍‌​‌‌‌​‌​‍‌​‌‌‌​‌​
A slightly different view from Jo ‌​‌‌‌​‌‌‍‌​‌‌‌​‌​‍‌​‌‌‌​‌​
#stormuk #StormWatch @DeesideDotCom https://t.co/Qc4X5EzJf3 ‌​‌‌‌​‌‌‍‌​‌‌‌​‌​‍‌​‌‌‌​‌​

— Jo (@jospooner6) August 12, 2020 ‌​‌‌‌​‌‌‍‌​‌‌‌​‌​‍‌​‌‌‌​‌​
‌​‌‌‌​‌‌‍‌​‌‌‌​‌​‍‌​‌‌‌​‌​
Laura Davies in Northop Hall captured this video. ‌​‌‌‌​‌‌‍‌​‌‌‌​‌​‍‌​‌‌‌​‌​
Tony Fenton sent us this one taken in Shotton. ‌​‌‌‌​‌‌‍‌​‌‌‌​‌​‍‌​‌‌‌​‌​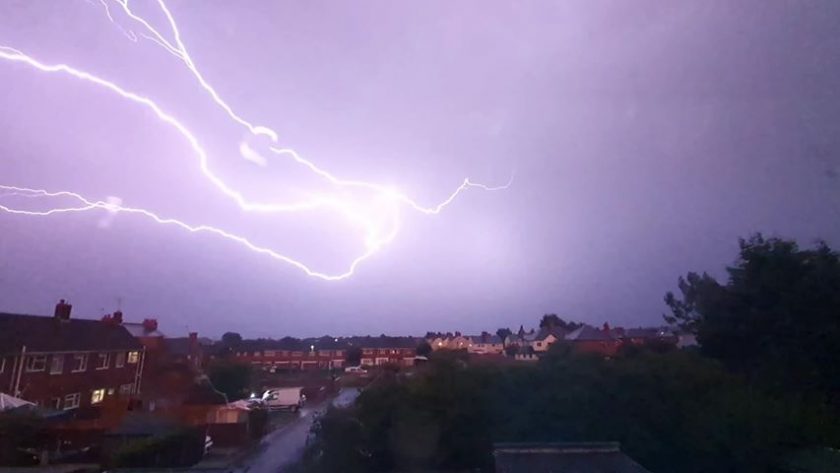 ‌​‌‌‌​‌‌‍‌​‌‌‌​‌​‍‌​‌‌‌​‌​
Ang Jones ion Queensferry sent this video – lighting bolt is at the end of the video. ‌​‌‌‌​‌‌‍‌​‌‌‌​‌​‍‌​‌‌‌​‌​
Lightning over Wepre – thanks to Karen Higgins for this one. ‌​‌‌‌​‌‌‍‌​‌‌‌​‌​‍‌​‌‌‌​‌​
I've never seen #lightning go through a #rainbow before! How cool! In #buckley #flintshire #storm ⁦@DeesideDotCom⁩ pic.twitter.com/T5fLr1sO2s ‌​‌‌‌​‌‌‍‌​‌‌‌​‌​‍‌​‌‌‌​‌​

— Ginger Pixie (@gingerpixiepics) August 12, 2020 ‌​‌‌‌​‌‌‍‌​‌‌‌​‌​‍‌​‌‌‌​‌​
‌​‌‌‌​‌‌‍‌​‌‌‌​‌​‍‌​‌‌‌​‌​
Spotted something? Got a story? Send a Facebook Message | A direct message on Twitter | Email: News@Deeside.com
---
Latest News
---