Warning issued to parents as giant canisters of nitrous oxide discovered in Mold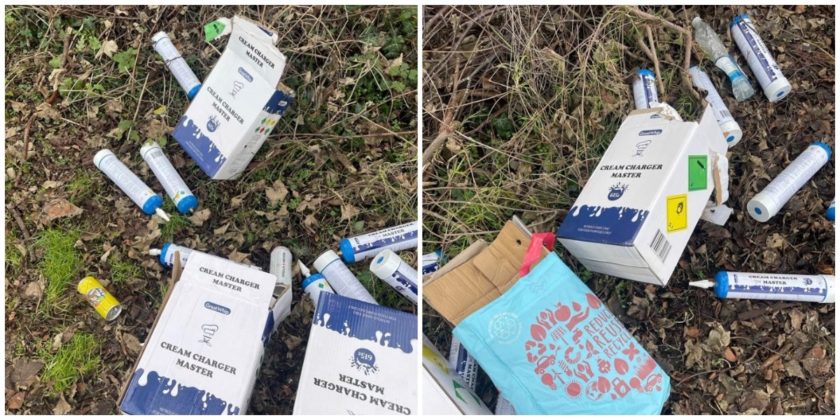 Parents have been warned to be aware of the dangers of nitrous oxide after giant-sized canisters of the "laughing gas" were found in parts of Mold. ‌​‌‌‌​‌‌‍‌​‌‌‌​‌​‍‌​‌‌‌​‌​
The large canisters are up to 80 times the regular-size small silver capsules often seen discarded on pavements and in parks. ‌​‌‌‌​‌‌‍‌​‌‌‌​‌​‍‌​‌‌‌​‌​
Also known as 'Nos' and 'Hippie Crack' the gas has become one of the most popular recreational drugs amongst youngsters. ‌​‌‌‌​‌‌‍‌​‌‌‌​‌​‍‌​‌‌‌​‌​
The use of nitrous oxide – also known as 'Nos' and 'Hippie Crack' – has grown in popularity among 16 to 24-year-olds, becoming the third most commonly misused drug after cannabis. ‌​‌‌‌​‌‌‍‌​‌‌‌​‌​‍‌​‌‌‌​‌​
Concerns have been raised about the health and social harms posed by the substance, which can cause paralysis or even death in extreme cases. ‌​‌‌‌​‌‌‍‌​‌‌‌​‌​‍‌​‌‌‌​‌​ ‌​‌‌‌​‌‌‍‌​‌‌‌​‌​‍‌​‌‌‌​‌​
The drug, which slows the brain and body's responses, causing feelings of euphoria, relaxation and calmness, is inhaled from canisters after being released into balloons. ‌​‌‌‌​‌‌‍‌​‌‌‌​‌​‍‌​‌‌‌​‌​
However, side effects include dizziness, impaired memory and cognition, and weakness in the legs, which can lead to accidents. ‌​‌‌‌​‌‌‍‌​‌‌‌​‌​‍‌​‌‌‌​‌​ ‌​‌‌‌​‌‌‍‌​‌‌‌​‌​‍‌​‌‌‌​‌​
Last year, doctors warned that health problems caused by improper use of nitrous oxide were on the rise, with evidence of larger canisters being used. ‌​‌‌‌​‌‌‍‌​‌‌‌​‌​‍‌​‌‌‌​‌​
Photographs posted on the Mold Town Centre Facebook Page show at least four boxes each will have contained six giant-sized canisters, smaller silver canisters have also been found. ‌​‌‌‌​‌‌‍‌​‌‌‌​‌​‍‌​‌‌‌​‌​
The Mold Town Centre Facebook post says: "Warning for parents – lots of these types of canisters have been found around the town." ‌​‌‌‌​‌‌‍‌​‌‌‌​‌​‍‌​‌‌‌​‌​
"They are legally used in the production of whipped cream but they are nitrous oxide, more commonly known as Laughing Gas (labeled N2O) but its no laughing matter as sniffing the gas (via balloons or direct from a canister) can prove highly dangerous and in some cases, fatal." ‌​‌‌‌​‌‌‍‌​‌‌‌​‌​‍‌​‌‌‌​‌​
"These canisters are legal to purchase via the internet, although it is illegal to sell to under 18s." ‌​‌‌‌​‌‌‍‌​‌‌‌​‌​‍‌​‌‌‌​‌​
"If you are aware of someone purchasing these for this specific use or you know someone misusing them by sniffing the gas, please contact the Police on 101 or report at Mold Police Station, in doing so, you may be saving a life." ‌​‌‌‌​‌‌‍‌​‌‌‌​‌​‍‌​‌‌‌​‌​
‌​‌‌‌​‌‌‍‌​‌‌‌​‌​‍‌​‌‌‌​‌​
Heavy regular use of nitrous oxide can lead to a deficiency of vitamin B12 and to a form of anaemia. ‌​‌‌‌​‌‌‍‌​‌‌‌​‌​‍‌​‌‌‌​‌​
The UK government said last month is preparing to crack down on the sale and possession of nitrous oxide, as part of a wider strategy to combat antisocial behaviour. ‌​‌‌‌​‌‌‍‌​‌‌‌​‌​‍‌​‌‌‌​‌​ ‌​‌‌‌​‌‌‍‌​‌‌‌​‌​‍‌​‌‌‌​‌​
Under the new proposals, drug misuse laws would be revised to allow people found with nitrous oxide in public to be prosecuted. ‌​‌‌‌​‌‌‍‌​‌‌‌​‌​‍‌​‌‌‌​‌​
Only those with a "legitimate reason" for possession, such as chefs who use it in food production, would be exempt. ‌​‌‌‌​‌‌‍‌​‌‌‌​‌​‍‌​‌‌‌​‌​ ‌​‌‌‌​‌‌‍‌​‌‌‌​‌​‍‌​‌‌‌​‌​
At present, the Psychoactive Substances Act bans the supply of nitrous oxide for inhalation, but the British Compressed Gases Association is pushing for a more comprehensive ban on direct consumer sales and stricter laws to cover those found in possession without an exemption. ‌​‌‌‌​‌‌‍‌​‌‌‌​‌​‍‌​‌‌‌​‌​ ‌​‌‌‌​‌‌‍‌​‌‌‌​‌​‍‌​‌‌‌​‌​
Policing minister, Chris Philp, is calling for a review of nitrous oxide to be fast-tracked to April by the independent Advisory Council on the Misuse of Drugs. ‌​‌‌‌​‌‌‍‌​‌‌‌​‌​‍‌​‌‌‌​‌​ ‌​‌‌‌​‌‌‍‌​‌‌‌​‌​‍‌​‌‌‌​‌​
A formal announcement on the matter could be made as part of the government's antisocial behaviour strategy, with any necessary legislation likely to be passed by the summer. ‌​‌‌‌​‌‌‍‌​‌‌‌​‌​‍‌​‌‌‌​‌​ ‌​‌‌‌​‌‌‍‌​‌‌‌​‌​‍‌​‌‌‌​‌​
Talktofrank.com/drug/nitrous-oxide ‌​‌‌‌​‌‌‍‌​‌‌‌​‌​‍‌​‌‌‌​‌​
‌​‌‌‌​‌‌‍‌​‌‌‌​‌​‍‌​‌‌‌​‌​
Spotted something? Got a story? Send a Facebook Message | A direct message on Twitter | Email: News@Deeside.com
---
Latest News
---