UK Inflation rate unexpectedly rises for first time in four months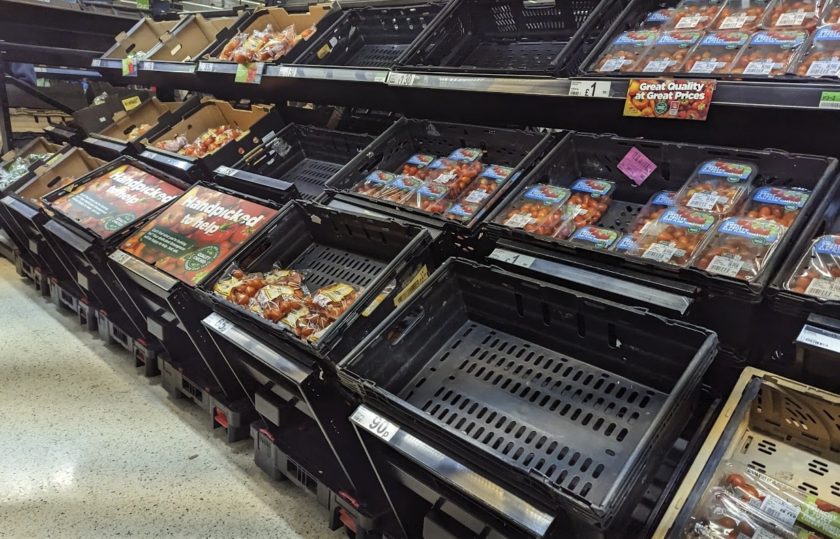 This article is old - Published: Wednesday, Mar 22nd, 2023
The inflation rate has risen in the UK for the first time in four months, adding pressure on the Bank of England to consider raising interest rates later this week. ‌​‌‌‌​‌‌‍‌​‌‌‌​‌​‍‌​‌‌‌​‌​
The UK Consumer Prices Index (CPI) rose to 10.4% in the 12 months leading up to February 2023, up from 10.1% in January, according to the Office for National Statistics. ‌​‌‌‌​‌‌‍‌​‌‌‌​‌​‍‌​‌‌‌​‌​
Economists had forecast that the annual CPI rate would drop to 9.9% in February from January's 10.1% and move further away from October's 41-year high of 11.1%. ‌​‌‌‌​‌‌‍‌​‌‌‌​‌​‍‌​‌‌‌​‌​
The increase in the annual rate between January and February 2023 was driven by price rises in restaurants and hotels, food and non-alcoholic beverages, and clothing and footwear.
The annual inflation rate for restaurants and hotels was 12.1% in February 2023, up from 10.8% in January, and the highest rate since July 1991. Meanwhile, the annual rate for food and non-alcoholic beverages was 18.2% in February 2023, the highest observed in over 45 years. ‌​‌‌‌​‌‌‍‌​‌‌‌​‌​‍‌​‌‌‌​‌​
The clothing and footwear category saw a rise of 8.0% in prices in the year to February 2023, up from 6.2% in the year to January 2023, but below the recent high of 8.5% in October 2022. ‌​‌‌‌​‌‌‍‌​‌‌‌​‌​‍‌​‌‌‌​‌​
The annual inflation rate for transport saw a slight easing from 3.4% in January 2023 to 3.1% in February 2023, down for an eighth consecutive month from a recent peak of 15.2% in June 2022, and the lowest rate since February 2021. ‌​‌‌‌​‌‌‍‌​‌‌‌​‌​‍‌​‌‌‌​‌​
The driver behind the easing in the rate between January and February 2023 was motor fuels. ‌​‌‌‌​‌‌‍‌​‌‌‌​‌​‍‌​‌‌‌​‌​
The Bank of England targets CPI inflation at 2%, and the increase to 10.4% is likely to add pressure on the Bank to raise interest rates to tackle rising inflation. ‌​‌‌‌​‌‌‍‌​‌‌‌​‌​‍‌​‌‌‌​‌​
Grant Fitzner, Chief Economist at the ONS, said, "Inflation ticked up in February mainly driven by rising alcohol prices in pubs and restaurants following discounting in January." ‌​‌‌‌​‌‌‍‌​‌‌‌​‌​‍‌​‌‌‌​‌​
"Food and non-alcoholic drink prices rose to their highest rate in over 45 years with particular increases for some salad and vegetable items as high energy costs and bad weather across parts of Europe led to shortages and rationing." ‌​‌‌‌​‌‌‍‌​‌‌‌​‌​‍‌​‌‌‌​‌​
"These were partially offset by falls in the cost of motor fuel, where the annual inflation rate has eased for seven consecutive months." ‌​‌‌‌​‌‌‍‌​‌‌‌​‌​‍‌​‌‌‌​‌​
Rocio Concha, Which? Director of Policy and Advocacy, said: ‌​‌‌‌​‌‌‍‌​‌‌‌​‌​‍‌​‌‌‌​‌​
"These figures reflect Which? research which found that consumers are feeling the squeeze when it comes to paying for groceries. ‌​‌‌‌​‌‌‍‌​‌‌‌​‌​‍‌​‌‌‌​‌​
"Our latest food and drink inflation tracker shows that the price of some everyday groceries has more than doubled in the past year, adding further strain to millions of households already feeling other financial pressures during an unrelenting cost of living crisis. ‌​‌‌‌​‌‌‍‌​‌‌‌​‌​‍‌​‌‌‌​‌​
"Supermarkets need to step up and do more for their customers, making sure their pricing is clear so people can easily work out which items offer value for money and ensuring everyone has access to basic, affordable food ranges where they are most needed." ‌​‌‌‌​‌‌‍‌​‌‌‌​‌​‍‌​‌‌‌​‌​
Chancellor of the Exchequer, Jeremy Hunt said: "Falling inflation isn't inevitable, so we need to stick to our plan to halve it this year. ‌​‌‌‌​‌‌‍‌​‌‌‌​‌​‍‌​‌‌‌​‌​
"We recognise just how tough things are for families across the country, so as we work towards getting inflation under control we will help families with cost of living support worth £3,300 on average per household this year." ‌​‌‌‌​‌‌‍‌​‌‌‌​‌​‍‌​‌‌‌​‌​
TUC General Secretary Paul Nowak said: ‌​‌‌‌​‌‌‍‌​‌‌‌​‌​‍‌​‌‌‌​‌​
"Families are still under massive pressure from the rising cost of living, with food prices rising especially fast. But they got next to no help from last week's budget." ‌​‌‌‌​‌‌‍‌​‌‌‌​‌​‍‌​‌‌‌​‌​
"We need a comprehensive plan to get wages rising across the economy, and to boost social security. That's how we build an economy that rewards work not wealth." ‌​‌‌‌​‌‌‍‌​‌‌‌​‌​‍‌​‌‌‌​‌​
Spotted something? Got a story? Send a Facebook Message | A direct message on Twitter | Email: News@Deeside.com
---
Latest News
---