UK Government urged to 'act rather than write letters' to energy suppliers forced fitting prepayment meters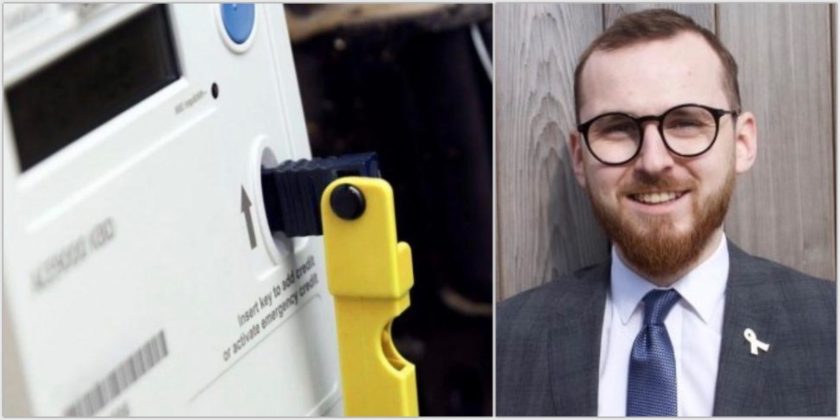 This article is old - Published: Sunday, Jan 22nd, 2023

Deeside politician Jack Sargeant has urged the UK Government to "act rather than write letters" to energy suppliers who have been "mistreating" vulnerable customers by forcing them onto controversial prepayment meters. ‌​‌‌‌​‌‌‍‌​‌‌‌​‌​‍‌​‌‌‌​‌​ ‌​‌‌‌​‌‌‍‌​‌‌‌​‌​‍‌​‌‌‌​‌​
The Alyn and Deeside MS is responding to Secretary of State for Energy Grant Schapps' who has today "belatedly conceded the extent of the scandal." ‌​‌‌‌​‌‌‍‌​‌‌‌​‌​‍‌​‌‌‌​‌​
Shapps, the UK Governments Business and Energy Secretary has written to gas and electricity suppliers, demanding they put an end to the "harmful and anxiety-inducing practice" of moving people onto these meters without properly supporting them with their bills. ‌​‌‌‌​‌‌‍‌​‌‌‌​‌​‍‌​‌‌‌​‌​
Prepayment meters, which allow customers to pay for gas and electricity on a pay-as-you-go basis, have long been a controversial topic. ‌​‌‌‌​‌‌‍‌​‌‌‌​‌​‍‌​‌‌‌​‌​


‌​‌‌‌​‌‌‍‌​‌‌‌​‌​‍‌​‌‌‌​‌​
Many argue that they disproportionately affect low-income households and can lead to financial hardship and disconnection from essential services. ‌​‌‌‌​‌‌‍‌​‌‌‌​‌​‍‌​‌‌‌​‌​
Pre-payment meter customers have historically paid more for their energy than customers paying by direct debit. ‌ ‌​‌‌‌​‌‌‍‌​‌‌‌​‌​‍‌​‌‌‌​‌​
In his letter to energy suppliers, Mr. Shapps calls for greater efforts to help consumers in payment difficulties before resorting to forced prepayment switching. ‌​‌‌‌​‌‌‍‌​‌‌‌​‌​‍‌​‌‌‌​‌​
He suggests offers of additional credit, debt forgiveness, or tools such as debt advice as alternative solutions. ‌​‌‌‌​‌‌‍‌​‌‌‌​‌​‍‌​‌‌‌​‌​
He is also asking suppliers to discuss possible further action they can take to support customers and avoid forced fitting of prepayment meters. ‌​‌‌‌​‌‌‍‌​‌‌‌​‌​‍‌​‌‌‌​‌​
This action is part of a drive to increase transparency around prepayment meter installations, track down the worst culprits, and find out which energy companies are applying for these warrants too quickly. ‌​‌‌‌​‌‌‍‌​‌‌‌​‌​‍‌​‌‌‌​‌​
As courts are becoming overwhelmed with applications, Mr. Shapps is working with Ofgem and the Secretary of State for Justice to ensure that the process by which suppliers bring these cases to court is fair, transparent, and supports vulnerable customers. ‌​‌‌‌​‌‌‍‌​‌‌‌​‌​‍‌​‌‌‌​‌​
This follows reports that the number of customers being switched to prepayment meters has soared in recent months, in many cases unwillingly and without the offer of support.
​‌‌‌​‌‌‍‌​‌‌‌​‌​‍‌​‌‌‌​‌​
As winter temperatures plummet, the country's poorest families are being pushed to cut off their own energy supply because they can't afford to top up their prepayment meters. ‌​‌‌‌​‌‌‍‌​‌‌‌​‌​‍‌​‌‌‌​‌​
This leaves them in the cold and dark for days at a time and unable to cook, wash or keep warm. ‌​‌‌‌​‌‌‍‌​‌‌‌​‌​‍‌​‌‌‌​‌​
Struggling families are being forced to choose between heating their homes and putting food on the table, with some even resorting to cutting off their own energy supply to save money. ‌​‌‌‌​‌‌‍‌​‌‌‌​‌​‍‌​‌‌‌​‌​
Campaigning  ‌​‌‌‌​‌‌‍‌​‌‌‌​‌​‍‌​‌‌‌​‌​
Jack wrote to the Secretary of State in December calling for an immediate ban on the forced installation of prepay meters and for action to be taken to ensure nobody already switched to a prepay will be cut off this winter. ‌​‌‌‌​‌‌‍‌​‌‌‌​‌​‍‌​‌‌‌​‌​
The Alyn and Deeside MS believes that the Secretary of States' words of "concern" in his letter today amount to an admission that hundreds of thousands of people have been inappropriately switched and that these people are at extreme risk of being without energy. ‌​‌‌‌​‌‌‍‌​‌‌‌​‌​‍‌​‌‌‌​‌​
Jack Sargeant said: "I wrote to the Grant Schapps about this before Christmas and his response was staggeringly complacent, he ignored the problem and since then thousands more people have inappropriately switched without checks." ‌​‌‌‌​‌‌‍‌​‌‌‌​‌​‍‌​‌‌‌​‌​
"I am of course pleased Grant Schapps has recognised the industrial scale of this scandal but a moderately stern letter asking energy suppliers nicely to behave is not going to cut it. This is a matter of life and death; it is literally freezing outside, and vulnerable people are at constant risk of going without heating." ‌​‌‌‌​‌‌‍‌​‌‌‌​‌​‍‌​‌‌‌​‌​
"As my letter in December said, we need an immediate ban on the forced installation of prepay meters and he needs to call the suppliers in, to ensure nobody is cut off this winter ‌​‌‌‌​‌‌‍‌​‌‌‌​‌​‍‌​‌‌‌​‌​
"How any times do these companies have to fail before he decides leaving it to them is not an option?" ‌​‌‌‌​‌‌‍‌​‌‌‌​‌​‍‌​‌‌‌​‌​
Shapps has stopped short of a total ban on forcibly moving people on to meters instead suppliers are being asked to voluntarily commit to ending this practice. ‌​‌‌‌​‌‌‍‌​‌‌‌​‌​‍‌​‌‌‌​‌​
They will be held to account by requesting they share the number of warrants they have applied for in recent months. ‌​‌‌‌​‌‌‍‌​‌‌‌​‌​‍‌​‌‌‌​‌​


‌​‌‌‌​‌‌‍‌​‌‌‌​‌​‍‌​‌‌‌​‌​
A moratorium on forced prepayment switching could lead to an increase in bailiff action. ‌​‌‌‌​‌‌‍‌​‌‌‌​‌​‍‌​‌‌‌​‌​
The UK government wishes to avoid this route and is encouraging energy suppliers to offer more support to struggling customers to avoid resorting to forced fitting of prepayment meters. ‌​‌‌‌​‌‌‍‌​‌‌‌​‌​‍‌​‌‌‌​‌​
Grant Shapps, said: "Suppliers are clearly jumping the gun and moving at risk customers onto prepayment meters before offering them the support they are entitled to – I simply cannot believe that every possible alternative has been exhausted in all these cases." ‌​‌‌‌​‌‌‍‌​‌‌‌​‌​‍‌​‌‌‌​‌​
"I am deeply concerned to see reports of customers being switched to prepayment meters against their will, with some disconnected from supply – and quite literally left in the dark." ‌​‌‌‌​‌‌‍‌​‌‌‌​‌​‍‌​‌‌‌​‌​
"Rather than immediately reaching for a new way to extract money out of customers, I want suppliers to stop this practice and lend a more sympathetic ear, offering the kind of forbearance and support that a vulnerable customer struggling to pay should be able to expect." ‌​‌‌‌​‌‌‍‌​‌‌‌​‌​‍‌​‌‌‌​‌​
Five Point Plan ‌​‌‌‌​‌‌‍‌​‌‌‌​‌​‍‌​‌‌‌​‌​
The five-point plan to tackle bad behaviour by energy suppliers comprises the following actions: ‌​‌‌‌​‌‌‍‌​‌‌‌​‌​‍‌​‌‌‌​‌​
A call for suppliers to voluntarily stop the practice of forced prepayment switching and make greater efforts to help the most vulnerable households.
Requesting the release of supplier data on the number of warrant applications they have made to forcibly enter homes to install meters.
Urgent publication of a list of supplier redemption rates for the Energy Bills Support Scheme vouchers, showing which companies are meeting their responsibilities and which need to do more.
The launch of a government public information campaign reminding and informing eligible consumers to redeem their Energy Bills Support Scheme vouchers and how to do so, targeting the most vulnerable and those most likely not to have redeemed vouchers.
Coordination with Ofgem to ensure they take a more robust approach to the protection of vulnerable customers and conduct a review to make sure suppliers are complying with rules.
‌​‌‌‌​‌‌‍‌​‌‌‌​‌​‍‌​‌‌‌​‌​
Spotted something? Got a story? Send a Facebook Message | A direct message on Twitter | Email: News@Deeside.com
---
Latest News
---