Type 2 diabetes is "the urgent public health crisis in Wales" figures show another annual increase in number of people diagnosed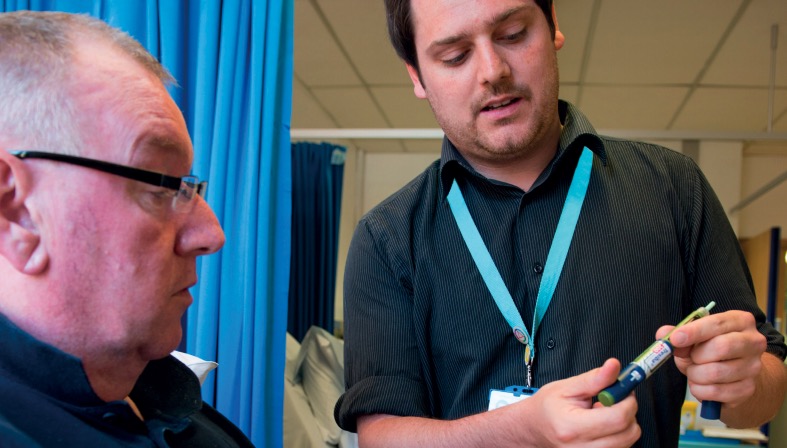 This article is old - Published: Tuesday, Feb 11th, 2020
Wales has the highest prevalence of diabetes in the UK new figures from Diabetes UK Cymru reveal. ‌​‌‌‌​‌‌‍‌​‌‌‌​‌​‍‌​‌‌‌​‌​
Latest analysis released today shows that the number of people diagnosed with diabetes in Wales has increased from 194,693 to 198,883 since last year. ‌​‌‌‌​‌‌‍‌​‌‌‌​‌​‍‌​‌‌‌​‌​
7.6% of the population in Wales aged 17 and over are living with diabetes- the highest prevalence in the UK – and the numbers are rising every year. ‌​‌‌‌​‌‌‍‌​‌‌‌​‌​‍‌​‌‌‌​‌​
In addition, there could be as many as 61,501 more people living with type 2 diabetes, who don't know they have it because they haven't been diagnosed yet, bringing the total number to over 260,000 (adults) ‌​‌‌‌​‌‌‍‌​‌‌‌​‌​‍‌​‌‌‌​‌​
Data from Public Health Wales suggests that more than 60% of adults in Wales are now overweight or obese. ‌​‌‌‌​‌‌‍‌​‌‌‌​‌​‍‌​‌‌‌​‌​
While not every case of type 2 diabetes is associated with excessive weight, it is the single greatest risk factor responsible for 80 to 85% of someone's risk for developing the condition. ‌​‌‌‌​‌‌‍‌​‌‌‌​‌​‍‌​‌‌‌​‌​
Age, family history, and ethnicity can also contribute to someone's risk, with people of African-Caribbean, Black African, or South Asian descent two to four times more likely to develop type 2 diabetes than white people ‌​‌‌‌​‌‌‍‌​‌‌‌​‌​‍‌​‌‌‌​‌​
People with type 2 diabetes are 50% more likely to die prematurely than those without diabetes. ‌​‌‌‌​‌‌‍‌​‌‌‌​‌​‍‌​‌‌‌​‌​
A common complication of diabetes which can lead to early death is heart disease. ‌​‌‌‌​‌‌‍‌​‌‌‌​‌​‍‌​‌‌‌​‌​
People with type 2 diabetes are two to two and a half times more likely to experience heart failure and twice more likely to have a heart attack compared to people without diabetes. ‌​‌‌‌​‌‌‍‌​‌‌‌​‌​‍‌​‌‌‌​‌​
Dai Williams, National Director at Diabetes UK Cymru, said: ‌​‌‌‌​‌‌‍‌​‌‌‌​‌​‍‌​‌‌‌​‌​
"Type 2 diabetes is the urgent public health crisis in Wales, and the only way to solve it is by decisive action and leadership from Welsh government. ‌​‌‌‌​‌‌‍‌​‌‌‌​‌​‍‌​‌‌‌​‌​
Wales is the only country in the UK without a diabetes prevention programme. ‌​‌‌‌​‌‌‍‌​‌‌‌​‌​‍‌​‌‌‌​‌​
More than half of all of all cases of type 2 diabetes and the accompanying risk of developing devastating complications, could be prevented or delayed by supporting people to make healthier choices. ‌​‌‌‌​‌‌‍‌​‌‌‌​‌​‍‌​‌‌‌​‌​
This includes mandating industry to make food and drinks healthier and addressing the marketing and promotion of unhealthy foods. ‌​‌‌‌​‌‌‍‌​‌‌‌​‌​‍‌​‌‌‌​‌​
At the same time, we need to help people understand their personal risk of type 2 diabetes and provide specialist clinical support to reduce it. ‌​‌‌‌​‌‌‍‌​‌‌‌​‌​‍‌​‌‌‌​‌​
Diabetes UK Cymru welcomes both the Welsh government's obesity strategy "Healthy Weight, Healthy Wales", published earlier this month and the allocated funding. ‌​‌‌‌​‌‌‍‌​‌‌‌​‌​‍‌​‌‌‌​‌​
These interventions are the first step in tracking the growing problem of obesity in Wales. ‌​‌‌‌​‌‌‍‌​‌‌‌​‌​‍‌​‌‌‌​‌​
We want to see sustained investment in services to support people maintain a healthy weight. ‌​‌‌‌​‌‌‍‌​‌‌‌​‌​‍‌​‌‌‌​‌​
However, we are calling on the Welsh government to deliver a comprehensive Diabetes Prevention Plan by working with third sector, healthcare professionals and people living with diabetes to reduce the number of people developing the condition in the future. ‌​‌‌‌​‌‌‍‌​‌‌‌​‌​‍‌​‌‌‌​‌​
Such approach is vital, if we as a nation are going to beat this public health crisis." ‌​‌‌‌​‌‌‍‌​‌‌‌​‌​‍‌​‌‌‌​‌​
In the UK overall, 3.9 million people are currently living with a diagnosis of diabetes, and 90 per cent of those with type 2. ‌​‌‌‌​‌‌‍‌​‌‌‌​‌​‍‌​‌‌‌​‌​
There are also almost a million more people who haven't been diagnosed yet, bringing the total number up to more than 4.8 million. ‌​‌‌‌​‌‌‍‌​‌‌‌​‌​‍‌​‌‌‌​‌​
The data shows a stark increase in the number of people living with a diabetes diagnosis in the UK of more than 100,000 from last year. ‌​‌‌‌​‌‌‍‌​‌‌‌​‌​‍‌​‌‌‌​‌​
At this rate the number of people with diabetes, including the undiagnosed population, is expected to rise to 5.3 million by 2025. ‌​‌‌‌​‌‌‍‌​‌‌‌​‌​‍‌​‌‌‌​‌​
Find out more about the risk factors for type 2 diabetes and what you can do to reduce your risk here: https://www.diabetes.org.uk/preventing-type-2-diabetes/diabetes-risk-factors ‌​‌‌‌​‌‌‍‌​‌‌‌​‌​‍‌​‌‌‌​‌​
Spotted something? Got a story? Send a Facebook Message | A direct message on Twitter | Email: News@Deeside.com
---
Latest News
---