Transport for Wales takes out full page newspaper ad to apologise for ongoing "fiasco"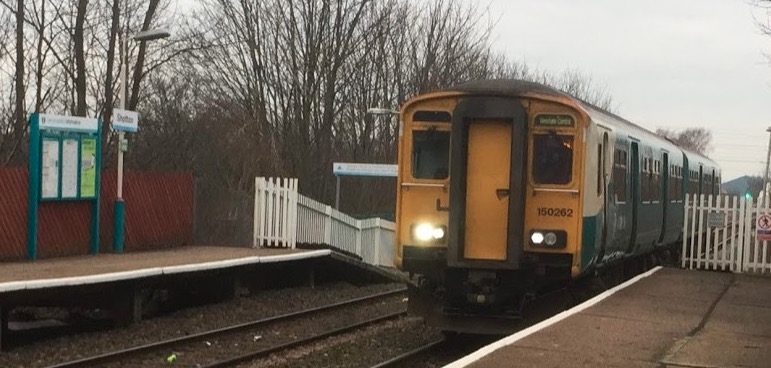 This article is old - Published: Tuesday, Nov 20th, 2018
Transport for Wales (TfW) has issued a lengthy apology in a couple of newspapers today this morning for the ongoing cancellations and delays to trains which has seen a reduced service on the Bidston to Wrexham line for most of the day. ‌​‌‌‌​‌‌‍‌​‌‌‌​‌​‍‌​‌‌‌​‌​
The costly full page adverts taken out by TfW and Network Rail were published by the Daily Post in North Wales and Cardiff based stablemate The Western Mail. ‌​‌‌‌​‌‌‍‌​‌‌‌​‌​‍‌​‌‌‌​‌​
The ads reveal that more than a quarter of trains in Wales are currently out of service. ‌​‌‌‌​‌‌‍‌​‌‌‌​‌​‍‌​‌‌‌​‌​
A joint statement by TfW Chief Operating Officer Rick Davies and Network Rail Chief Operating Officer Alison Thompson said 'we are sorry' for cancellations, delays or fewer carriages than normal as 36 trains out of a total fleet of 127 are under repair. ‌​‌‌‌​‌‌‍‌​‌‌‌​‌​‍‌​‌‌‌​‌​
"We want to apologise for that you haven't received the service that you deserve and expect". ‌​‌‌‌​‌‌‍‌​‌‌‌​‌​‍‌​‌‌‌​‌​
A notice is in place at the top of the TfW Rail website, that contains details we published earlier, however does not contain the lengthy apology that features in print. ‌​‌‌‌​‌‌‍‌​‌‌‌​‌​‍‌​‌‌‌​‌​
The apology does not appear on the TfW website either. ‌​‌‌‌​‌‌‍‌​‌‌‌​‌​‍‌​‌‌‌​‌​
.@tfwrail tell customers "we're sorry" with a full page apology in today's Western Mail pic.twitter.com/FJE0GveGzf ‌​‌‌‌​‌‌‍‌​‌‌‌​‌​‍‌​‌‌‌​‌​

— Ruth Mosalski (@ruthmosalski) November 20, 2018 ‌​‌‌‌​‌‌‍‌​‌‌‌​‌​‍‌​‌‌‌​‌​
‌​‌‌‌​‌‌‍‌​‌‌‌​‌​‍‌​‌‌‌​‌​
Over recent weeks Deeside.com and sister site Wrexham.com have been contacted by readers unhappy with various levels of services, many commenting they were expecting better provision now Arriva Trains had ceased operation. ‌​‌‌‌​‌‌‍‌​‌‌‌​‌​‍‌​‌‌‌​‌​
One reader who works for the emergency services in north east Wales contacted Wrexham.com this morning regarding issues from Wrexham to Bidston that they described as a 'fiasco', and said: ‌​‌‌‌​‌‌‍‌​‌‌‌​‌​‍‌​‌‌‌​‌​
"The company have cancelled the busiest trains on the line i.e. the 8.06am in the morning and the 4.30 pm in the evening. ‌​‌‌‌​‌‌‍‌​‌‌‌​‌​‍‌​‌‌‌​‌​

No details are available from the company to explain why other much quieter times such as the 3.30 pm and 9.05am are still running, yet they have taken off trains which are invaluable for traveller getting to work and back. ‌​‌‌‌​‌‌‍‌​‌‌‌​‌​‍‌​‌‌‌​‌​

For regular train traveller this is hugely inconvenient." ‌​‌‌‌​‌‌‍‌​‌‌‌​‌​‍‌​‌‌‌​‌​

"The replacement bus was 30 minutes late and far too large a bus to even get down to many of the stations, it took nearly an hour to get to Buckley station. ‌​‌‌‌​‌‌‍‌​‌‌‌​‌​‍‌​‌‌‌​‌​

The driver didn't know the stations or where they were or the ones that are too small for a coach to turn around. Luckily for him a regular train traveller was able to both direct and inform him where to stop. ‌​‌‌‌​‌‌‍‌​‌‌‌​‌​‍‌​‌‌‌​‌​

I have rung 'Transport for Wales' this morning to check the train times to find out if the 4.30 train is running tonight from Wrexham Central to Buckley and been told to my complete surprise that it has been cancelled again and there is no date when this train is being reinstated! ‌​‌‌‌​‌‌‍‌​‌‌‌​‌​‍‌​‌‌‌​‌​

Yet some inexplicable reason the 5.45pm is running. Far more people get the 4.30 train than used the 5.45pm train." ‌​‌‌‌​‌‌‍‌​‌‌‌​‌​‍‌​‌‌‌​‌​

"I am very annoyed that this train isn't running and I suspect they are unaware there are no buses to from Wrexham along this route to Cefn y Bedd, Caergwle, Penyffordd, Hope, Buckley, Hawarden, Shotton at this time either. ‌​‌‌‌​‌‌‍‌​‌‌‌​‌​‍‌​‌‌‌​‌​

The first is 5.25pm! It would be a much better idea to reinstate the 4.30 pm train and take the 5.45 train off as public transport is available at this time." ‌​‌‌‌​‌‌‍‌​‌‌‌​‌​‍‌​‌‌‌​‌​
Wrexham.com attempted to get further details of today's 'apology' with no luck with Reach PLC (formerly Trinity Mirror) appearing to be the sole voice – although the issues have been picked up by popular spoof website WalesOnCraic.com via an article entitled "TfW Rail change their name to WTF Rail." ‌​‌‌‌​‌‌‍‌​‌‌‌​‌​‍‌​‌‌‌​‌​
As You'd expect the Welsh Tories were quick to put the boot in, their leader Paul Davies AM said: ‌​‌‌‌​‌‌‍‌​‌‌‌​‌​‍‌​‌‌‌​‌​
"If the problems of Transport for Wales are serious enough to warrant full page apologies in several newspapers, it surely means the Welsh people are angry and concerned at the state of rail capacity in their country." ‌​‌‌‌​‌‌‍‌​‌‌‌​‌​‍‌​‌‌‌​‌​
Mr Davies used First Minister's questions today to secure answers as to what Transport for Wales' plan of action is for resolving the ongoing issues. ‌​‌‌‌​‌‌‍‌​‌‌‌​‌​‍‌​‌‌‌​‌​
He highlighted that: ‌​‌‌‌​‌‌‍‌​‌‌‌​‌​‍‌​‌‌‌​‌​
TfW's morning commuter train from Chepstow and Caldicot to Newport and Cardiff has been cancelled 16 times in the last 20 weekdays;
Blaenau Ffestinog, Betws-y-coed and Llanrwst have had no trains all day on seven of the last 20 weekdays;
And the 08.40 train from Aberystwyth to Shrewsbury was cancelled on four days last week.
The Leader of the Opposition also questioned the transparency of the Welsh Government surrounding the tender specification against which the potential rail operators were to bid in order to win the current contract, as Carwyn Jones has refused to make it public. ‌​‌‌‌​‌‌‍‌​‌‌‌​‌​‍‌​‌‌‌​‌​
Under pressure from Mr Davies, the First Minister conceded that the document will be published, but refused to give any timeframe. ‌​‌‌‌​‌‌‍‌​‌‌‌​‌​‍‌​‌‌‌​‌​
Mr Davis said: "The early failures of TfW are disappointing but hardly surprising. The Welsh Labour Government have built a track record of failing miserably at transport and infrastructure projects over the years, so we should continue to expect such failures. ‌​‌‌‌​‌‌‍‌​‌‌‌​‌​‍‌​‌‌‌​‌​
"Going forward, we need far more transparency and dialogue from the Welsh Government, less deflection and obfuscation. Hopefully, the next First Minister will change things, but given the Labour Party's track record, I sincerely doubt it." ‌​‌‌‌​‌‌‍‌​‌‌‌​‌​‍‌​‌‌‌​‌​
‌​‌‌‌​‌‌‍‌​‌‌‌​‌​‍‌​‌‌‌​‌​
‌​‌‌‌​‌‌‍‌​‌‌‌​‌​‍‌​‌‌‌​‌​
‌​‌‌‌​‌‌‍‌​‌‌‌​‌​‍‌​‌‌‌​‌​
Spotted something? Got a story? Send a Facebook Message | A direct message on Twitter | Email: News@Deeside.com
---
Latest News
Flintshire poised to become world leader in Net Zero cement production with £400m Carbon Capture Project
---