Storm Jorge: Flintshire Bridge has reopened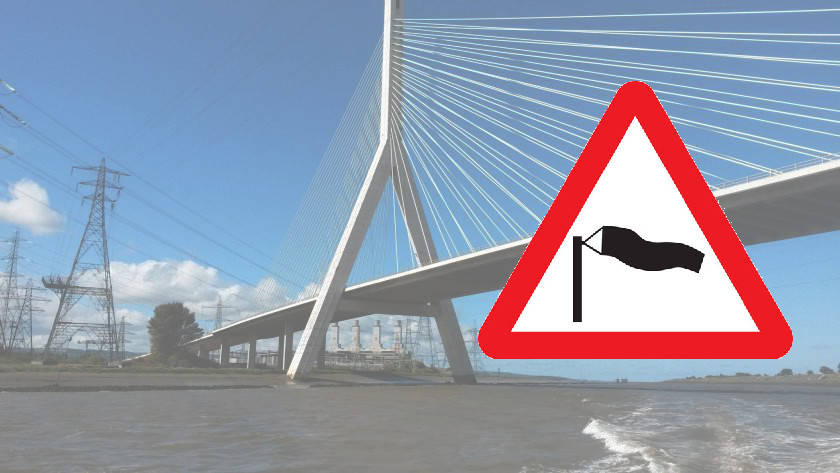 This article is old - Published: Saturday, Feb 29th, 2020

Update: Flintshire Bridge has reopened. ‌​‌‌‌​‌‌‍‌​‌‌‌​‌​‍‌​‌‌‌​‌​
For those who like the detail, the strongest gust of wind – recorded at the Hawarden Airfield weather station (it feeds into Met Office data) was between 8pm and 9pm and registered at 51mph. ‌​‌‌‌​‌‌‍‌​‌‌‌​‌​‍‌​‌‌‌​‌​
Not quite windy enough to shut the bridge, based on Flintshire Council's own criteria however, weather forecasting is not an exact science and forecasts din point to winds up to 60mph locally. ‌​‌‌‌​‌‌‍‌​‌‌‌​‌​‍‌​‌‌‌​‌​

‌​‌‌‌​‌‌‍‌​‌‌‌​‌​‍‌​‌‌‌​‌​
Last weekend, wind speeds did peak above the levels which would see the bridge closed, it remained open and there was no Met Office weather warning in place. ‌​‌‌‌​‌‌‍‌​‌‌‌​‌​‍‌​‌‌‌​‌​
Earlier report: Flintshire Bridge A548 will close in both directions from 4pm through to 10pm (Saturday 29 Feb) due to strong winds which are forecast to hit the region. ‌​‌‌‌​‌‌‍‌​‌‌‌​‌​‍‌​‌‌‌​‌​
Please be aware that due to the forecast of high winds, the Flintshire Bridge A548 will be closed from 4pm to around 10pm (29 Feb). pic.twitter.com/BgWPcgFRjO ‌​‌‌‌​‌‌‍‌​‌‌‌​‌​‍‌​‌‌‌​‌​

— Flintshire Council (@FlintshireCC) February 29, 2020 ‌​‌‌‌​‌‌‍‌​‌‌‌​‌​‍‌​‌‌‌​‌​
‌​‌‌‌​‌‌‍‌​‌‌‌​‌​‍‌​‌‌‌​‌​
The Met Office has issued a yellow warning of windy weather which is set to hit Flintshire today. ‌​‌‌‌​‌‌‍‌​‌‌‌​‌​‍‌​‌‌‌​‌​
The alert came into play at midday today and is active through to 3pm on Sunday. ‌​‌‌‌​‌‌‍‌​‌‌‌​‌​‍‌​‌‌‌​‌​
Storm Jorge will bring heavy rain and strong winds to many parts of the UK. ‌​‌‌‌​‌‌‍‌​‌‌‌​‌​‍‌​‌‌‌​‌​
Chief Meteorologist at the Met Office, Paul Gundersen, said: "This weekend we'll see another named Storm bring strong winds to parts of the UK with several wind and rain warnings in place. ‌​‌‌‌​‌‌‍‌​‌‌‌​‌​‍‌​‌‌‌​‌​
"On Friday a band of rain associated with Storm Jorge will move across the UK – we have issued rain warnings for parts of Wales and northern England, where rain will be heaviest and we could see 60-80mm possible over the highest ground. ‌​‌‌‌​‌‌‍‌​‌‌‌​‌​‍‌​‌‌‌​‌​
South-westerly winds will strengthen through Saturday morning and it'll turn widely windy except for northern Scotland, with wind warnings in place for Northern Ireland, Wales, southern Scotland and much of England. ‌​‌‌‌​‌‌‍‌​‌‌‌​‌​‍‌​‌‌‌​‌​
Where warnings are in place gusts of 50-60mph are likely quite widely with 65-70mph possible in coastal areas, however the strongest and most damaging winds are expected across the Republic of Ireland." ‌​‌‌‌​‌‌‍‌​‌‌‌​‌​‍‌​‌‌‌​‌​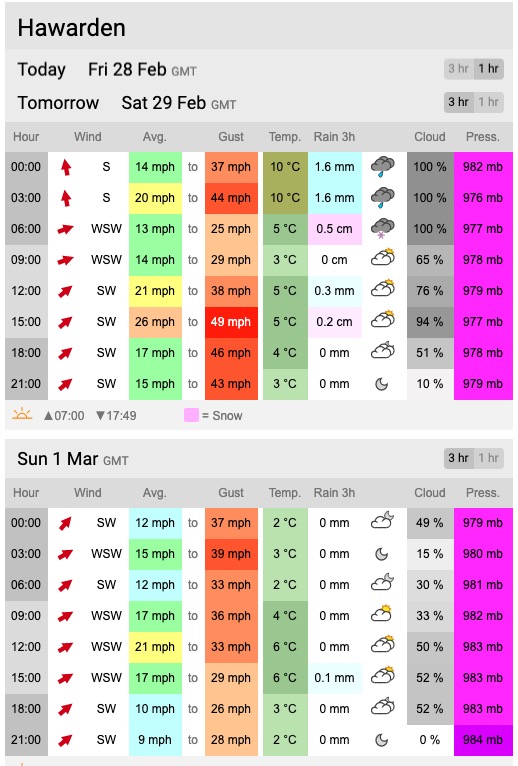 ‌​‌‌‌​‌‌‍‌​‌‌‌​‌​‍‌​‌‌‌​‌​
[Locally, wind speeds start to peak at around 3pm on Saturday, forecasts are pointing to near 50mph gusts.] ‌​‌‌‌​‌‌‍‌​‌‌‌​‌​‍‌​‌‌‌​‌​
‌​‌‌‌​‌‌‍‌​‌‌‌​‌​‍‌​‌‌‌​‌​
Windy weather has also been a feature of the past few weekends staring with Storm Ciara in early February, that was followed by Storm Dennis the weekend after. ‌​‌‌‌​‌‌‍‌​‌‌‌​‌​‍‌​‌‌‌​‌​
Flintshire saw the strongest winds of the month last weekend despite there being no weather warnings in place. ‌​‌‌‌​‌‌‍‌​‌‌‌​‌​‍‌​‌‌‌​‌​
Gusts reached over 55mph, a wind speed which usually triggers the closure of Flintshire Bridge, it remained open during last weekends high winds. ‌​‌‌‌​‌‌‍‌​‌‌‌​‌​‍‌​‌‌‌​‌​
Tweet from last weekend: ‌​‌‌‌​‌‌‍‌​‌‌‌​‌​‍‌​‌‌‌​‌​
Morning – Windy old night – Interestingly, no weather warning in place locally unlike the previous half dozen or so during Storm Ciara and Dennis – Last night saw the strongest gusts of wind over past three weeks – Flintshire Bridge looked to have remained open throughout 🤔 pic.twitter.com/InjxXq4XwI ‌​‌‌‌​‌‌‍‌​‌‌‌​‌​‍‌​‌‌‌​‌​

— DEESIDE.com (@DeesideDotCom) February 22, 2020 ‌​‌‌‌​‌‌‍‌​‌‌‌​‌​‍‌​‌‌‌​‌​
‌​‌‌‌​‌‌‍‌​‌‌‌​‌​‍‌​‌‌‌​‌​

The Met Office explains why this storm not called Ellen? ‌​‌‌‌​‌‌‍‌​‌‌‌​‌​‍‌​‌‌‌​‌​

"The Spanish meteorological service, part of the south west Europe storm naming group, named Storm Jorge on Thursday (27th). ‌​‌‌‌​‌‌‍‌​‌‌‌​‌​‍‌​‌‌‌​‌​

It is convention for all other national meteorological services to then use that name when referring to the low pressure. ‌​‌‌‌​‌‌‍‌​‌‌‌​‌​‍‌​‌‌‌​‌​

As such the system will not be named Ellen but will align with our European partners and be referred to as 'Jorge'. ‌​‌‌‌​‌‌‍‌​‌‌‌​‌​‍‌​‌‌‌​‌​

The fact that the system may have a different name than some expected should not influence their response. ‌​‌‌‌​‌‌‍‌​‌‌‌​‌​‍‌​‌‌‌​‌​

The weather over the weekend could have impacts due to the strong winds and those in the warning areas should take the advice of local emergency services seriously." ‌​‌‌‌​‌‌‍‌​‌‌‌​‌​‍‌​‌‌‌​‌​

‌​‌‌‌​‌‌‍‌​‌‌‌​‌​‍‌​‌‌‌​‌​
Spotted something? Got a story? Send a Facebook Message | A direct message on Twitter | Email: News@Deeside.com
---
Latest News
---