Roadworks in and around Flintshire today – Tuesday September 18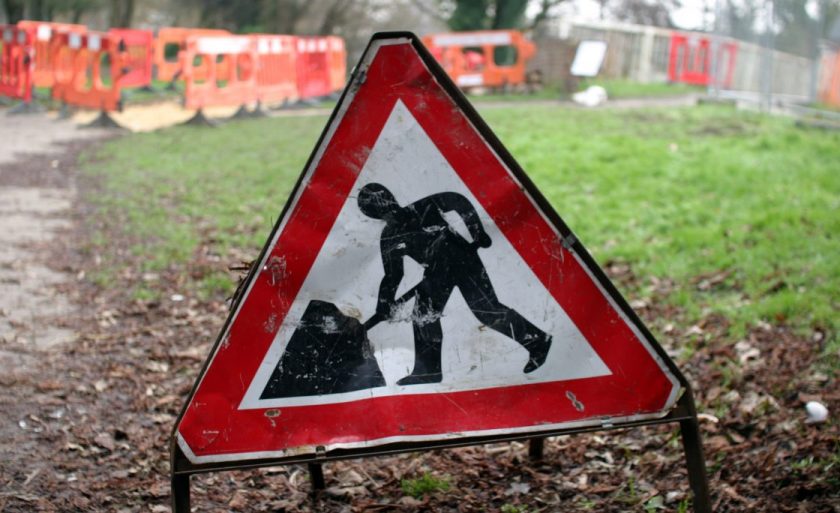 This article is old - Published: Tuesday, Sep 18th, 2018

Where you may expect some delays today due to roadworks. ‌​‌‌‌​‌‌‍‌​‌‌‌​‌​‍‌​‌‌‌​‌​
Also included is an interactive map that gives the very latest information on roadworks locally. ‌​‌‌‌​‌‌‍‌​‌‌‌​‌​‍‌​‌‌‌​‌​
Worth noting – Five weeks of roadworks get underway on the A55 near Llanddulas ‌​‌‌‌​‌‌‍‌​‌‌‌​‌​‍‌​‌‌‌​‌​
As always, if spot any roadworks or anything  transport related you would like to share get in touch here:  Send a Facebook Message | A direct message on Twitter  | Email News@Deeside.com ‌​‌‌‌​‌‌‍‌​‌‌‌​‌​‍‌​‌‌‌​‌​
The interactive map below is bang up to date with all traffic info locally. ‌​‌‌‌​‌‌‍‌​‌‌‌​‌​‍‌​‌‌‌​‌​

‌​‌‌‌​‌‌‍‌​‌‌‌​‌​‍‌​‌‌‌​‌​
B5125 B5125 Village Road From Wepre Lane Junction to Smithy Lane Junction, Northop Hall, Flintshire
17 September — 22 September
Delays likely Traffic control (two-way signals)
Works location: From site of Plas Newydd to approx 15m east on B5125 VILLAGE ROAD FROM WEPRE LANE JUNCTION TO SMITHY LANE JUNCTION
Works description: CONNAHS QUAY 24 – DSLAM 524462 – STREET CABINET INSTALLATION. Excavate to lay approx 17m duct, lay concrete plinth (3 days to set) and stand cabinet, check and clear site.
Responsibility for works: Openreach
Current status: Planned work about to start
Works reference: BC006MU1WBAUNWWAJVUG3P01
---
B5126 Connahs Quay Road, Northop, Flintshire
17 September — 20 September
Delays likely Traffic control (two-way signals)
Works location: Approx 123m SW from the junction of SMITHY LANE to approx 360m SW on CONNAHS QUAY ROAD
Works description: FLINT – 546585 – To provide 6 new BT poles – in Verge
Responsibility for works: Openreach
Current status: Planned work about to start
Works reference: BC006MU1WBAUNWWAKAF49J01
---
B5129 Church Street, Connahs Quay, Flintshire
18 September — 19 September
Delays likely Traffic control (two-way signals)
Works location: OPPOSITE ST MARK'S CHURCH
Works description: PERMANENT REINSTATEMENT PROPOSED
Responsibility for works: WELSH WATER
Current status: Planned work about to start
Works reference: PE12594433554
---
Plough Lane Link Between Roundabout and Aston Hill A494, Aston, Flintshire
17 September — 22 September
Delays likely Road closure
Works location: A494 Plough Lane EB off slip
Works description: Drainage improvement. Diversion: Traffic to take Queensferry exit to rbt. Take 5th exit and re-join A494 WB taking the next exit at Plough Lane. Take first right after slip road. Overnight works from 20:00 hrs to 06:00 hrs
Responsibility for works: Welsh Government
Current status: Planned work about to start
Works reference: PD501182539532506
---
A494 Aston Hill Eb, Aston, Flintshire
17 September — 22 September
Delays possible Lane closure
Works location: A494 Aston Hill EB
Works description: Drainage improvement. Overnight works from 20:00 hrs to 06:00 hrs
Responsibility for works: Welsh Government
Current status: Planned work about to start
Works reference: PD5011825395639358
---
Hamilton Road, Connahs Quay, Flintshire
17 September — 20 September
Delays possible Traffic control (Stop/Go boards)
Works location: from the junction with Church Street to the junction with York Road
Works description: Remedial Reinstatement
Responsibility for works: WELSH WATER
Current status: Planned work about to start
Works reference: PE12560022728
---
Pen Y Llan Street, Connahs Quay, Flintshire
17 September — 20 September
Delays possible Traffic control (Stop/Go boards)
Works location: Pen y Llan Street, Connah's Quay between the junction with Church Street and the junction with New Union Street
Works description: Remedial reinstatement
Responsibility for works: WELSH WATER
Current status: Planned work about to start
Works reference: PE12592385060
---
Queens Avenue, Connahs Quay, Flintshire
17 September — 20 September
Delays possible Traffic control (Stop/Go boards)
Works location: from adjacent to property no. 36 to the junction with Hamilton Road
Works description: Remedial Reinstatement
Responsibility for works: WELSH WATER
Current status: Planned work about to start
Works reference: PE12560022727
---
A548 Chester Street, Flint, Flintshire
17 September — 20 September
Delays unlikely No carriageway incursion
Works location: OS 80 CHESTER RD FLINT CLYWD CH6 5DU
Works description: 1 of 2 -Return to Complete Access required to Openreach Underground Apparatus Planned Maintenance works -works are in the Footway, 1.2 available for pedestrians,
Responsibility for works: Openreach
Current status: Planned work about to start
Works reference: BC005CN1W0019SEPWN7UCB84
---
Aberllanerch Drive, Buckley, Flintshire
17 September — 20 September
Delays unlikely Some carriageway incursion
Works location: OUTSIDE NUMBER 17
Works description: HOUSEHOLD METER OPTION – FIT
Responsibility for works: WELSH WATER
Current status: Planned work about to start
Works reference: PE12594720336
---
Bryn Hilyn Lane, Mold, Flintshire
17 September — 27 September
Delays unlikely Traffic control (give & take)
Works location: OUTSIDE NUMBER 68
Works description: SEWER REPAIR
Responsibility for works: WELSH WATER
Current status: Planned work about to start
Works reference: PE12594739211
---
---
Ffordd Offa, Mynydd Isa, Flintshire
17 September — 20 September
Delays unlikely Some carriageway incursion
Works location: OUTSIDE NUMBER 19
Works description: HOUSEHOLD METER OPTION – FIT
Responsibility for works: WELSH WATER
Current status: Planned work about to start
Works reference: PE12594714683
---
Hafod Close, Connahs Quay, Flintshire
18 September — 21 September
Delays unlikely Some carriageway incursion
Works location: Outside No. 19,
Works description: DEFECT PERM REINSTATEMENT
Responsibility for works: WELSH WATER
Current status: Planned work about to start
Works reference: PE12594031746
---
Hamilton Avenue, Sandycroft, Flintshire
18 September — 26 September
Delays unlikely Some carriageway incursion
Works location: OUTSIDE 16 – 18
Works description: EXCAVATE IN FOOTWAY TO CHANGE FAULTY ELECTRICITY LINK BOX WITH REINSTATEMENT
Responsibility for works: SP ENERGY NETWORKS
Current status: Planned work about to start
Works reference: GY0302100212910
---
Lon Y Berth, Mold, Flintshire
18 September — 21 September
Delays unlikely Some carriageway incursion
Works location: OUTSIDE NUMBER 4
Works description: RESET/RENEW FRAME & COVER
Responsibility for works: WELSH WATER
Current status: Planned work about to start
Works reference: PE12594686321
---
Marlborough Avenue, Hawarden, Flintshire
18 September — 21 September
Delays unlikely Some carriageway incursion
Works location: OUTSIDE NUMBER 2
Works description: HOUSEHOLD METER OPTION – FIT
Responsibility for works: WELSH WATER
Current status: Planned work about to start
Works reference: PE12594726872
---
Moel Parc, Flint, Flintshire
17 September — 19 September
Delays unlikely Some carriageway incursion
Works location: 6 MOEL PARC FLINT CH6 5PX
Works description: Excavation to repair defective reinstatement
Responsibility for works: Openreach
Current status: Planned work about to start
Works reference: BC005DL1W00000IBUK6MGX01
---
Princes Street, Connahs Quay, Flintshire
18 September — 21 September
Delays unlikely Some carriageway incursion
Works location: OUTSIDE NUMBER 18
Works description: RENEW FRAME & COVER OF STOP TAP
Responsibility for works: WELSH WATER
Current status: Planned work about to start
Works reference: PE12594683087
---
Wellington Road, Broughton, Flintshire
18 September — 21 September
Delays unlikely Traffic control (give & take)
Works location: OUTSIDE NUMBER 39
Works description: Boundary box Install 25mm Job in Footway (6mm Bitmac (Tarmac) )
Responsibility for works: Dee Valley Water
Current status: Planned work about to start
Works reference: ZU0028102/000011962691A
---
Wellington Road, Broughton, Flintshire
18 September — 21 September
Delays unlikely Traffic control (give & take)
Works location: OUTSIDE NUMBERS 53, 55 AND 57
Works description: Boundary box Install 25mm Job in Footway (6mm Bitmac (Tarmac) ) Boundary box Install 25mm Job in Footway (6mm Bitmac (Tarmac) )
Responsibility for works: Dee Valley Water
Current status: Planned work about to start
Works reference: ZU0028102/000011949670A
---
Wepre Lane, Connahs Quay, Flintshire
18 September — 21 September
Delays unlikely Traffic control (give & take)
Works location: Outside 61 WEPRE LANE
Works description: CONNAHS QUAY – 574579 – PLANNED MAINTENANCE – Renew / Raise / Lower Frame and Cover on in footway
Responsibility for works: Openreach
Current status: Planned work about to start
Works reference: BC006MU1WBAUNWIBW8F0DZ01
---
Woodfield Avenue, Flint, Flintshire
17 September — 20 September
Delays unlikely No carriageway incursion
Works location: OS 16 WOODFIELD AV FLINT CLYWD CH6 5JG
Works description: 1 of 2 -Return to Complete Access required to Openreach Underground Apparatus Planned Maintenance works -works are in the Footway, pedestrians directed to Footway opposite
Responsibility for works: Openreach
Current status: Planned work about to start
Works reference: BC005CN1W0005JULWN7UCB84
---
‌​‌‌‌​‌‌‍‌​‌‌‌​‌​‍‌​‌‌‌​‌​
Spotted something? Got a story? Send a Facebook Message | A direct message on Twitter | Email: News@Deeside.com
---
Latest News
Welsh Government's electric vehicle broken promises 'embarrassing and unacceptable' says Senedd Committee
---