Updated: Overheating train forces evacuation of Chester railway station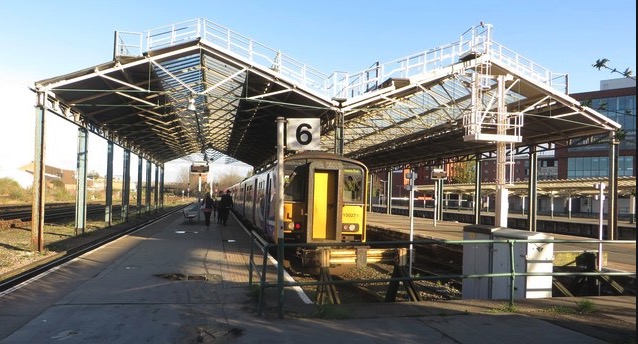 This article is old - Published: Saturday, Mar 14th, 2020

Update: All lines set to reopen. ‌​‌‌‌​‌‌‍‌​‌‌‌​‌​‍‌​‌‌‌​‌​
⚠️#Chester – All lines are expected to reopen shortly at Chester following a fault on a train at the station. ‌​‌‌‌​‌‌‍‌​‌‌‌​‌​‍‌​‌‌‌​‌​

— National Rail (@nationalrailenq) March 14, 2020 ‌​‌‌‌​‌‌‍‌​‌‌‌​‌​‍‌​‌‌‌​‌​
‌​‌‌‌​‌‌‍‌​‌‌‌​‌​‍‌​‌‌‌​‌​
Update: Gareth Hughes posted a detailed description of events on our Facebook page, he wrote: ‌​‌‌‌​‌‌‍‌​‌‌‌​‌​‍‌​‌‌‌​‌​
[1] "Signaller Chester PSB advises that station staff at Chester has reported that a unit off 1J70 1732 Holyhead-Shrewsbury (158822) is on platform 4 and has been over revving for 20 minutes. ‌​‌‌‌​‌‌‍‌​‌‌‌​‌​‍‌​‌‌‌​‌​
The unit cannot be shut down and is becoming a danger. ‌​‌‌‌​‌‌‍‌​‌‌‌​‌​‍‌​‌‌‌​‌​
They require no trains into platform 4,5,6 or 7. They have contacted the fire brigade and police. Chester MOM contacted and will make his way over." ‌​‌‌‌​‌‌‍‌​‌‌‌​‌​‍‌​‌‌‌​‌​
[2]" Chester PSB advise that the station staff have now reported that they want no more units into the Station and have evacuated the station. ‌​‌‌‌​‌‌‍‌​‌‌‌​‌​‍‌​‌‌‌​‌​
Chester MOM advises that the fumes are over the whole station. ‌​‌‌‌​‌‌‍‌​‌‌‌​‌​‍‌​‌‌‌​‌​
There are fitters on board but are having trouble shutting it down. ‌​‌‌‌​‌‌‍‌​‌‌‌​‌​‍‌​‌‌‌​‌​
TfW contacted and report that fitters have isolated the fuel intake and are waiting for the fuel to to run out." ‌​‌‌‌​‌‌‍‌​‌‌‌​‌​‍‌​‌‌‌​‌​
[3] "Chester PSB advise that the fitter has reported that he is still having problems shutting the unity down and is afraid that if it doesnt shut off soon it may explode. ‌​‌‌‌​‌‌‍‌​‌‌‌​‌​‍‌​‌‌‌​‌​
The Fire brigade are still on site standing by." ‌​‌‌‌​‌‌‍‌​‌‌‌​‌​‍‌​‌‌‌​‌​
Earlier Report: There are reports that Chester railway station has been evacuated due to an 'ongoing safety incident.' ‌​‌‌‌​‌‌‍‌​‌‌‌​‌​‍‌​‌‌‌​‌​
Four fire crews are at the scene, the incident involves a train which was stood at the station. ‌​‌‌‌​‌‌‍‌​‌‌‌​‌​‍‌​‌‌‌​‌​
Posting on Twitter @sherlock1968 said: "Chester Railway Station evacuated after reports of overheated train in station that 'won't turn off'." ‌​‌‌‌​‌‌‍‌​‌‌‌​‌​‍‌​‌‌‌​‌​
Transport for Wales said: "An ongoing safety incident with a train in a platform at Chester station means that the station has had to be evacuated, as a precaution. ‌​‌‌‌​‌‌‍‌​‌‌‌​‌​‍‌​‌‌‌​‌​
Emergency services are in attendance. ‌​‌‌‌​‌‌‍‌​‌‌‌​‌​‍‌​‌‌‌​‌​
All trains using Chester station have been stopped, with a suspension of ALL operators' train services in force, until the incident is resolved." ‌​‌‌‌​‌‌‍‌​‌‌‌​‌​‍‌​‌‌‌​‌​
The National Rail website states: ‌​‌‌‌​‌‌‍‌​‌‌‌​‌​‍‌​‌‌‌​‌​
"All trains are unable to run to / from and through Chester. Journey times may be extedned by up to 40 minutes. Disruption is expected until 22:00" ‌​‌‌‌​‌‌‍‌​‌‌‌​‌​‍‌​‌‌‌​‌​
@ShitChester Four Fire Engines at Chester train station 😮 pic.twitter.com/mg5YTtBWHz ‌​‌‌‌​‌‌‍‌​‌‌‌​‌​‍‌​‌‌‌​‌​

— Thunder Runners (@ThunderRunners) March 14, 2020 ‌​‌‌‌​‌‌‍‌​‌‌‌​‌​‍‌​‌‌‌​‌​
‌​‌‌‌​‌‌‍‌​‌‌‌​‌​‍‌​‌‌‌​‌​
‌​‌‌‌​‌‌‍‌​‌‌‌​‌​‍‌​‌‌‌​‌​
Spotted something? Got a story? Send a Facebook Message | A direct message on Twitter | Email: News@Deeside.com
---
Latest News
Deeside based Redrow signs pact with Welsh Government to address fire safety concerns in high-rise buildings
---