Over-the counter cough medicines containing pholcodine withdrawn due to safety concerns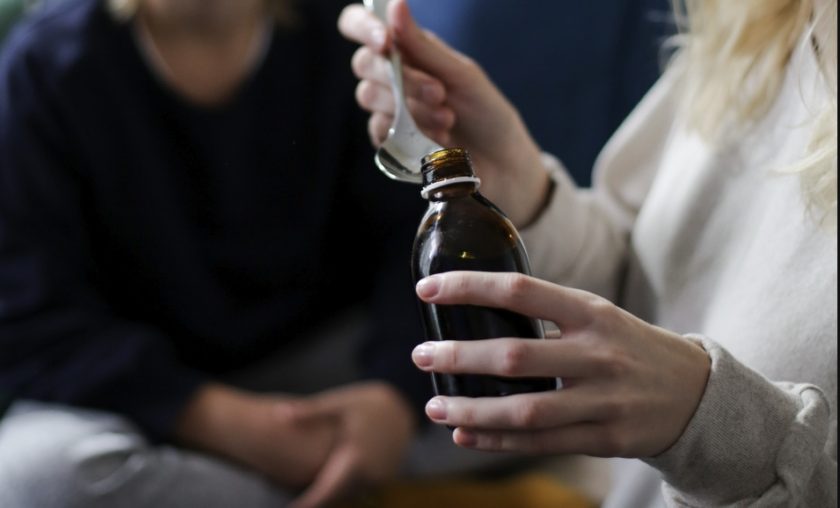 This article is old - Published: Tuesday, Mar 14th, 2023
A number of over-the-counter cough medicines are being withdrawn due to safety concerns. ‌​‌‌‌​‌‌‍‌​‌‌‌​‌​‍‌​‌‌‌​‌​
The Medicines and Healthcare products Regulatory Agency (MHRA) has reviewed post-marketing safety data and found that pholcodine, an ingredient in certain cough medicines, can increase the very rare risk of anaphylaxis, a severe allergic reaction. ‌​‌‌‌​‌‌‍‌​‌‌‌​‌​‍‌​‌‌‌​‌​
As a result, the Commission on Human Medicines (CHM), an independent advisory body, recommended that pholcodine-containing medicines should be withdrawn. ‌​‌‌‌​‌‌‍‌​‌‌‌​‌​‍‌​‌‌‌​‌​
Pholcodine is known to be a risk factor for developing anaphylactic reactions to neuromuscular blocking agents (NMBAs) used in general anaesthesia. ‌​‌‌‌​‌‌‍‌​‌‌‌​‌​‍‌​‌‌‌​‌​
Given the risk and the lack of measures to reduce it, all pholcodine-containing medicines are being withdrawn from the UK market as a precaution. ‌​‌‌‌​‌‌‍‌​‌‌‌​‌​‍‌​‌‌‌​‌​
These products can be bought without a prescription, but only under the supervision of a trained pharmacist. ‌​‌‌‌​‌‌‍‌​‌‌‌​‌​‍‌​‌‌‌​‌​
People are advised to check the packaging of any cough medicines they have at home to see if pholcodine is listed. ‌​‌‌‌​‌‌‍‌​‌‌‌​‌​‍‌​‌‌‌​‌​
If so, they should speak to their pharmacist to get a different medicine. ‌​‌‌‌​‌‌‍‌​‌‌‌​‌​‍‌​‌‌‌​‌​
Those medicines being withdrawn: ‌​‌‌‌​‌‌‍‌​‌‌‌​‌​‍‌​‌‌‌​‌​
The Boots Company PLC ‌​‌‌‌​‌‌‍‌​‌‌‌​‌​‍‌​‌‌‌​‌​
Product name ‌​‌‌‌​‌‌‍‌​‌‌‌​‌​‍‌​‌‌‌​‌​
Boots Night Cough Relief Oral Solution, PL 00014/0230
Boots Dry Cough Syrup 6 Years+, PL 00014/0523
Boots Day Cold & Flu Relief Oral Solution, PL 00014/0565
Thornton & Ross Limited ‌​‌‌‌​‌‌‍‌​‌‌‌​‌​‍‌​‌‌‌​‌​
Product name ‌​‌‌‌​‌‌‍‌​‌‌‌​‌​‍‌​‌‌‌​‌​
Cofsed Linctus, PL 00240/0097
Care Pholcodine 5mg/5ml Oral Solution Sugar Free, PL 00240/0101
Galenphol Linctus, PL 00240/0101
Galenphol Paediatric Linctus, PL 00240/0102
Galenphol Strong Linctus, PL 00240/0103
Covonia Dry Cough Sugar Free Formula, PL 00240/0353
Bell Sons & Company (Druggists) Limited ‌​‌‌‌​‌‌‍‌​‌‌‌​‌​‍‌​‌‌‌​‌​
Product name ‌​‌‌‌​‌‌‍‌​‌‌‌​‌​‍‌​‌‌‌​‌​
Pholcodine Linctus Bells Healthcare 5mg Per 5ml Oral Solution, PL 03105/0059
Numark Pholcodine 5mg per 5ml Oral Solution, PL 03105/0059
Well Pharmaceuticals Pholcodine 5mg per 5ml Oral Solution, PL 03105/0059
Superdrug Pholcodine Linctus BP, PL 03105/0059
Strong Pholcodine Linctus BP, PL 03105/0060
Pinewood Laboratories Limited ‌​‌‌‌​‌‌‍‌​‌‌‌​‌​‍‌​‌‌‌​‌​
Product name ‌​‌‌‌​‌‌‍‌​‌‌‌​‌​‍‌​‌‌‌​‌​
Pholcodine Linctus BP, PL 04917/0002
Strong Pholcodine Linctus BP, PL 04917/0005
LCM Limited ‌​‌‌‌​‌‌‍‌​‌‌‌​‌​‍‌​‌‌‌​‌​
Product name ‌​‌‌‌​‌‌‍‌​‌‌‌​‌​‍‌​‌‌‌​‌​
Pholcodine Linctus, PL 12965/0030 ‌​‌‌‌​‌‌‍‌​‌‌‌​‌​‍‌​‌‌‌​‌​
Glaxosmithkline Consumer Healthcare (UK) Trading Limited ‌​‌‌‌​‌‌‍‌​‌‌‌​‌​‍‌​‌‌‌​‌​
Product name ‌​‌‌‌​‌‌‍‌​‌‌‌​‌​‍‌​‌‌‌​‌​
Day & Night Nurse Capsules, PL 44673/0068
Day Nurse Capsules, PL 44673/0069
Day Nurse, PL 44673/0075
‌​‌‌‌​‌‌‍‌​‌‌‌​‌​‍‌​‌‌‌​‌​
Spotted something? Got a story? Send a Facebook Message | A direct message on Twitter | Email: News@Deeside.com
---
Latest News
Flintshire Councillor says therapy equipment under public ownership is being flogged at car boot sales and charity shops
---