Number of patients in Deeside Rainbow Hospital now at lowest level since coming into operation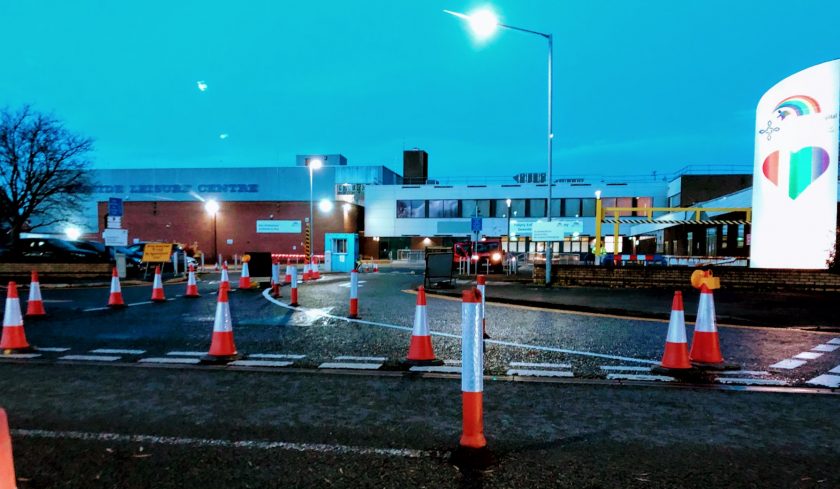 This article is old - Published: Saturday, Mar 20th, 2021
The number of patients being treated in Deeside Rainbow Hospital is now at the lowest since it came into operation in November last year. ‌​‌‌‌​‌‌‍‌​‌‌‌​‌​‍‌​‌‌‌​‌​
According to latest daily figures published by Statistics Wales, four patients remain at the Leisure Centre based hospital. ‌​‌‌‌​‌‌‍‌​‌‌‌​‌​‍‌​‌‌‌​‌​
The temporary hospital – built at the start of the pandemic to boost capacity in North East Wales –  began to admit patients in November as a second wave of Coronavirus infections took hold. ‌​‌‌‌​‌‌‍‌​‌‌‌​‌​‍‌​‌‌‌​‌​
Despite having around 250 beds across three temporary wards, capacity at the Rainbow Hospital was initially set at 30 beds for patients from across North Wales recovering from COVID-19. ‌​‌‌‌​‌‌‍‌​‌‌‌​‌​‍‌​‌‌‌​‌​
At the end of January capacity increased to 45 beds, at the time, the health board said a spike in community transmission particularly in Flintshire and Wrexham, was putting significant pressure on the Maelor Hospital in Wrexham. ‌​‌‌‌​‌‌‍‌​‌‌‌​‌​‍‌​‌‌‌​‌​
On Tuesday, Wales recorded the lowest daily number of people admitted to hospital with Coronavirus during the pandemic, "but the figures do fluctuate throughout the week." Health Minister Vaughan Gething said earlier this week., ‌​‌‌‌​‌‌‍‌​‌‌‌​‌​‍‌​‌‌‌​‌​
"There are now just under 1000 COVID related patients in hospital, this is the first time that we have dipped below that 1000 mark for many months." He said. ‌​‌‌‌​‌‌‍‌​‌‌‌​‌​‍‌​‌‌‌​‌​
During Fridays Welsh government press conference, First Minister Mark Drakeford was asked if Deeside Leisure Centre and the other field hospitals in Wales would be handed back to their owners over the summer, or will they be held in reserve for the winter months and further potential spikes in COVID rates. ‌​‌‌‌​‌‌‍‌​‌‌‌​‌​‍‌​‌‌‌​‌​
Mr Drakeford said: "The number of people in field hospitals has been reducing over the last two weeks. ‌​‌‌‌​‌‌‍‌​‌‌‌​‌​‍‌​‌‌‌​‌​
"When I last saw figures which was Tuesday of this week it was down to just over 100 and the use of field hospitals in different parts of Wales was reducing." ‌​‌‌‌​‌‌‍‌​‌‌‌​‌​‍‌​‌‌‌​‌​
"As the number of people in conventional hospital beds with Coronavirus falls, so the need for field hospitals does reduce." ‌​‌‌‌​‌‌‍‌​‌‌‌​‌​‍‌​‌‌‌​‌​
The First Minister said he doesn't expect to, "put all our field hospitals completely out of commission." ‌​‌‌‌​‌‌‍‌​‌‌‌​‌​‍‌​‌‌‌​‌​
"We will want to hold some certainly in reserve in case a third wave does come our way and we need that capacity." ‌​‌‌‌​‌‌‍‌​‌‌‌​‌​‍‌​‌‌‌​‌​
But, as we did last year, we'll do that selectively, and based on the best modeling, we have keeping only the capacity that we think we might need." ‌​‌‌‌​‌‌‍‌​‌‌‌​‌​‍‌​‌‌‌​‌​
That means we can release some facilities back for alternative uses." He said. ‌​‌‌‌​‌‌‍‌​‌‌‌​‌​‍‌​‌‌‌​‌​
We asked Betsi Cadwaladr University Health Board earlier this week, "when will the Deeside Rainbow Hospital be stood down from taking in new patients" whilst they did respond, they were unable to give any firm information or dates. ‌​‌‌‌​‌‌‍‌​‌‌‌​‌​‍‌​‌‌‌​‌​
Last week a senior Flintshire Council officer said some facilities at the Deeside site – which is also being used as a mass vaccination centre – could potentially be made available from as soon as June, depending on the requirements of the health board. ‌​‌‌‌​‌‌‍‌​‌‌‌​‌​‍‌​‌‌‌​‌​
He also provided assurance that people will still have access to the same services as before, including the Olympic-sized ice rink. ‌​‌‌‌​‌‌‍‌​‌‌‌​‌​‍‌​‌‌‌​‌​
Addressing the issue at a virtual meeting of councillors held on March 10, Flintshire Council's chief officer for housing and assets, Neal Cockerton, said: "The Rainbow hospital will move out, the internal areas will be refurbished or brought back to a standard that is suitable for leisure provision and it will continue on its journey as a leisure centre." ‌​‌‌‌​‌‌‍‌​‌‌‌​‌​‍‌​‌‌‌​‌​
"That's always been the case from the start of this." ‌​‌‌‌​‌‌‍‌​‌‌‌​‌​‍‌​‌‌‌​‌​
"The issue about how quickly that is going to happen, the point I'd make there is it's a main regional vaccination centre at the moment and will continue to be." ‌​‌‌‌​‌‌‍‌​‌‌‌​‌​‍‌​‌‌‌​‌​
"The conversation is around how long we're going to have to wait to get the facility back, but that's not anticipated to be long because we're also already planning an exit strategy for the Rainbow hospitals." Mr Cockerton said. ‌​‌‌‌​‌‌‍‌​‌‌‌​‌​‍‌​‌‌‌​‌​
In terms of further spikes of COVID in Wales, Mr Drakeford said he was "concerned" to see reports of a third wave of coronavirus hitting France. ‌​‌‌‌​‌‌‍‌​‌‌‌​‌​‍‌​‌‌‌​‌​
Over the last week in Wales there have been flare-ups one in Merthyr Tydfil and residents in Holyhead and the wider Holy Island area are being urged not to travel this weekend unless it's essential. ‌​‌‌‌​‌‌‍‌​‌‌‌​‌​‍‌​‌‌‌​‌​
People from outside the area are likewise being advised not to visit unless necessary following a spike in Covid cases in the area. ‌​‌‌‌​‌‌‍‌​‌‌‌​‌​‍‌​‌‌‌​‌​
The First Minister said: "I've never come to this podium and said to people in Wales that coronavirus is all over and that it will be completely behind us during this calendar year," he said. ‌​‌‌‌​‌‌‍‌​‌‌‌​‌​‍‌​‌‌‌​‌​
"I hope it will be and I absolutely hope it will be, but I don't think it's responsible to say to people that is a guarantee that anybody could offer them." ‌​‌‌‌​‌‌‍‌​‌‌‌​‌​‍‌​‌‌‌​‌​
"As things are improving and our aim of course will be for things to go on improving, for us to be able to do more to restore freedoms to people over the weeks and months ahead." ‌​‌‌‌​‌‌‍‌​‌‌‌​‌​‍‌​‌‌‌​‌​
"But coronavirus has been full of unpleasant surprises." ‌​‌‌‌​‌‌‍‌​‌‌‌​‌​‍‌​‌‌‌​‌​
"Just as we have seen in Paris over the last few days, France was doing incredibly well only a few weeks ago and are now finding a sudden and significant flare-up." ‌​‌‌‌​‌‌‍‌​‌‌‌​‌​‍‌​‌‌‌​‌​
"Nobody should think that we are immune from that, nobody should think we can drop our guard and plan on the basis that coronavirus has gone away." ‌​‌‌‌​‌‌‍‌​‌‌‌​‌​‍‌​‌‌‌​‌​
Spotted something? Got a story? Send a Facebook Message | A direct message on Twitter | Email: News@Deeside.com
---
Latest News
---