North Wales tidal lagoon will safeguard £2 billion of coastal property from floods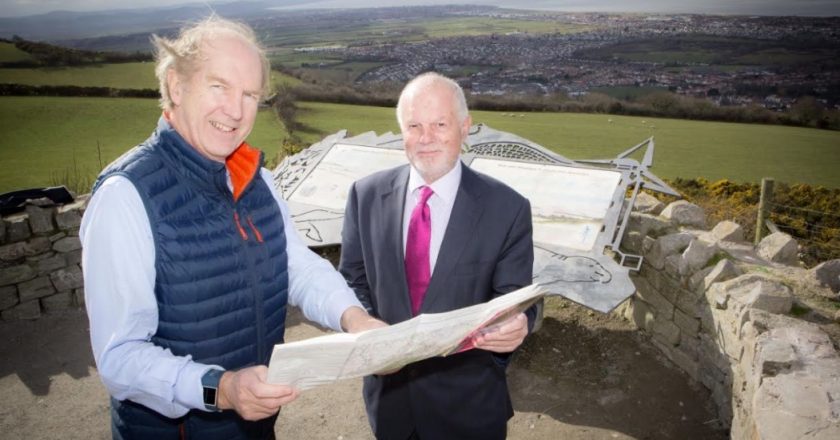 This article is old - Published: Tuesday, Mar 27th, 2018
A North Wales tidal lagoon will help safeguard £2 billion worth of property along the coastline.
That's the estimate of Ruthin-based flood risk experts Waterco, who have been commissioned by North Wales Tidal Energy, the group leading the project, to carry out a study into the coastal protection benefits of the £7 billion tidal lagoon scheme. ‌​‌‌‌​‌‌‍‌​‌‌‌​‌​‍‌​‌‌‌​‌​
According to NWTE Chairman Henry Dixon the lagoon will not only provide low-carbon electricity for over one million homes but it will also safeguard the homes, businesses, road and rail links along the North Wales coast. ‌​‌‌‌​‌‌‍‌​‌‌‌​‌​‍‌​‌‌‌​‌​
The exact siting of the lagoon will be the subject of detailed investigation and assessment but NWTE's initial studies suggest it is likely to extend for nearly 20 miles from the Great Orme to the Point of Ayr at Talacre, just inland of the giant Gwynt y Mor windfarm. ‌​‌‌‌​‌‌‍‌​‌‌‌​‌​‍‌​‌‌‌​‌​
This section of coastline includes Towyn which was hit by devastating flooding in 1990 and Rhyl which has suffered flooding on many occasions and most recently in 2013. ‌​‌‌‌​‌‌‍‌​‌‌‌​‌​‍‌​‌‌‌​‌​
Henry Dixon said: "We have always known the proposed lagoon would have coastal protection benefits so we are delighted that Waterco are now on board undertaking this study to quantify those benefits." ‌​‌‌‌​‌‌‍‌​‌‌‌​‌​‍‌​‌‌‌​‌​
Waterco Managing Director Peter Jones said: "North Wales's existing coastal flood defenses will have to be strengthened and raised in the face of rising sea levels due to climate change. ‌​‌‌‌​‌‌‍‌​‌‌‌​‌​‍‌​‌‌‌​‌​
"Over the next 100 years walls and banks will need to be raised by at least a metre, with some experts suggesting two metres. As things stand the cost will fall to Welsh Government and Local Authorities and that cost will run to many hundreds of millions of pounds. ‌​‌‌‌​‌‌‍‌​‌‌‌​‌​‍‌​‌‌‌​‌​
"From our preliminary work we are already able to say that one of the benefits of the NWTE proposal will be to reduce that public cost as the outer bank of the lagoon will be high enough to immediately become the main line of defense and also absorb wave energy. ‌​‌‌‌​‌‌‍‌​‌‌‌​‌​‍‌​‌‌‌​‌​
"We expect that this will significantly reduce flood risk to huge numbers of properties along the coastline. The proposed lagoon will be a great relief to those living in properties blighted by coastal flooding." ‌​‌‌‌​‌‌‍‌​‌‌‌​‌​‍‌​‌‌‌​‌​
Peter Jones also believes the lagoon could boost development by releasing large areas of land along the North Wales coast for much-needed housing where planners are currently caught in a 'catch 22' situation. ‌​‌‌‌​‌‌‍‌​‌‌‌​‌​‍‌​‌‌‌​‌​
They have to ensure that new development will be safe for the next 100 years while remaining unsure whether sea defenses will be strengthened as there is presently no guarantee this will happen. ‌​‌‌‌​‌‌‍‌​‌‌‌​‌​‍‌​‌‌‌​‌​
NWTE are preparing to undertake a comprehensive series of planning and environmental investigations and are conscious that one obvious concern would be visual impact. ‌​‌‌‌​‌‌‍‌​‌‌‌​‌​‍‌​‌‌‌​‌​
Henry Dixon said: "The sea wall which would house the turbines and enclose the lagoon would have relatively little visual impact on a coast which already has the world's fourth largest offshore windfarm, Gwynt y Mor. ‌​‌‌‌​‌‌‍‌​‌‌‌​‌​‍‌​‌‌‌​‌​
"While much of the focus on tidal lagoons and other renewables sources is on the amount of energy they produce it is also likely to become increasingly important to have reliable local energy supplies that are secure and not dependent on imports from other parts of the world." ‌​‌‌‌​‌‌‍‌​‌‌‌​‌​‍‌​‌‌‌​‌​
The case for the North Wales Tidal Lagoon could also be strengthened by legislation passed by the Welsh Government in 2015, according to Peter Jones who said: "I am passionate about the North Wales Tidal Lagoon and the need to deliver it locally as the whole of North Wales, and not just the coastal strip, would benefit. ‌​‌‌‌​‌‌‍‌​‌‌‌​‌​‍‌​‌‌‌​‌​
"The little known but important, Wellbeing of Future Generations (Wales) Act challenges us to consider the future now, on the basis that prosperity, resilience, health, equality, cohesive communities and culture are all important. ‌​‌‌‌​‌‌‍‌​‌‌‌​‌​‍‌​‌‌‌​‌​
"North Wales has always suffered from what used to be called the 'brain drain' with talented young people moving away for better prospects, inevitably diluting cultural and community strength, and NWTE's proposal will be a huge boost to North Wales." ‌​‌‌‌​‌‌‍‌​‌‌‌​‌​‍‌​‌‌‌​‌​
NWTE are confident that North Wales and the North West have enough high quality engineering and construction firms to deliver the project locally. ‌​‌‌‌​‌‌‍‌​‌‌‌​‌​‍‌​‌‌‌​‌​
But Peter Jones warned: "Wales has the chance to become world leaders in tidal power development. It should be what people call a 'no brainer', but I am worried that having come up with a world class idea, we will end up watching someone else come in and steal it, in the usual British Way. ‌​‌‌‌​‌‌‍‌​‌‌‌​‌​‍‌​‌‌‌​‌​
"We really need to stick our necks out here and make a commitment that subject to proper environmental checks and balances this is going to happen. ‌​‌‌‌​‌‌‍‌​‌‌‌​‌​‍‌​‌‌‌​‌​
"We need the vision to design and build the turbines here instead of importing them and then eventually export them to other parts of the world. ‌​‌‌‌​‌‌‍‌​‌‌‌​‌​‍‌​‌‌‌​‌​
"If we are to gain fully from this project then we need to commit now so that talented youngsters in the area see a reason to become educated and engage in further skills training and can see a future in staying here. ‌​‌‌‌​‌‌‍‌​‌‌‌​‌​‍‌​‌‌‌​‌​
"This is not just about engineering and construction jobs, although there would be plenty of them. A project like this will create spin-offs in the hospitality, tourism, heath and leisure sectors for generations to come. ‌​‌‌‌​‌‌‍‌​‌‌‌​‌​‍‌​‌‌‌​‌​
"This is a once in a lifetime opportunity for North Wales and we all need to get behind it and into the mindset of 'when can we get started?'" ‌​‌‌‌​‌‌‍‌​‌‌‌​‌​‍‌​‌‌‌​‌​
Spotted something? Got a story? Send a Facebook Message | A direct message on Twitter | Email: News@Deeside.com
---
Latest News
Five new industrial units will capitalise on the growing logistics sector and bring 1,000 new jobs to Deeside
---