New aviation partner for Wales Air Ambulance in £65m deal, no changes to base locations until at least 2026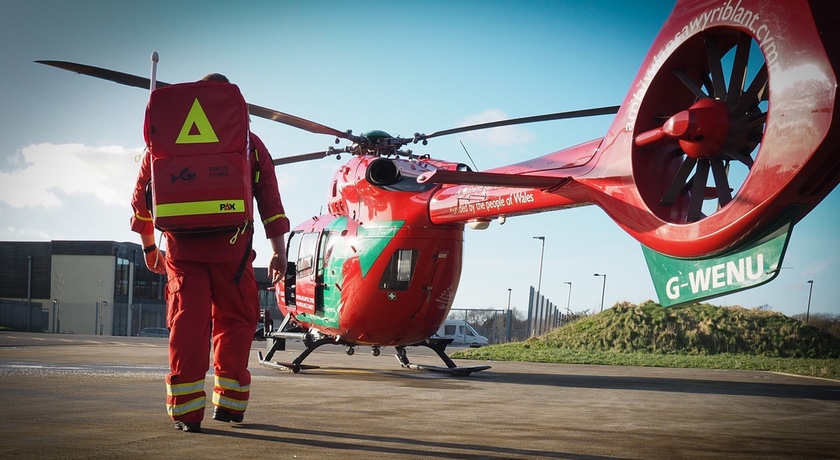 The Wales Air Ambulance Charity has announced that it will be partnering with Gama Aviation Plc, after it successfully bid for a seven-year contract valued at £65 million to provide aviation services starting on 1 January 2024. ‌​‌‌‌​‌‌‍‌​‌‌‌​‌​‍‌​‌‌‌​‌​
The decision follows an 18-month procurement process and input from aviation and medical professionals. ‌​‌‌‌​‌‌‍‌​‌‌‌​‌​‍‌​‌‌‌​‌​
The new partnership with Gama Aviation will replace the current aviation provider, Babcock International. ‌​‌‌‌​‌‌‍‌​‌‌‌​‌​‍‌​‌‌‌​‌​
Gama's contract covers the operation and maintenance of a primary fleet of four Airbus H145 helicopters, with backup helicopter to ensure service continuity during maintenance periods. ‌​‌‌‌​‌‌‍‌​‌‌‌​‌​‍‌​‌‌‌​‌​
The air ambulance service plans to consult on proposals to close bases in Welshpool and Caernarfon in favour of a new hub in North Wales. ‌​‌‌‌​‌‌‍‌​‌‌‌​‌​‍‌​‌‌‌​‌​
The new aviation contract means there will be no changes to base locations until at least 2026 ‌​‌‌‌​‌‌‍‌​‌‌‌​‌​‍‌​‌‌‌​‌​
The contract is however adaptable to future service delivery changes, including revised base locations, operational hours, and after-dark flying. ‌​‌‌‌​‌‌‍‌​‌‌‌​‌​‍‌​‌‌‌​‌​
David Gilbert, the Chair of Trustees for the Wales Air Ambulance Charity, praised Gama Aviation as a "forward-thinking and ambitious company," with experience in helicopter emergency medical services in Guernsey, Jersey, and Scotland. ‌​‌‌‌​‌‌‍‌​‌‌‌​‌​‍‌​‌‌‌​‌​
Dr Sue Barnes, the Charity's Chief Executive, confirmed that the global increase in costs for goods and services, combined with a long-term aviation contract, will lead to a significant increase in the funds needed to deliver the lifesaving service, with a target rise from £8 million to £11.2 million per year. ‌​‌‌‌​‌‌‍‌​‌‌‌​‌​‍‌​‌‌‌​‌​
The target includes maintaining the air operation and rapid response vehicle capability, despite the increased costs of the new aviation service. ‌​‌‌‌​‌‌‍‌​‌‌‌​‌​‍‌​‌‌‌​‌​
The increase in costs led to difficult decisions for the Charity and Trustees, with the options of reducing the number of aircraft or maintaining the existing fleet. ‌​‌‌‌​‌‌‍‌​‌‌‌​‌​‍‌​‌‌‌​‌​
The Trustees ultimately decided that the right thing to do was to maintain the existing fleet, with ongoing support from the people of Wales. ‌​‌‌‌​‌‌‍‌​‌‌‌​‌​‍‌​‌‌‌​‌​
The Charity and its Trustees explored all options for aviation services that would protect and improve their lifesaving operation. ‌​‌‌‌​‌‌‍‌​‌‌‌​‌​‍‌​‌‌‌​‌​
The Wales Air Ambulance Charity also confirmed that it would extend its contracts with Caernarfon Airport and Welshpool Airport, where two of its operations are currently based, until at least 2026. ‌​‌‌‌​‌‌‍‌​‌‌‌​‌​‍‌​‌‌‌​‌​
The proposed service improvements will be the subject of a public engagement led by the Chief Ambulance Services Commissioner, to which the Charity will contribute via an independent submission. ‌​‌‌‌​‌‌‍‌​‌‌‌​‌​‍‌​‌‌‌​‌​
Despite the challenges faced, Dr Barnes expressed her confidence in the Charity's ability to protect their services for the people of Wales and continue seeking improvements in service and availability. ‌​‌‌‌​‌‌‍‌​‌‌‌​‌​‍‌​‌‌‌​‌​
Mark Smith, Gama Aviation Managing Director, Special Mission, commented :   "We are extremely pleased to have been awarded this contract by the Charity." ‌​‌‌‌​‌‌‍‌​‌‌‌​‌​‍‌​‌‌‌​‌​
"We look forward to working closely with the Charity's team as we stand-up the aircraft, flight, maintenance crews and other resources that are required to deliver this important, national, service." ‌​‌‌‌​‌‌‍‌​‌‌‌​‌​‍‌​‌‌‌​‌​
Dai Will from the SAVE Wales Air Ambulance – Welshpool base campaign group said: "I am very pleased to announce that the bases are safe until at least 2026. The War isn't over but we have one a major battle to say the least" ‌​‌‌‌​‌‌‍‌​‌‌‌​‌​‍‌​‌‌‌​‌​
Spotted something? Got a story? Send a Facebook Message | A direct message on Twitter | Email: News@Deeside.com
---
Latest News
---