National Day of Reflection: Landmarks across North Wales light up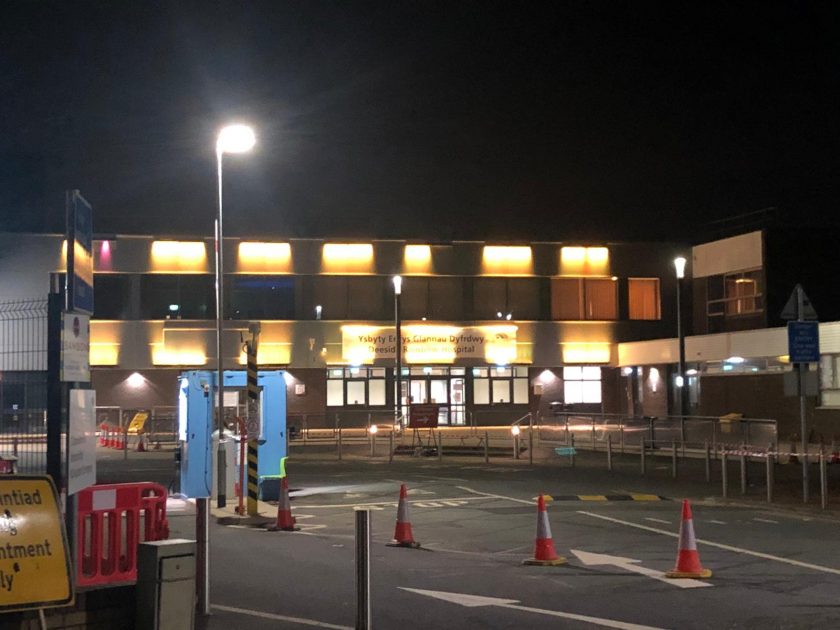 This article is old - Published: Wednesday, Mar 24th, 2021
Places across the UK marked a National Day of Reflection by lighting up yellow this evening. ‌​‌‌‌​‌‌‍‌​‌‌‌​‌​‍‌​‌‌‌​‌​
Spearheaded by Marie Curie, over 110 organisations are behind the day, including British Red Cross, Girlguiding, Jo Cox Foundation, Royal Voluntary Service, The Scouts and Together. ‌​‌‌‌​‌‌‍‌​‌‌‌​‌​‍‌​‌‌‌​‌​
The movement is made up of charities, businesses, membership organisations, emergency services, public sector bodies, community groups, individuals and many more. ‌​‌‌‌​‌‌‍‌​‌‌‌​‌​‍‌​‌‌‌​‌​
Since the pandemic began, many who have lost loved ones have been unable to say goodbye or grieve properly. ‌​‌‌‌​‌‌‍‌​‌‌‌​‌​‍‌​‌‌‌​‌​
Organisers said the actions will allow everyone to remember those who have died, and bring people together to pause, reflect and support each other this month and in years to come as we look with hope to the future. ‌​‌‌‌​‌‌‍‌​‌‌‌​‌​‍‌​‌‌‌​‌​
Deeside Rainbow Hospital, pictured above, lit up yellow to mark the day of reflection. ‌​‌‌‌​‌‌‍‌​‌‌‌​‌​‍‌​‌‌‌​‌​
Sent in by Mark Beresford. ‌​‌‌‌​‌‌‍‌​‌‌‌​‌​‍‌​‌‌‌​‌​

Buckley lit up for tonight.@DeesideDotCom ‌​‌‌‌​‌‌‍‌​‌‌‌​‌​‍‌​‌‌‌​‌​

Please share pic.twitter.com/YBwRFctK5p ‌​‌‌‌​‌‌‍‌​‌‌‌​‌​‍‌​‌‌‌​‌​

— Buckley Society (@Buckley_Society) March 23, 2021 ‌​‌‌‌​‌‌‍‌​‌‌‌​‌​‍‌​‌‌‌​‌​
‌​‌‌‌​‌‌‍‌​‌‌‌​‌​‍‌​‌‌‌​‌​
The Menai Bridge was also lit in a spectacular manner. ‌​‌‌‌​‌‌‍‌​‌‌‌​‌​‍‌​‌‌‌​‌​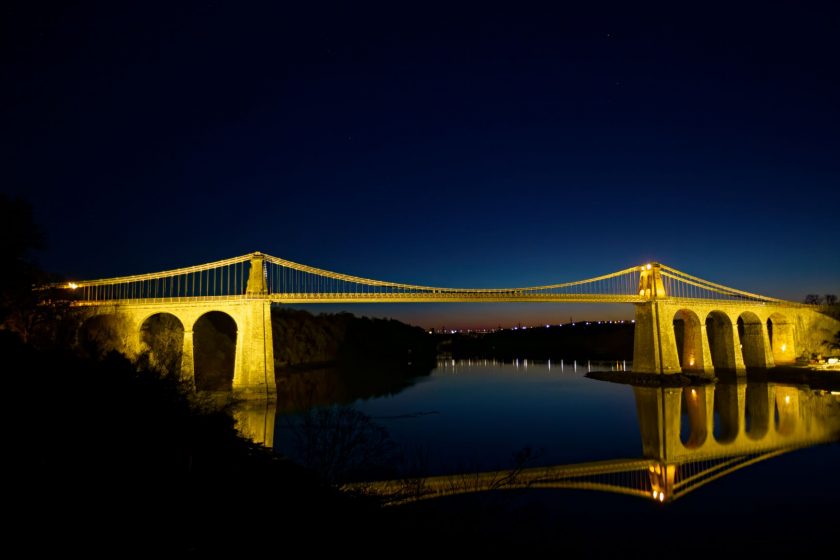 Wrexham hospital was also lit up yellow: ‌​‌‌‌​‌‌‍‌​‌‌‌​‌​‍‌​‌‌‌​‌​
‌​‌‌‌​‌‌‍‌​‌‌‌​‌​‍‌​‌‌‌​‌​
‌​‌‌‌​‌‌‍‌​‌‌‌​‌​‍‌​‌‌‌​‌​
Wrexham Maelor Hospital Tonight 💙 #DayOfReflection @wrexham @BetsiCadwaladr pic.twitter.com/L0ywJd80cy ‌​‌‌‌​‌‌‍‌​‌‌‌​‌​‍‌​‌‌‌​‌​

— Maurice O'grady 💙 (@MauriceOgrady1) March 23, 2021 ‌​‌‌‌​‌‌‍‌​‌‌‌​‌​‍‌​‌‌‌​‌​
‌​‌‌‌​‌‌‍‌​‌‌‌​‌​‍‌​‌‌‌​‌​
Thanks to Rhys for this image from Moel Famau:

‌​‌‌‌​‌‌‍‌​‌‌‌​‌​‍‌​‌‌‌​‌​
Coleg Cambria's new North Wales campus was also lit up: ‌​‌‌‌​‌‌‍‌​‌‌‌​‌​‍‌​‌‌‌​‌​
‌​‌‌‌​‌‌‍‌​‌‌‌​‌​‍‌​‌‌‌​‌​
Elsewhere other landmarks have also been lit up: ‌​‌‌‌​‌‌‍‌​‌‌‌​‌​‍‌​‌‌‌​‌​
Each life lost to coronavirus is a life that mattered. ‌​‌‌‌​‌‌‍‌​‌‌‌​‌​‍‌​‌‌‌​‌​

Tonight, our building and other landmarks across Wales are being lit yellow to remember them – you can join in by lighting a candle on your doorstep at 8pm in their memory ❤️ ‌​‌‌‌​‌‌‍‌​‌‌‌​‌​‍‌​‌‌‌​‌​

📸 @TrafficWalesN | @cadwwales pic.twitter.com/CAZKxbV3tM ‌​‌‌‌​‌‌‍‌​‌‌‌​‌​‍‌​‌‌‌​‌​

— Welsh Government #StayLocal (@WelshGovernment) March 23, 2021 ‌​‌‌‌​‌‌‍‌​‌‌‌​‌​‍‌​‌‌‌​‌​
‌​‌‌‌​‌‌‍‌​‌‌‌​‌​‍‌​‌‌‌​‌​
Tonight the Senedd is one of the many buildings across Wales being lit up in yellow to honour those who have lost their lives as a result of the pandemic, with a hope for a brighter future.
#NationalDayofReflection pic.twitter.com/TbTWxM8qFr ‌​‌‌‌​‌‌‍‌​‌‌‌​‌​‍‌​‌‌‌​‌​

— Welsh Parliament (@SeneddWales) March 23, 2021 ‌​‌‌‌​‌‌‍‌​‌‌‌​‌​‍‌​‌‌‌​‌​
‌​‌‌‌​‌‌‍‌​‌‌‌​‌​‍‌​‌‌‌​‌​
Marie Curie's Chief Executive, Matthew Reed, said: "The last year has been one of the most traumatic and uniting in modern history. With so many of us losing someone close, our shared sense of loss is incomparable to anything felt by this generation. Many of us have been unable to say a real goodbye or comfort our family, friends, and colleagues in their grief.  We need to acknowledge that and recognise we are not alone." ‌​‌‌‌​‌‌‍‌​‌‌‌​‌​‍‌​‌‌‌​‌​
"That is why it is important that we all come together to reflect on our collective loss, celebrate the lives of the special people no longer here, support those who've been bereaved and look towards a much brighter future." ‌​‌‌‌​‌‌‍‌​‌‌‌​‌​‍‌​‌‌‌​‌​
Tonight Deeside's Rainbow Hospital – which will close to inpatients on Friday – has been lit up yellow in support of @mariecurie's #DayOfReflection pic.twitter.com/VhEz7AJYSQ ‌​‌‌‌​‌‌‍‌​‌‌‌​‌​‍‌​‌‌‌​‌​

— DEESIDE.com (@DeesideDotCom) March 23, 2021 ‌​‌‌‌​‌‌‍‌​‌‌‌​‌​‍‌​‌‌‌​‌​
‌​‌‌‌​‌‌‍‌​‌‌‌​‌​‍‌​‌‌‌​‌​
The British Red Cross is one of a number of new organisations supporting the national day, Mike Adamson, chief executive of the British Red Cross, said: "We support this day to mark our collective loss. This year has left so many people dealing with the painful experience of grief." ‌​‌‌‌​‌‌‍‌​‌‌‌​‌​‍‌​‌‌‌​‌​
"Too many have lost loved ones – friends, colleagues, precious family members – at a time when we are unable to connect and mourn in person." ‌​‌‌‌​‌‌‍‌​‌‌‌​‌​‍‌​‌‌‌​‌​
"Bereavement can be isolating so we also encourage people to reach out to friends, families and others in their support network." ‌​‌‌‌​‌‌‍‌​‌‌‌​‌​‍‌​‌‌‌​‌​
"The more connected we are, the more resilient we are, and kindness can help get us through this crisis." ‌​‌‌‌​‌‌‍‌​‌‌‌​‌​‍‌​‌‌‌​‌​
Spotted something? Got a story? Send a Facebook Message | A direct message on Twitter | Email: News@Deeside.com
---
Latest News
---