Motion calling on Flintshire Council to support People's Vote on Brexit narrowly defeated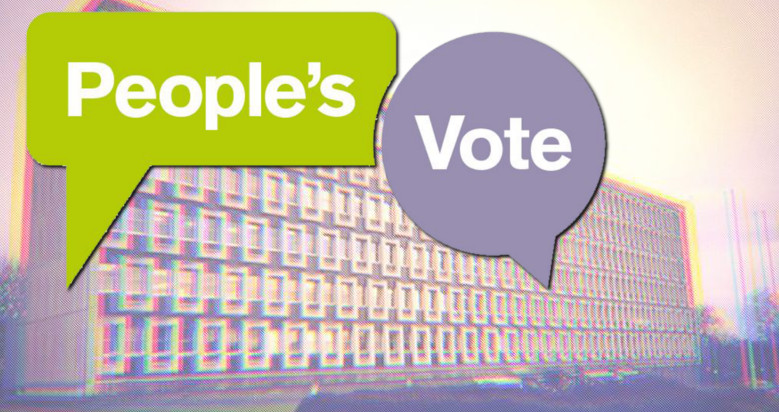 This article is old - Published: Wednesday, Oct 24th, 2018

A motion calling on Flintshire Council to support a People's Vote on the final Brexit deal has been narrowly defeated. ‌​‌‌‌​‌‌‍‌​‌‌‌​‌​‍‌​‌‌‌​‌​
A debate was held after the suggestion for the authority to back a second referendum was put forward by Cllr Kevin Hughes (Ind), who represents Gwernymynydd. ‌​‌‌‌​‌‌‍‌​‌‌‌​‌​‍‌​‌‌‌​‌​
More than 56 per cent of the near 87,000 people in Flintshire who voted in the original poll declared that they wanted to leave the European Union. ‌​‌‌‌​‌‌‍‌​‌‌‌​‌​‍‌​‌‌‌​‌​
But in his opening speech at County Hall in Mold yesterday Cllr Hughes warned that the likelihood of a no-deal scenario could jeopardise thousands of jobs in the area. ‌​‌‌‌​‌‌‍‌​‌‌‌​‌​‍‌​‌‌‌​‌​
He said: "I'll nail my colours to the mast right from the outset, I voted remain and would do so again. ‌​‌‌‌​‌‌‍‌​‌‌‌​‌​‍‌​‌‌‌​‌​
"This is an issue that has divided Flintshire, divided Wales and divided the UK and will potentially sadly actually lead to the break up of the UK in the years ahead. ‌​‌‌‌​‌‌‍‌​‌‌‌​‌​‍‌​‌‌‌​‌​
"It's Flintshire that we've got to consider and the Airbus chief executive officer has warned that the company could leave the UK if it exits the European single market and customs union. ‌​‌‌‌​‌‌‍‌​‌‌‌​‌​‍‌​‌‌‌​‌​
"The Japanese have made it abundantly clear that if they don't have unhindered trafiff free access to the European market then there is no point them being in the UK. ‌​‌‌‌​‌‌‍‌​‌‌‌​‌​‍‌​‌‌‌​‌​
"These are not idle threats I don't believe and it's not just Airbus or Toyota we need to think about, but the smaller firms in the supply chain. ‌​‌‌‌​‌‌‍‌​‌‌‌​‌​‍‌​‌‌‌​‌​
"If only for Flintshire's sake and the younger generation in Flintshire I ask members to support this notice of motion." ‌​‌‌‌​‌‌‍‌​‌‌‌​‌​‍‌​‌‌‌​‌​
He was supported by a number of councillors, including Labour's Paul Johnson, who gave an impassioned speech in favour of a second vote. ‌​‌‌‌​‌‌‍‌​‌‌‌​‌​‍‌​‌‌‌​‌​
He said: "Flintshire has to be our real concern and Flintshire in the UK has been rated by a consultancy called Local Economy UK. ‌​‌‌‌​‌‌‍‌​‌‌‌​‌​‍‌​‌‌‌​‌​
"They do a lot of work with local government and they've identified Flintshire as the third most vulnerable area to a hard Brexit. ‌​‌‌‌​‌‌‍‌​‌‌‌​‌​‍‌​‌‌‌​‌​
"If anyone in Wales is going to get hammered by a hard Brexit, it's going to be us. ‌​‌‌‌​‌‌‍‌​‌‌‌​‌​‍‌​‌‌‌​‌​
"I believe a second vote is not just important, this is our duty to say these are the facts that are emerging." ‌​‌‌‌​‌‌‍‌​‌‌‌​‌​‍‌​‌‌‌​‌​
However, the move was opposed by Conservative leader Clive Carver, who said the margin in favour of leave in Flintshire was greater than the UK as a whole. ‌​‌‌‌​‌‌‍‌​‌‌‌​‌​‍‌​‌‌‌​‌​
He said: "In Flintshire it was 56.4 per cent to leave and 43.6 per cent to remain, that's a difference of 12.8 per cent. ‌​‌‌‌​‌‌‍‌​‌‌‌​‌​‍‌​‌‌‌​‌​
"It's quite a big difference in Flintshire and we now have a motion which doesn't seem to accept that the people of the UK, and especially Flintshire, have already voted and that was a vote to leave. ‌​‌‌‌​‌‌‍‌​‌‌‌​‌​‍‌​‌‌‌​‌​
"Those who voted were clear in the minds what they wanted and the majority, strangely enough, voted to leave. ‌​‌‌‌​‌‌‍‌​‌‌‌​‌​‍‌​‌‌‌​‌​
"You cannot go back again and again and again until those who disagree with the outcome get their way." ‌​‌‌‌​‌‌‍‌​‌‌‌​‌​‍‌​‌‌‌​‌​
He was backed by Cllr Arnold Woolley (Ind), who insisted that Europe needed the UK, more than the UK needed Europe. ‌​‌‌‌​‌‌‍‌​‌‌‌​‌​‍‌​‌‌‌​‌​
Labour councillors were given a free vote on the motion with no direction from their party. ‌​‌‌‌​‌‌‍‌​‌‌‌​‌​‍‌​‌‌‌​‌​
But group leader Cllr Aaron Shotton said he would not be supporting it as the way the EU is set up would prevent a socialist government from achieving its aims. ‌​‌‌‌​‌‌‍‌​‌‌‌​‌​‍‌​‌‌‌​‌​
He said: "My heart wants to show support for Cllr Kevin Hughes in terms of the points that he raises, although I do have some difficulty in voting for this motion. ‌​‌‌‌​‌‌‍‌​‌‌‌​‌​‍‌​‌‌‌​‌​
"The reason being that whilst I voted remain like Cllr Hughes, I voted remain with some trepidation. ‌​‌‌‌​‌‌‍‌​‌‌‌​‌​‍‌​‌‌‌​‌​
"I'm not a big protector of the EU in its current form, I think it's a Europe for the bosses. ‌​‌‌‌​‌‌‍‌​‌‌‌​‌​‍‌​‌‌‌​‌​
"I don't want a second referendum, I want a general election." ‌​‌‌‌​‌‌‍‌​‌‌‌​‌​‍‌​‌‌‌​‌​
The motion was ultimately defeated with 27 in favour and 28 against, with five abstentions. ‌​‌‌‌​‌‌‍‌​‌‌‌​‌​‍‌​‌‌‌​‌​
By Liam Randall – Local Democracy Reporter. ‌​‌‌‌​‌‌‍‌​‌‌‌​‌​‍‌​‌‌‌​‌​
Spotted something? Got a story? Send a Facebook Message | A direct message on Twitter | Email: News@Deeside.com
---
Latest News
Deeside based Redrow signs pact with Welsh Government to address fire safety concerns in high-rise buildings
---