Met Office extends ice and snow weather warning through to Thursday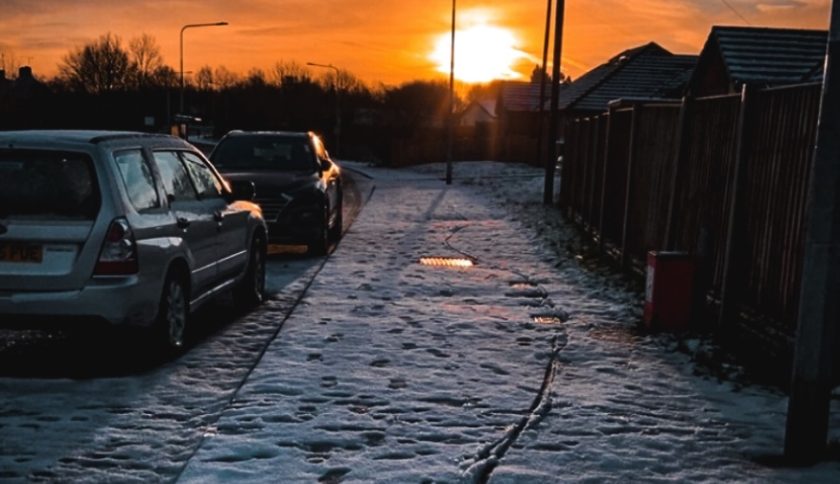 This article is old - Published: Wednesday, Jan 18th, 2023

The Met Office has issued a third yellow weather alert for Ice and Snow covering parts of Flintshire and Wrexham, as well as the North West of England. ‌​‌‌‌​‌‌‍‌​‌‌‌​‌​‍‌​‌‌‌​‌​ ‌​‌‌‌​‌‌‍‌​‌‌‌​‌​‍‌​‌‌‌​‌​
A warning which was due to come to an end at 12pm today has now been extended through to 12pm on Thursday. ‌​‌‌‌​‌‌‍‌​‌‌‌​‌​‍‌​‌‌‌​‌​
This morning has seen tricky driving conditions on minor roads throughout the county, pavements are also reported to be very slippy. ‌​‌‌‌​‌‌‍‌​‌‌‌​‌​‍‌​‌‌‌​‌​
Twenty one schools in Flintshire have closed due to the icy conditions. ‌​‌‌‌​‌‌‍‌​‌‌‌​‌​‍‌​‌‌‌​‌​
‌​‌‌‌​‌‌‍‌​‌‌‌​‌​‍‌​‌‌‌​‌​
According to the latest weather reports inland areas will see sleet and snow, mainly overnight. ‌​‌‌‌​‌‌‍‌​‌‌‌​‌​‍‌​‌‌‌​‌​
The main hazard, however, will be ice. Most parts of the warning area will be at risk of icy conditions, making travel treacherous. The public is advised to take extra care when venturing out, and to stay updated on the latest weather forecast. ‌​‌‌‌​‌‌‍‌​‌‌‌​‌​‍‌​‌‌‌​‌​


‌​‌‌‌​‌‌‍‌​‌‌‌​‌​‍‌​‌‌‌​‌​
The Met Office has said: "Showers will affect the warning area, these falling as a mix of rain and hail near coasts, and sleet and snow inland at times, mainly overnight." ‌​‌‌‌​‌‌‍‌​‌‌‌​‌​‍‌​‌‌‌​‌​
"This will lead to some temporary snow accumulations at low levels, whilst higher ground of Northern Ireland and Wales in particular, could see a further 2-5 cm of snow. For most parts of the warning area, however, ice will be the main hazard." ‌​‌‌‌​‌‌‍‌​‌‌‌​‌​‍‌​‌‌‌ ‌​‌‌‌​‌‌‍‌​‌‌‌​‌​‍‌​‌‌‌​‌​
Motorists are also reminded to take extra care on the roads and to ensure their vehicle is properly equipped for winter driving. This is a developing story and we will bring you more information as it becomes available. ‌​‌‌‌​‌‌‍‌​‌‌‌​‌​‍‌​‌‌‌​‌​ ‌​‌‌‌​‌‌‍‌​‌‌‌​‌​‍‌​‌‌‌​‌​ ‌​‌‌‌​‌‌‍‌​‌‌‌​‌​‍‌​‌‌‌​‌​
Met Office Chief Meteorologist, Paul Gundersen, said; "Cold air is continuing to push across the UK from the north and many areas have seen some snow, wintry conditions, and overnight frosts." ‌​‌‌‌​‌‌‍‌​‌‌‌​‌​‍‌​‌‌‌​‌​
"National Severe Weather Warnings have been issued across parts of western England, Wales, Northern Ireland, and Scotland with more warnings likely to be issued over the coming days." ‌​‌‌‌​‌‌‍‌​‌‌‌​‌​‍‌​‌‌‌​‌​
The cold spell will come to an end later this week and through the weekend across western areas, where it will turn milder and windier with some rain at times. ‌​‌‌‌​‌‌‍‌​‌‌‌​‌​‍‌​‌‌‌​‌​
However, the cold air is likely to hang on for longer across eastern and south-eastern parts of the UK with sharp overnight frosts. ‌​‌‌‌​‌‌‍‌​‌‌‌​‌​‍‌​‌‌‌​‌​
Becky Guy, Road Safety Manager at Royal Society for the Prevention of Accidents, said: ‌​‌‌‌​‌‌‍‌​‌‌‌​‌​‍‌​‌‌‌​‌​ ‌​‌‌‌​‌‌‍‌​‌‌‌​‌​‍‌​‌‌‌​‌​ ‌​‌‌‌​‌‌‍‌​‌‌‌​‌​‍‌​‌‌‌​‌​ ‌​‌‌‌​‌‌‍‌​‌‌‌​‌​‍‌​‌‌‌​‌​
"These wintry conditions can decrease visibility, increase stopping distances and the risk of skidding, which can all increase the risk of being involved in a crash." ‌​‌‌‌​‌‌‍‌​‌‌‌​‌​‍‌​‌‌‌​‌​ ‌​‌‌‌​‌‌‍‌​‌‌‌​‌​‍‌​‌‌‌​‌​ ‌​‌‌‌​‌‌‍‌​‌‌‌​‌​‍‌​‌‌‌​‌​ ‌​‌‌‌​‌‌‍‌​‌‌‌​‌​‍‌​‌‌‌​‌​
"If you can, avoid driving in such weather, and if you are expected to drive for work, do ask your employer about whether it has a winter driving policy." ‌ ‌ ‌​‌‌‌​‌‌‍‌​‌‌‌​‌​‍‌​‌‌‌​‌​ ‌​‌‌‌​‌‌‍‌​‌‌‌​‌​‍‌​‌‌‌​‌​
"Things to check before you set off include that all of your lights are working and clean, your tyres are inflated correctly and have at least 3mm of tread, you have enough fuel or charge in the car for unforeseen events and a way of contacting someone in an emergency." ‌​‌‌‌​‌‌‍‌​‌‌‌​‌​‍‌​‌‌‌​‌​
"Finally, if in doubt and you are able to, postpone your trip until conditions improve." ‌​‌‌‌​‌‌‍‌​‌‌‌​‌​‍‌​‌‌‌​‌​ ‌​‌‌‌​‌‌‍‌​‌‌‌​‌​‍‌​‌‌‌​‌​ ‌​‌‌‌​‌‌‍‌​‌‌‌​‌​‍‌​‌‌‌​‌​
Keeping safe in sleet, hail and snow ‌​‌‌‌​‌‌‍‌​‌‌‌​‌​‍‌​‌‌‌​‌​ ‌​‌‌‌​‌‌‍‌​‌‌‌​‌​‍‌​‌‌‌​‌​ ‌​‌‌‌​‌‌‍‌​‌‌‌​‌​‍‌​‌‌‌​‌​
To help keep drivers safe, the Royal Society for the Prevention of Accidents has shared its top winter driving tips to help keep drivers and riders safe. ‌​‌‌‌​‌‌‍‌​‌‌‌​‌​‍‌​‌‌‌​‌​ ‌​‌‌‌​‌‌‍‌​‌‌‌​‌​‍‌​‌‌‌​‌​ ‌​‌‌‌​‌‌‍‌​‌‌‌​‌​‍‌​‌‌‌​‌​
Before your journey ‌​‌‌‌​‌‌‍‌​‌‌‌​‌​‍‌​‌‌‌​‌​ ‌​‌‌‌​‌‌‍‌​‌‌‌​‌​‍‌​‌‌‌​‌​ ‌​‌‌‌​‌‌‍‌​‌‌‌​‌​‍‌​‌‌‌​‌​
Plan your journey, checking the traffic news and allowing extra time
If it has been snowing, be sure to remove snow from the top of your car so that it does not slide down and obstruct your view when driving
Check fuel or charge levels before you set off to allow for unexpected delays
If you drive an automatic car, check the handbook to see if there's a winter driving mode setting
Assess whether your journey is essential, and speak to your employer about whether they have a winter driving policy
Driving on winter roads ‌​‌‌‌​‌‌‍‌​‌‌‌​‌​‍‌​‌‌‌​‌​ ‌​‌‌‌​‌‌‍‌​‌‌‌​‌​‍‌​‌‌‌​‌​ ‌​‌‌‌​‌‌‍‌​‌‌‌​‌​‍‌​‌‌‌​‌​
Pull off in second gear, going gently on the clutch to avoid wheel-spin
Leave plenty of room between you and other road users, applying your brakes gradually and in good time
When driving uphill, check the road is clear and try to avoid stopping part way up to prevent you from rolling backwards
When driving downhill, keep it slow and use a low gear
Remember that braking distance can increase up to double in wet weather and by 10 times in icy weather


‌​‌‌‌​‌‌‍‌​‌‌‌​‌​‍‌​‌‌‌​‌​
Spotted something? Got a story? Send a Facebook Message | A direct message on Twitter | Email: News@Deeside.com
---
Latest News
---