Mark Tami MP tables motion calling for urgent review into the use of 'cruel and inhumane' glue traps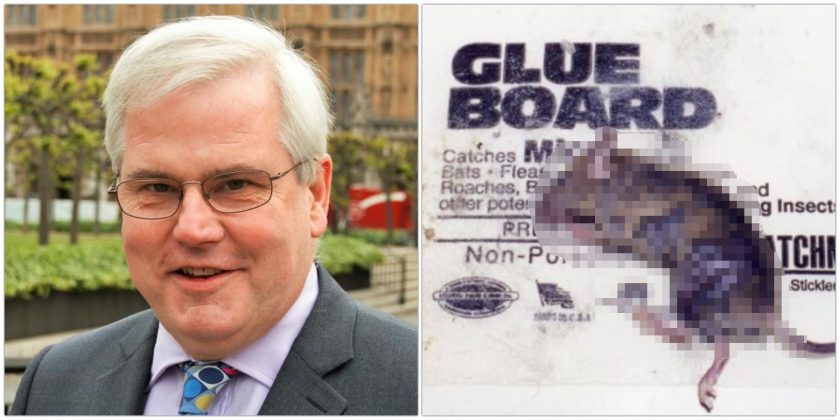 This article is old - Published: Friday, Feb 12th, 2021
Alyn and Deeside MP Mark Tami has tabled a motion in Parliament calling for an urgent review into the use of glue traps to catch animals. ‌​‌‌‌​‌‌‍‌​‌‌‌​‌​‍‌​‌‌‌​‌​
Glue traps are a form of pest control, where a sticky layer is used to catch and trap an animal by sticking to their fur or feathers. ‌​‌‌‌​‌‌‍‌​‌‌‌​‌​‍‌​‌‌‌​‌​
As the animal struggles to escape, more of its body gets caught on the trap. Often the creatures that get stuck in glue traps are not the intended targets, but hedgehogs, rabbits, birds and even pets. ‌​‌‌‌​‌‌‍‌​‌‌‌​‌​‍‌​‌‌‌​‌​
Animal deaths from glue traps are usually slow and painful, with animals starving or suffocating to death, while sometimes breaking limbs or biting through their own flesh in an attempt to escape. ‌​‌‌‌​‌‌‍‌​‌‌‌​‌​‍‌​‌‌‌​‌​
Animal rights organisations including the RSPCA and RSPB have spoken out about the cruelty of these traps. ‌​‌‌‌​‌‌‍‌​‌‌‌​‌​‍‌​‌‌‌​‌​
Mr Tami said, "The devices are cruel and inhumane. It can take trapped animals days to die. I am shocked that their sale is still legal in the UK, particularly since many other forms of pest control exist that are more humane and just as effective. ‌​‌‌‌​‌‌‍‌​‌‌‌​‌​‍‌​‌‌‌​‌​
"Just this Christmas, the RSPCA had a case of a cat, Miles, who unfortunately had to be put down because of injuries caused by getting stuck in a glue trap. ‌​‌‌‌​‌‌‍‌​‌‌‌​‌​‍‌​‌‌‌​‌​
"Pets have a habit of finding ways into all kinds of places, they are at risk as long as glue traps are in use." ‌​‌‌‌​‌‌‍‌​‌‌‌​‌​‍‌​‌‌‌​‌​
Adam Grogan, Head of Wildlife at the RSPCA, said: "Glue traps are horrendous and their use is completely unnecessary, so we are wholly opposed to their manufacture, sale and use. ‌​‌‌‌​‌‌‍‌​‌‌‌​‌​‍‌​‌‌‌​‌​
"Glue traps may seem like an effective way to catch rodents without killing them, but they come with very serious welfare issues and the way they're designed to catch animals – by sticking their limbs to the board as they cross it – inflicts severe pain and distress as they desperately try to escape. ‌​‌‌‌​‌‌‍‌​‌‌‌​‌​‍‌​‌‌‌​‌​
"Mice and other rodents are the main victims but other animals and non-target species also become caught up in these indiscriminate traps. We have seen everything from snakes, robins, owls and even kittens and cats maimed or fatally injured because of these awful traps." ‌​‌‌‌​‌‌‍‌​‌‌‌​‌​‍‌​‌‌‌​‌​
Early Day Motion 1477 reads: "That this House calls for an urgent review into the use of glue traps as a means of pest control due to the inhumane suffering they cause animals; is deeply concerned by the cruel way in which they leave animals to face slow, painful deaths and strongly asserts that animals being left for days to starve or suffocate is abhorrent; believes that the Government has a duty to protect small mammals and birds from the accidental prolonged suffering and deaths that glue traps cause and argues that the wide availability of less cruel methods of pest control makes the use of glue traps unnecessary." ‌​‌‌‌​‌‌‍‌​‌‌‌​‌​‍‌​‌‌‌​‌​
Mr Tami is now appealing for support from other MPs in signing his early day motion to back the removal of glue traps from UK markets. ‌​‌‌‌​‌‌‍‌​‌‌‌​‌​‍‌​‌‌‌​‌​
[Glue Trap Picture: PETA] ‌​‌‌‌​‌‌‍‌​‌‌‌​‌​‍‌​‌‌‌​‌​
Spotted something? Got a story? Send a Facebook Message | A direct message on Twitter | Email: News@Deeside.com
---
Latest News
---