Glenigan Forecasts weak construction output as UK economy haemorrhages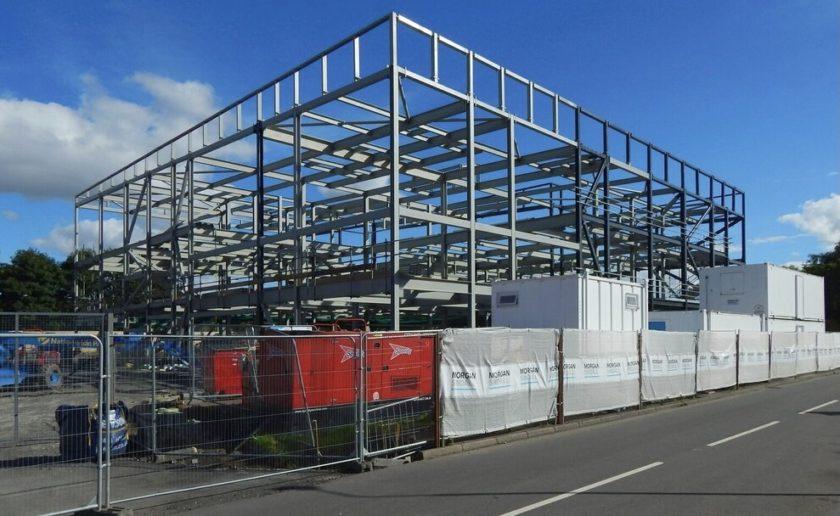 This article is old - Published: Thursday, Nov 3rd, 2022

Glenigan, one of the construction industry's leading insight and intelligence experts, releases its widely anticipated autumn UK Construction Industry Forecast 2023-2024. ‌​‌‌‌​‌‌‍‌​‌‌‌​‌​‍‌​‌‌‌​‌​
The key takeaway from this Forecast, which focuses on the next two years (2023-2024), is that the construction industry will struggle in the face of extremely challenging economic conditions, with predicted growth in decline during 2022 (-2%) and 2023 (-2%). ‌​‌‌‌​‌‌‍‌​‌‌‌​‌​‍‌​‌‌‌​‌​
However, the sunnier uplands, although far off in the distance, are starting to emerge on the horizon, with a 6% increase predicted in 2024. ‌​‌‌‌​‌‌‍‌​‌‌‌​‌​‍‌​‌‌‌​‌​
The slower road to recovery ‌​‌‌‌​‌‌‍‌​‌‌‌​‌​‍‌​‌‌‌​‌​
Post-pandemic project-starts recovery has lost considerable momentum during the second half of 2022. Forecast to slip back by 2% by the end of the year, and in 2023, it paints a dim picture of activity levels in the short term. ‌​‌‌‌​‌‌‍‌​‌‌‌​‌​‍‌​‌‌‌​‌​
Glenigan predicts the next 24 months to be a challenging period for the construction industry, with ongoing material, labour, and energy supply chain disruption continuing to hold back activity for the foreseeable future. ‌​‌‌‌​‌‌‍‌​‌‌‌​‌​‍‌​‌‌‌​‌​
These external events have resulted in rocketing inflation, rising interest rates, and stalled economic growth, affecting the pipeline of future work. This has been further compounded by the promise of higher tax, utility bills, and rising mortgage costs which has constrained consumer-related construction, including private housing, retail, and hotel and leisure. ‌​‌‌‌​‌‌‍‌​‌‌‌​‌​‍‌​‌‌‌​‌​
The situation has prompted some clients, contractors and developers to pause or scale back on planned investments, further stagnating output. This was confirmed by the value of projects securing detailed planning consent during the first nine months of 2022 dropping by 5%, and main contract awards falling by 8% against the same period in 2021. ‌​‌‌‌​‌‌‍‌​‌‌‌​‌​‍‌​‌‌‌​‌​
‌​‌‌‌​‌‌‍‌​‌‌‌​‌​‍‌​‌‌‌​‌​
Resurgence in private residential construction ‌​‌‌‌​‌‌‍‌​‌‌‌​‌​‍‌​‌‌‌​‌​
Housing market activity cooled-off in 2022, and is predicted to slow further in 2023 as developers respond to weakening market conditions. ‌​‌‌‌​‌‌‍‌​‌‌‌​‌​‍‌​‌‌‌​‌​
Project-starts are forecast to drop 4% this year, with a further 5% decline next, as lower household incomes, higher mortgage rates and lack of affordable homes continues to afflict the wider housing market. ‌​‌‌‌​‌‌‍‌​‌‌‌​‌​‍‌​‌‌‌​‌​
The reduction in stamp duty rates announced in the mini-Budget will provide a small benefit to first time buyers. However, the end of the government's Help to Buy scheme has removed direct support for new builds, coupled with mortgage providers significantly raising rates in reaction to the current rate of inflation, meaning that any benefit for first time buyers will be negated for the foreseeable future. ‌​‌‌‌​‌‌‍‌​‌‌‌​‌​‍‌​‌‌‌​‌​
Nevertheless, the growing prospect of a stabilising economy in 2023, prompted by a changing of the guard at Number 10, and gradually improving consumer confidence over the next two years supports a forecast of a respectable 15% rise in residential project-starts during 2024. ‌​‌‌‌​‌‌‍‌​‌‌‌​‌​‍‌​‌‌‌​‌​
‌​‌‌‌​‌‌‍‌​‌‌‌​‌​‍‌​‌‌‌​‌​
Social housing slips back ‌​‌‌‌​‌‌‍‌​‌‌‌​‌​‍‌​‌‌‌​‌​
In the public sector, the social housing project-starts prediction is less positive, forecast to slip back during 2022 and 2023, following a rapid 16% recovery in 2021 as housing associations pressed on with schemes delayed during the pandemic. ‌​‌‌‌​‌‌‍‌​‌‌‌​‌​‍‌​‌‌‌​‌​
Despite improved funding, increased construction costs appear to be significantly constraining development activity, with approvals similarly falling back over the past 12 months. ‌​‌‌‌​‌‌‍‌​‌‌‌​‌​‍‌​‌‌‌​‌​
Industrial Consolidation ‌​‌‌‌​‌‌‍‌​‌‌‌​‌​‍‌​‌‌‌​‌​
Industrial project-starts have enjoyed a strong rebound post-pandemic, a rise which has largely been driven by logistics and light industrial projects as significant growth areas. Looking forward, the sector faces a period of consolidation during 2023 and 2024 as the recent spurt in activity inevitably slows. ‌​‌‌‌​‌‌‍‌​‌‌‌​‌​‍‌​‌‌‌​‌​
Weak domestic and overseas demand is expected to temper manufacturing investment in facilities, but warehousing and logistics premises are forecast to remain a growth area. This is due largely to a long-term shift towards online retailing, resulting in continued demand for logistics space, and accounting for the majority of industrial project-starts' 25% growth in 2022. ‌​‌‌‌​‌‌‍‌​‌‌‌​‌​‍‌​‌‌‌​‌​
‌​‌‌‌​‌‌‍‌​‌‌‌​‌​‍‌​‌‌‌​‌​
Retail tails-off ‌​‌‌‌​‌‌‍‌​‌‌‌​‌​‍‌​‌‌‌​‌​
In the short term, however, the demand for both logistics and retail space is expected to be damped by weak retail sales as consumer confidence falls in response to higher inflation and falling earnings. ‌​‌‌‌​‌‌‍‌​‌‌‌​‌​‍‌​‌‌‌​‌​
An overhang of empty retail premises, weak consumer spending, and the growth in online sales' market share is predicted to constrain retail construction starts over the forecast period. ‌​‌‌‌​‌‌‍‌​‌‌‌​‌​‍‌​‌‌‌​‌​
Despite this, investment by discount supermarkets Aldi and Lidl are set to be a bright spot within the sector over the forecast period. ‌​‌‌‌​‌‌‍‌​‌‌‌​‌​‍‌​‌‌‌​‌​
Back to the office ‌​‌‌‌​‌‌‍‌​‌‌‌​‌​‍‌​‌‌‌​‌​
Office starts have also bounced back sharply since 2021, increasing by 27%. The Covid-19 pandemic radically altered working trends globally as many businesses shifted to hybrid working, reducing overall floorspace requirements. ‌​‌‌‌​‌‌‍‌​‌‌‌​‌​‍‌​‌‌‌​‌​
Despite this, the sector is predicted to benefit over the forecast period from a rise in refurbishment projects as tenants and landlords adapt premises to further accommodate these changing work patterns. Conversely, new build office projects are likely to be slower to recover as developers continue to assess the long-term demand for additional office accommodation. ‌​‌‌‌​‌‌‍‌​‌‌‌​‌​‍‌​‌‌‌​‌​
‌​‌‌‌​‌‌‍‌​‌‌‌​‌​‍‌​‌‌‌​‌​
Work, rest and delay ‌​‌‌‌​‌‌‍‌​‌‌‌​‌​‍‌​‌‌‌​‌​
The squeeze on household budgets is set to curb consumers' discretionary spending in the hospitality and leisure industries. The hospitality sector is still recovering from operational restrictions during Lockdown, as well as reduced revenues due to fewer overseas visitors. ‌​‌‌‌​‌‌‍‌​‌‌‌​‌​‍‌​‌‌‌​‌​
Combined with spiking energy costs over the last 12 months, as well as a potential fall-off in domestic custom over 2023, the hospitality sector will be under considerable pressure. This is predicted to result in retrenchment, causing further delays to project-starts as asset owners wait for confidence to return. ‌​‌‌‌​‌‌‍‌​‌‌‌​‌​‍‌​‌‌‌​‌​
Investment bolsters public sector ‌​‌‌‌​‌‌‍‌​‌‌‌​‌​‍‌​‌‌‌​‌​
A core pillar of the Government's UK Growth Strategy, public sector investment was set to be an important driver of construction activity over the forecast period. Funding for rail projects and regulated utilities in particular have been tipped to provide the bulk of the output over the forecast period. ‌​‌‌‌​‌‌‍‌​‌‌‌​‌​‍‌​‌‌‌​‌​
However, as a new administration begins, with an ambition to balance the public finance books, planned capital funding allocation may be vulnerable, with a potential range of departmental cuts on the horizon to protect the economy against a looming recession. ‌​‌‌‌​‌‌‍‌​‌‌‌​‌​‍‌​‌‌‌​‌​
Securing our energy infrastructure ‌​‌‌‌​‌‌‍‌​‌‌‌​‌​‍‌​‌‌‌​‌​
Energy security will no doubt remain a national priority following the sharp rises in energy prices over the course of 2022, and an over-dependence on gas-powered electricity. This is expected to drive investment in offshore wind farms, solar PV, increasing our nuclear capacity and strengthening nascent hydrogen capture capabilities. ‌​‌‌‌​‌‌‍‌​‌‌‌​‌​‍‌​‌‌‌​‌​
Building for future generations ‌​‌‌‌​‌‌‍‌​‌‌‌​‌​‍‌​‌‌‌​‌​
The Government is also committed to rebuilding 500 schools over the coming decade. The latest Spending Review includes additional capital funding for the Department of Education, in a move to tackle the shortage of secondary school places. This is expected to support growth in school building projects in 2023 after a weak performance over the last year. ‌​‌‌‌​‌‌‍‌​‌‌‌​‌​‍‌​‌‌‌​‌​
‌​‌‌‌​‌‌‍‌​‌‌‌​‌​‍‌​‌‌‌​‌​
Healthier predictions ‌​‌‌‌​‌‌‍‌​‌‌‌​‌​‍‌​‌‌‌​‌​
Positively, health sector project-starts remained high during both 2021 and 2022, with an optimistic outlook for the future as a 3.8% real-term growth rate in NHS capital funding is set to maintain project-starts at a high level over the forecast period. ‌​‌‌‌​‌‌‍‌​‌‌‌​‌​‍‌​‌‌‌​‌​
Whilst starts are forecast to slip back 6% in 2023, the value of work started during 2021 and 2022 remains above pre-pandemic levels. ‌​‌‌‌​‌‌‍‌​‌‌‌​‌​‍‌​‌‌‌​‌​
Commenting on the Forecast, Glenigan's economic director Allan Wilen says, "Construction will face a challenging environment in the coming year as the Russia-Ukraine war continues to hinder the UK's post-Covid recovery, exacerbating supply chain disruption, resulting in materials and energy shortages, and leading to cost inflation and dented market confidence. ‌​‌‌‌​‌‌‍‌​‌‌‌​‌​‍‌​‌‌‌​‌​
"The pattern of UK construction activity is being reshaped by economic slowdown, but structural changes are expected to create new opportunities in warehouse & logistics, office refurbishment and new housing schemes. Going forward, it will be crucial for firms to be responsive and adaptable in order to mitigate risks in the current marketplace and exploit new opportunities as they emerge over the forecast period." ‌​‌‌‌​‌‌‍‌​‌‌‌​‌​‍‌​‌‌‌​‌​
Spotted something? Got a story? Send a Facebook Message | A direct message on Twitter | Email: News@Deeside.com
---
Latest News
Wales lost out on £155.5 million of public funding due to "poor account management" by Welsh Government
Deeside's Parc Adfer 'energy from waste' facility praised by CBI for enhancing region's energy resilience
---