Gladstone's Library Hearth festival line up announced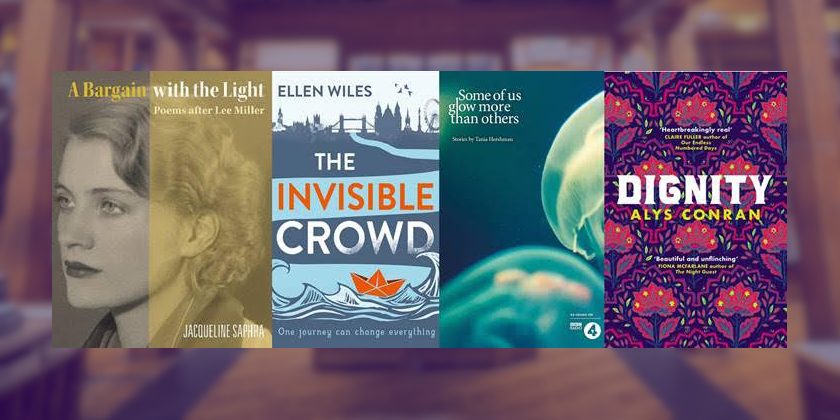 This article is old - Published: Thursday, Jan 10th, 2019

Gladstone's Library in Hawarden has announced the names of the four writers appearing at its annual Hearth festival. ‌​‌‌‌​‌‌‍‌​‌‌‌​‌​‍‌​‌‌‌​‌​
 The intimate writing festival hosted in the common room at the residential library offers keen writers the opportunity to pick up hints and tips, and ask questions of published authors about their experiences. ‌​‌‌‌​‌‌‍‌​‌‌‌​‌​‍‌​‌‌‌​‌​
It also encourages any with an interest in the world of books to find out more about the writing and publishing process. ‌​‌‌‌​‌‌‍‌​‌‌‌​‌​‍‌​‌‌‌​‌​
 Speakers at the February festival are Jacqueline Saphra (A Bargain with the Light: Poems After Lee Miller), Ellen Wiles (The Invisible Crowd), Tania Hershman (Some of Us Glow More Than Others) and Alys Conran (Dignity). ‌​‌‌‌​‌‌‍‌​‌‌‌​‌​‍‌​‌‌‌​‌​
 JACQUELINE SAPHRA describes herself as a 'poet, editor, agitator, teacher, organiser and word-enthusiast', writing prose and poems across genres and collaborating with composers, musicians and visual artists. ‌​‌‌‌​‌‌‍‌​‌‌‌​‌​‍‌​‌‌‌​‌​
The Kitchen of Lovely Contraptions (flipped eye 2011) was shortlisted for the Aldeburgh First Collection Prize. ‌​‌‌‌​‌‌‍‌​‌‌‌​‌​‍‌​‌‌‌​‌​
If I Lay on my Back I Saw Nothing but Naked Women (The Emma Press 2015) won the Saboteur Award for Best Collaborative Work, and in 2017 ‌​‌‌‌​‌‌‍‌​‌‌‌​‌​‍‌​‌‌‌​‌​
A Bargain with the Light: Poems after Lee Miller (Hercules Editions 2017) was shortlisted for a Saboteur Award. ‌​‌‌‌​‌‌‍‌​‌‌‌​‌​‍‌​‌‌‌​‌​
At Hearth Jacqueline will take a closer look at the life and work of Lee Miller, extraordinary and courageous photographer and trailblazer for women. ‌​‌‌‌​‌‌‍‌​‌‌‌​‌​‍‌​‌‌‌​‌​
  ‌​‌‌‌​‌‌‍‌​‌‌‌​‌​‍‌​‌‌‌​‌​
ELLEN WILES is a musician-turned-lawyer-turned-writer. As a human rights barrister at a London chambers, Ellen worked on British cases and international projects including with the Bushmen in Botswana, Karenni refugees in Thailand and local lawyers in Myanmar. ‌​‌‌‌​‌‌‍‌​‌‌‌​‌​‍‌​‌‌‌​‌​
Her first book, Saffron Shadows and Salvaged Scripts: Literary Life in Myanmar under Censorship and in Transition (2015) features new literary translations and interviews with censored Burmese writers. ‌​‌‌‌​‌‌‍‌​‌‌‌​‌​‍‌​‌‌‌​‌​
Her first novel, The Invisible Crowd (2017) won a Victor Turner Prize for ethnographic writing. ‌​‌‌‌​‌‌‍‌​‌‌‌​‌​‍‌​‌‌‌​‌​
At Hearth Alys will talk about The Invisible Crowd – a compelling exploration of the British asylum system, the lottery of birth and the kindness of strangers. ‌​‌‌‌​‌‌‍‌​‌‌‌​‌​‍‌​‌‌‌​‌​
  ‌​‌‌‌​‌‌‍‌​‌‌‌​‌​‍‌​‌‌‌​‌​
TANIA HERSHMAN is a writer, teacher and editor. ‌​‌‌‌​‌‌‍‌​‌‌‌​‌​‍‌​‌‌‌​‌​
She is the author of six books, as well as many short stories and poems. ‌​‌‌‌​‌‌‍‌​‌‌‌​‌​‍‌​‌‌‌​‌​
Her short stories and flash fictions (The White Road; My Mother Was an Upright Piano; Some of Us Glow More Than Others) are noted for their precise tone and wild, complex settings, while her poetry (Nothing Here is Wild, Everything is Open; Terms and Conditions) is similarly intricate and rich. ‌​‌‌‌​‌‌‍‌​‌‌‌​‌​‍‌​‌‌‌​‌​
After years spent living and working in Bristol, Tania currently lives in the north of England, where she is Royal Literary Fund Fellow at the University of Manchester and writer in residence in the Southern Cemetery. ‌​‌‌‌​‌‌‍‌​‌‌‌​‌​‍‌​‌‌‌​‌​
In her hour she will read a specially-chosen selection of her past and current work while talking to Louisa Yates about how her writing life has shaped her, what she's writing now, what hybrid writing means, and all that she might be next. ‌​‌‌‌​‌‌‍‌​‌‌‌​‌​‍‌​‌‌‌​‌​
  ‌​‌‌‌​‌‌‍‌​‌‌‌​‌​‍‌​‌‌‌​‌​
ALYS CONRAN 's first novel Pigeon (Parthian Books) won the Wales Book of the Year Award 2017 and was shortlisted for the International Dylan Thomas Prize. ‌​‌‌‌​‌‌‍‌​‌‌‌​‌​‍‌​‌‌‌​‌​
It also won the Rhys Davies Trust Fiction Award, The Wales Arts Review People's Choice Award and was longlisted for the Author's Choice First Novel Award. ‌​‌‌‌​‌‌‍‌​‌‌‌​‌​‍‌​‌‌‌​‌​
She also publishes poetry, short stories, creative non-fiction, creative essays and literary translations and her work is to be found in numerous magazines and anthologies including Stand and The Manchester Review.  At Hearth she will consider what the Raj means to Britain today. ‌​‌‌‌​‌‌‍‌​‌‌‌​‌​‍‌​‌‌‌​‌​
Individual event tickets are priced at £14. Morning Tickets (including the two morning talks plus lunch and entry to the panel discussion) are £35 and Afternoon Tickets (including the two afternoon talks plus dinner and entry to the panel discussion) are £35. ‌​‌‌‌​‌‌‍‌​‌‌‌​‌​‍‌​‌‌‌​‌​
Day Tickets (including all Hearth events and meals) are £60. ‌​‌‌‌​‌‌‍‌​‌‌‌​‌​‍‌​‌‌‌​‌​
All tickets include free entry to the evening panel discussion with all four Hearth speakers during which they will reflect on reading and writing and guests are invited to put forward their most testing questions! ‌​‌‌‌​‌‌‍‌​‌‌‌​‌​‍‌​‌‌‌​‌​
 To book tickets or for more information, visit gladstoneslibrary.org, call 01244 532350 or email enquiries@gladlib.org. ‌​‌‌‌​‌‌‍‌​‌‌‌​‌​‍‌​‌‌‌​‌​
Spotted something? Got a story? Send a Facebook Message | A direct message on Twitter | Email: News@Deeside.com
---
Latest News
Leading voice in solar sector urges businesses to switch to renewable energy or risk closure due to soaring costs
---