Flying Scotsman stamps mark the end of an era for Royal Mail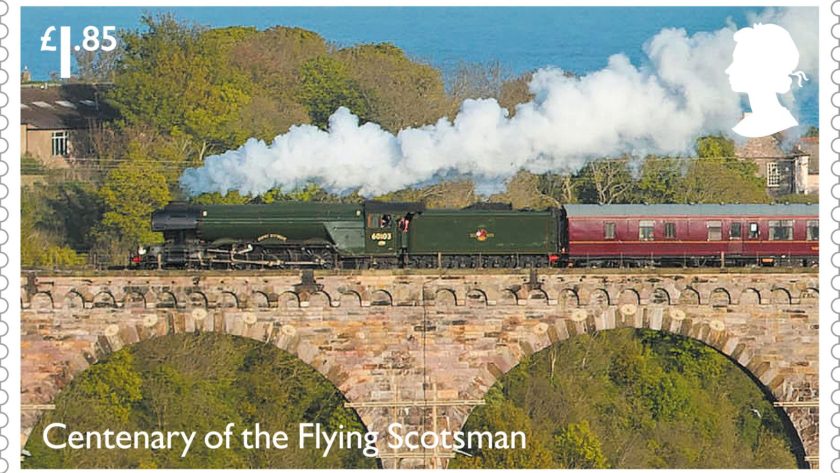 Royal Mail and the National Railway Museum have collaborated to celebrate the 100th anniversary of the iconic steam locomotive, Flying Scotsman, with a final set of 12 special stamps featuring various locations across the United Kingdom. ‌​‌‌‌​‌‌‍‌​‌‌‌​‌​‍‌​‌‌‌​‌​
The stamps will also mark the end of an era, as it will be the last set to feature the silhouette of Her Late Majesty Queen Elizabeth, who has been on Special Stamps since 1968. ‌​‌‌‌​‌‌‍‌​‌‌‌​‌​‍‌​‌‌‌​‌​
The images on the stamps capture the beauty of Flying Scotsman, showcasing it in different locations such as Pickering Station on the North Yorkshire Moors Railway, in a blizzard at Heap Bridge on the East Lancashire Railway, and at London's Victoria Station. ‌​‌‌‌​‌‌‍‌​‌‌‌​‌​‍‌​‌‌‌​‌​
The stamps are set to be released on 10 March 2023, and a further four stamps presented in a miniature sheet feature images of Flying Scotsman and London North Eastern Railway (LNER) poster artwork from the 1920s and 1930s. ‌​‌‌‌​‌‌‍‌​‌‌‌​‌​‍‌​‌‌‌​‌​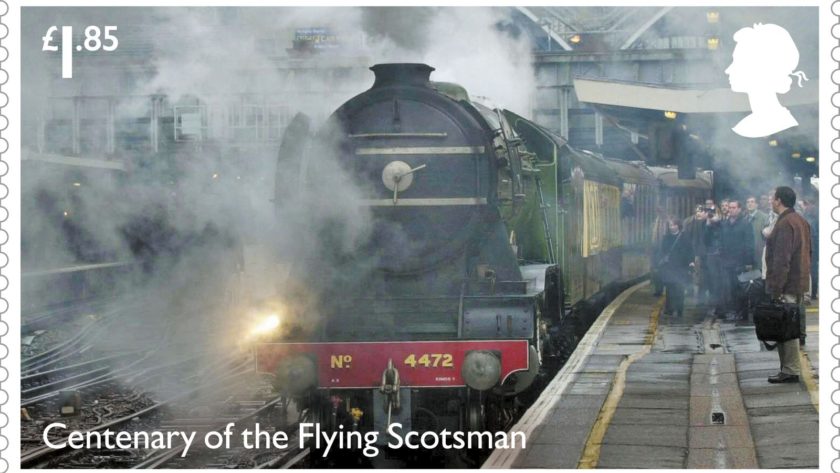 ‌​‌‌‌​‌‌‍‌​‌‌‌​‌​‍‌​‌‌‌​‌​
David Gold, Director of External Affairs & Policy at Royal Mail, praised Flying Scotsman, stating that it is "a national treasure of engineering and design that conjures up the golden age of steam travel. This remarkable locomotive epitomises the romance of rail travel and is loved by people all over the world. We are honoured to mark this landmark milestone with a set of Special Stamps." ‌​‌‌‌​‌‌‍‌​‌‌‌​‌​‍‌​‌‌‌​‌​
Flying Scotsman was built in February 1923 and named the following year after the principal express that ran between London and Edinburgh. ‌​‌‌‌​‌‌‍‌​‌‌‌​‌​‍‌​‌‌‌​‌​
The steam locomotive, built as an 'A1' class engine with a boiler pressure of 180psi, was rebuilt in 1947 as an 'A3', with a higher boiler pressure of 220psi. ‌​‌‌‌​‌‌‍‌​‌‌‌​‌​‍‌​‌‌‌​‌​
Its long history of operation has included several 'firsts', such as being the first steam locomotive to achieve a speed of 100mph. ‌​‌‌‌​‌‌‍‌​‌‌‌​‌​‍‌​‌‌‌​‌​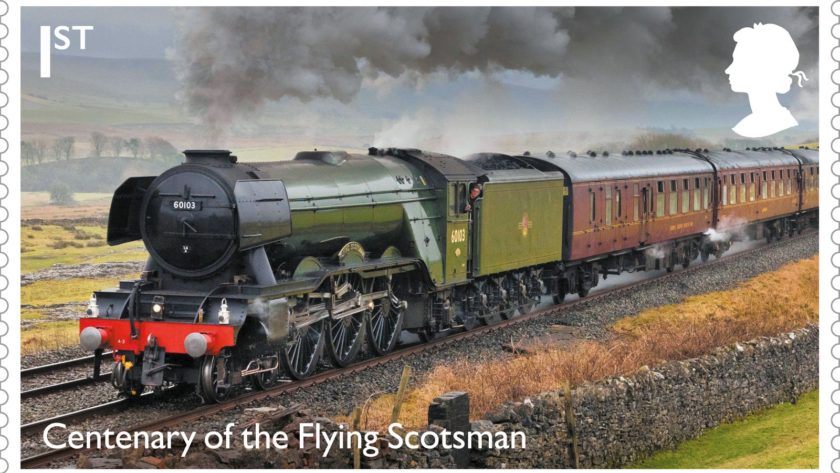 ‌​‌‌‌​‌‌‍‌​‌‌‌​‌​‍‌​‌‌‌​‌​
Over its 40-year career on British rails, Flying Scotsman travelled over two million miles and became the first steam locomotive to reach a speed of 100mph. ‌​‌‌‌​‌‌‍‌​‌‌‌​‌​‍‌​‌‌‌​‌​
After Flying Scotsman's retirement from scheduled service in 1963, it was bought by businessman Alan Pegler and given a 1920s LNER livery and the number 4472. In 1969, Pegler took his loco on a 'Buy British' tour of the United States, which attracted large crowds. ‌​‌‌‌​‌‌‍‌​‌‌‌​‌​‍‌​‌‌‌​‌​
However, the journey cost Pegler his fortune. The locomotive was later rescued by British millionaire Sir William McAlpine, who returned it to the UK in 1973, determined that this national treasure would never again be threatened with exile. In 1988, Flying Scotsman went to Australia for the country's bicentenary and visited Sydney, Melbourne, Alice Springs and Perth. ‌​‌‌‌​‌‌‍‌​‌‌‌​‌​‍‌​‌‌‌​‌​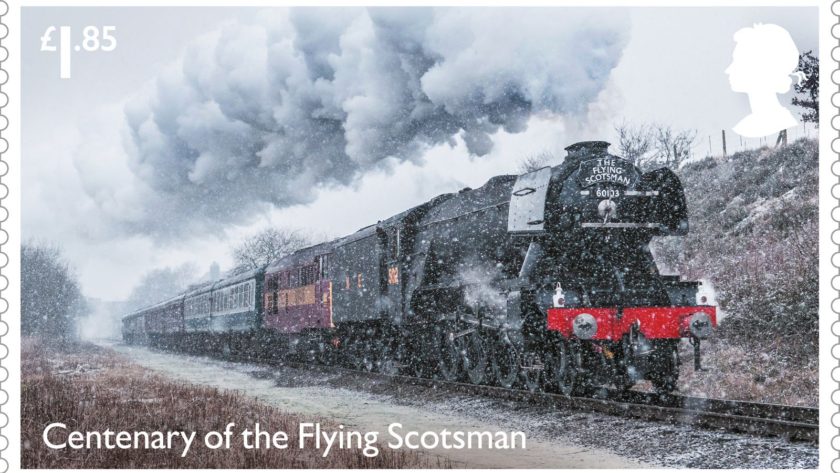 ‌​‌‌‌​‌‌‍‌​‌‌‌​‌​‍‌​‌‌‌​‌​
Since 2004, Flying Scotsman has been part of the collection of the National Railway Museum in York. As the oldest operating steam locomotive on the main line, it remains a symbol of the steam age and an inspiration to many. ‌​‌‌‌​‌‌‍‌​‌‌‌​‌​‍‌​‌‌‌​‌​
The silhouette of Her Late Majesty Queen Elizabeth has been in constant use on Special Stamps since 1968. ‌​‌‌‌​‌‌‍‌​‌‌‌​‌​‍‌​‌‌‌​‌​
The first version of Queen Elizabeth's silhouette to appear on Special Stamps was adapted from a 1953 design by sculptor and medallist, Mary Gillick, used on coinage from 1953 to 1967. ‌​‌‌‌​‌‌‍‌​‌‌‌​‌​‍‌​‌‌‌​‌​
Stamp illustrator, David Gentleman, re-worked the Gillick Head silhouette, which was first used on the British Bridges issue in 1968 and has remained in use until today. ‌​‌‌‌​‌‌‍‌​‌‌‌​‌​‍‌​‌‌‌​‌​
Future Special Stamps will feature a silhouette of His Majesty King Charles III. ‌​‌‌‌​‌‌‍‌​‌‌‌​‌​‍‌​‌‌‌​‌​
Spotted something? Got a story? Send a Facebook Message | A direct message on Twitter | Email: News@Deeside.com
---
Latest News
---